Posts Tagged 'prostitution'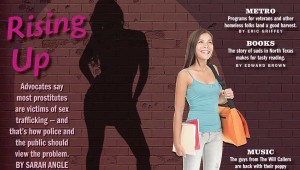 Advocates say most prostitutes are victims of sex trafficking — and that's how police and the public should view the problem.


SARAH ANGLE W/ PHOTOS BY ROBERT HART
Arletta Grant doesn't remember a lot about that time in her life. "I blocked it out," she said. But some things she can't forget: "At nighttime, he would make me come into his room." "He" was an older male cousi...
Jimmy Fowler
Arlington police recently put up a billboard on I-30 near Cooper Street that features the mug shots of men arrested during local prostitution stings. My first thought was: It's a slight improvement on Puritan-style stocks, bu...
Local author Jarid Manos spares no detail in telling of his troubled youth and inspired adulthood.


Books
There are a lot of hard-knock stories that follow a character from the bottom of society's barrel to a better life full of clean living.