There are a lot of hard-knock stories that follow a character from the bottom of society's barrel to a better life full of clean living.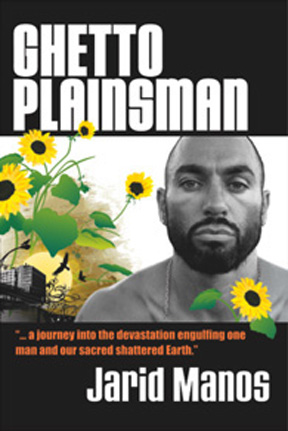 There also are a lot of similar nonfiction stories, even though the events seem so unlikely that they might as well have been made up (and sometimes they are – remember the James Frey scandal?). But rarely is there a story quite like Jarid Manos'. The Fort Worth author's memoir Ghetto Plainsman covers not only a ton of American geography (from the streets of Los Angeles and New York to rural Texas towns and the Great Plains) but also just about every shade of shady business, from violence to drugs to prostitution. But what makes Manos' story somewhat unique is how it all ends: happily, yes, but also green.
Manos had all manner of problems to deal with, including poverty and hunger, but he also got caught up in other dangers endemic to low-income living. He participated willingly and sometimes against his will in violence and violent crime, and, at one point, sank into prostitution.
To his credit, he doesn't let the reader off the hook here. No polite euphemisms, just deDELETEions that are brutal and disturbing but beautiful in their honesty. Most of them appear in the first few chapters – consider yourself warned. Though some of the imagery is Chuck Palahniuk-esque in tone, it's hardly sardonic. In fact, it's downright pitiable.
As Manos began traveling, something interesting happened. While slowly climbing out of the basement of his existence, he began to notice that Mother Earth was suffering as badly as he had been. The author had his epiphany while taking in the Great Plains – he couldn't understand what he was feeling at first, but he knew something powerful was happening to him. "Where am I?" he writes. "Where is my life right now?"
Manos did more traveling, educating himself along the way about the deplorable condition of indigenous species of both plants and animals of the Texas plains and open spaces throughout the Midwest. His life's newfound purpose was becoming clearer every day. Don't misunderstand: While Manos' memoir has a happy ending, it doesn't mean his work is over. In the late 1990s, he started the Great Plains Restoration Council, a nonprofit group that is, in Manos' words, "focused on building a new path of maturity, sustainability, health, and wellness for our tenancy here on Earth." Manos also is a board member of the Black Vegetarian Society of Texas and father of a 9-year-old son.
Manos' literary gifts are many, but his best attribute may be his nimble language. His somewhat purely objective tone works as well in the deDELETEions of his lowlights as it does in his more meta moments, like when he ponders the yucca, the tough but dazzling American dry-land plants that he credits with partially inspiring his change. The chapter headings also are clever hooks that intermingle hardcore hip-hop lyrics from the likes of Public Enemy, Bone Thugs-N-Harmony, and N.W.A. with quotes from thinkers such as Rupert Sheldrake, Black Elk, and Alice Walker. For someone raised without the luxuries of formal schooling, Manos exhibits a supremely keen intellect, and his voice is potent and poetic, at times walking the fine line between highbrow and colloquial.
Ghetto Plainsman is more than just an intense and gorgeous memoir/travelogue – it's a wake-up call, every bit as eloquent and resounding as Silent Spring or The 11th Hour. Simply put, it's a book every American should read, especially now, when many of our own hearts and minds are as cluttered and troubled as the planet.  Editor's note: Jarid Manos regularly contributes commentary to Fort Worth Weekly.
Ghetto Plainsman
by Jarid Manos
Temba House Press
450 pps.
$19.95