Johnny Cash sat at a microphone in his home studio with his guitar and sang these often sentimental, sometimes corny, always heartfelt songs into a tape machine, then filed them away — many of them more than 30 years ago. The songs — gospel and country, folk, even Tin Pan Alley — were found on tapes among hundreds of boxes stored in the House of Cash, a.k.a. his studio, office, warehouse, and museum.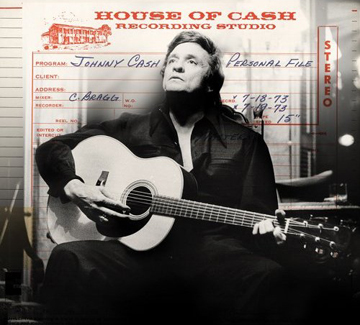 They can now be heard on the two-c.d. Personal File collection, which follows 2005's Grammy-winning box set, Johnny Cash: The Legend, both compiled and produced by Gregg Geller.
The earliest recordings here are from 1973; the most recent from 1982. A few were re-recorded and released on other albums. Most have not been heard before in these versions — or at all. Only the most loyal Cash fans are likely to sit through all 49 cuts — two hours and 18 minutes — in a single listen, but the discs are welcome additions to any music library.
Cash wrote or co-wrote 17 of the songs (one with June Carter Cash). The other 31 — plus a reading of the classic humorous poem "The Cremation of Sam McGee" — become Johnny Cash creations with his distinctive voice, delivery, and pacing.
The c.d. is heavy on gospel — traditionals and ones Cash wrote himself. Among the highlights are his versions of "In the Sweet Bye and Bye," "Life's Railway to Heaven," and A.P. Carter's "The Way Worn Traveler." Cash's "A Half a Mile a Day," in keeping with his populist persona, subversively puts down the boastful claims of church members while praising the quiet faith of a little old lady in the back row.
Cash also shares his takes on the classic "Far Away Places," which he cites as the first song he ever sang in a talent contest (he didn't win); on John Prine's "Paradise"; and on his own "I Wanted So (To Tell Him)," a song about his own father's death and what may have been left unsaid.