Making bold moves hasn't been hard for Josh Weathers. When he was younger, the Fort Worthian blew off his aunt's suggestions, and an early gift of a guitar, and instead of going into music became an amateur bull-rider. Now a firm believer in the redeeming power of music, the 22-year-old (shaken, not stirred) is finally heeding his aunt's advice — with considerable results.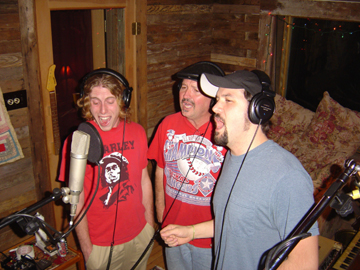 With his band, Weathers has just released an eponymous full-length disc whose songs hold on for dear life to their roots-music roots in the face of funk-laden grooves and twang-inflected vocals. The band walks a fine line between sounding polished and raw, lending the tuneage an impressive, unique quality.
After high school, when Weathers' love of bull-riding was on the wane, a friend reacquainted him with the possibilities manifest in six strings. "We found it in his garage," Weathers recalled. "The neck was peeling away from the body, so I stapled it back together and taught myself to play."
As Weathers immersed himself in the history of popular music, from rock to soul to country and all points in between, he focused on studying the craft of songwriting. John Mayer was an early influence, quickly replaced by harder-edged and more, as they say, respectable roots-music purveyors, including Ben Harper, Faces, Sheryl Crow, and Van Morrison.
All of Weathers' influences together equal a soulful, countrified, bluesy, rock-ish take on pop. He didn't take long after finding his old ax to assemble a batch of solid originals and start hunting for a band to realize them. He didn't need to look far for a drummer.
Sam Boe is the father of Weathers' fiancée. In San Antonio during the '60s, Boe played in a band called, oddly enough for a '60s rock group, Sweetsmoke. When he hired Boe, Weathers recalled, the father of the bride-to-be didn't even have a drum kit. But "he found one he liked in a pawn shop, and we started jamming."
The other half of the rhythm section, bassist Kevin Rennels, came on board after responding to an ad Weathers had posted on the internet. Rennels was drawn to the group by a shared admiration for Marvin Gaye.
After about six months of working through the songs, Weathers said that he and his band mates "really started taking it seriously.
"We realized we didn't suck," he continued. "So we started making things polished and solid."
As important as making clean, professional-sounding music may be to a new band, performance is something else. A trip to a Prince concert and an after-hours performance at Erykah Badu's club in Dallas really cemented Weathers' motivation to transcend the musician label and be a performer. As a fan at the Prince performance, Weathers said, he "went ballistic — but that's what you want people to do at your show. You want them to lose themselves in the moment and really have a good time and genuinely like the music."
Weathers and his band went to work believing that the best way for a new band like theirs to establish itself is to churn out great performances with great consistency. The band members didn't have any one type of audience in mind. Bar crowds, coffeehouse denizens, huge-concert partiers — they were all, and still are, fair game in Weathers' estimation.
His blue-collar outlook seems a little anachronistic, considering that the days of Sweetsmoke have long been stamped out by giant, corporate profiteers. "There is no standard [for artists] today," he said. "To be different, you have to do something like play the guitar with your feet."
A veterinarian tech by day, Weathers never forgets that music is supposed to be fun. The Josh Weathers Band is a testament to his mantra.