The Fort Worth Film Festival began with such promise. The first movie it screened, on Oct. 23, 1998, was Rushmore, a Texas-made film that would go on to be one of the best-reviewed releases of that year and make the reputations of director/co-writer Wes Anderson and star Jason Schwartzman, as well as establishing Bill Murray as a dramatic actor to be reckoned with. Staffers here (the paper was then called FW Weekly) came back raving about the experience — a packed house, a great film, and a tremendous atmosphere in downtown Fort Worth. Surely it was the start of something that would do this arts-loving city proud.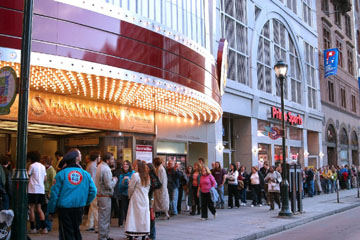 Probably the festival's finest moment, the debut was a false dawn. Five years later, the end came with zero fanfare, in the form of a terse statement on the festival's web site announcing that the 2003 event had been postponed indefinitely. No clear explanation was ever given, but the organizers unanimously expressed confidence that it would be back again in October 2004. That date came and went without a single reel of film unspooling, as did October 2005, as will October 2006.
As of this writing, Fort Worth is the only city among America's 30 largest without an official civic film festival. Even New Orleans has managed to keep theirs going despite continuing Katrina-related financial troubles. With tiny towns such as Rehoboth Beach, Del. (population about 1,500) and Wrenshall, Minn. (population 308) hosting their own festivals, the lack of one here is a glaring hole in our city's cultural scene.
That may be ending, however, thanks to the Lone Star Film Society, a restructured and greatly expanded version of the old FWFF. After a long silence on the subject, the society recently announced a revival of what's being called the Lone Star International Film Festival. Again, the announcement came with zero fanfare, in the form of a terse statement on the society's web site. Specific details are harder to find than an aging actor's correct birthdate, but the projected debut date is November 2007. It seems Fort Worth will be getting its festival back.
The inaugural 1998 festival was Fort Worth's biggest, screening 83 films at five different venues over four days. In addition to all the movies, there were live performances by musical acts such as the Robert Ealey Blues Band, a staged reading of an unproduced script, and two seminars on filmmaking, one of which included authors Larry McMurtry and Diana Ossana.
Organizers, unsure about what kind of programming local audiences would appreciate, offered a little of everything. For better or worse, that scattershooting became one of the festival's hallmarks.
The wide variety of options attracted diverse crowds. Older viewers gravitated to screenings of vintage Westerns (High Noon, The Wild Bunch) and retrospectives dedicated to visiting celebrities such as Gregory Peck and John Waters. Younger, hipper audiences flocked to more contemporary fare like Tim McCanlies' Texas-made indie Dancer, Tx., Pop. 81 and nine programs of shorts. Excited crowds greeted the films at the AMC Palace and Sundance as well as the Caravan of Dreams (now the Four Day Weekend Theater). They also turned up at the old Black Dog Tavern on Throckmorton Street, a 10-minute walk away from the other venues, to watch features and shorts on video while drinking draft beer out of frosted glasses. Fans even drove out to the Ridglea Theater and the Victory Arts Center, venues considerably removed from the downtown area. Everything at the festival found an audience — even a midnight screening of a documentary about the life of 1970s porn star John Holmes drew respectable numbers.
It was an exhilarating time for a young journalist who was just starting out and hoping to one day be a film critic. (That's me, if you're having trouble.) I was feeling the power of my all-access news media pass, which gave me the freedom to walk out of a feature that I found tedious or juvenile and walk directly into another that starred people I had never heard of. Quite apart from the films playing on the screen, it was a heady experience merely to hang out in the lobby with movie fans animatedly discussing what they had just seen. Even the overpriced sodas and cookies on sale in the lobby seemed special.
Media pros and amateur cinephiles alike often report this feeling of being pleasantly overwhelmed their first time at a festival. It's a charged atmosphere that can't be duplicated by indulging in a rented-video orgy at home or even via the city's several weekly and monthly film series. For one October weekend each year from 1998 to 2000, the area around Sundance Square felt a little cozier and more cultured than usual. Festival founder Michael H. Price, who had been a film critic for the Fort Worth Star-Telegram, was largely responsible for it.
"The original festival was compact," he said. "It was organized by a small group of people who were not disposed to talking things to death and [who] had a basic understanding of how film works."
The moviegoing fare in the festival's early days was often worth the hype, heavily determined as it was by the tastes of the small selection committee. Besides Rushmore, the festival also brought Fort Worth audiences Richard Linklater's dreamlike animated philosophical drama Waking Life and Gavin O'Connor's Tumbleweeds, featuring a starring performance by English stage veteran Janet McTeer that would win an Oscar nomination. In 1999 alone, there were such memorable short films as Danny De Loach's black comedy New Clear Farm and Nicholas Sousa's character-driven thriller Harm's Way, plus the Boston-made feature Starving Artists, Allan Piper's delightful parodic swipe at the pretensions of young would-be creative types. ("The trouble is, there has never been a really good highbrow bestiality movie.")
The range of films added up to an embarrassment of riches, yet it also kept the festival from establishing an identity. Los Angeles Times film critic Kenneth Turan wrote in his book about film festivals that, considering their proliferation, "the key thing these multiple festivals share is a need to differentiate themselves from each other." Fort Worth's festival never seemed to find its particular place.
---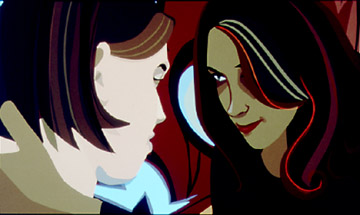 At one point, organizers floated the idea of making it into a showcase for Western films, but never succeeded in focusing their event in that direction or any other. In addition to upcoming national releases and classics, the festival offered Texas-made films, American indie films from outside the state, unheralded foreign films, and occasional dips into obscure corners of cinema history, such as the 2001 retrospective of films by Spencer Williams, an African-American writer/director/comic actor who was active in the 1930s and '40s. Price, who started the festival in 1998 with programmer Ryan Brennan and artistic director Dwight Greene, remembers fondly those few years when their circle made decisions without answering to bureaucracies. But it's no wonder that local audiences didn't know what they'd be getting on a year-to-year basis.
The event showed fewer films in each succeeding year of its existence. Eventually, organizational problems beset the festival as well. Local publicists for major Hollywood movie studios had no idea of the festival's existence a year after its debut, and the schedule in Year Two wasn't finalized until two weeks before the starting date. The organizers didn't get much help from their landlords, either. The festival's primary venues were the two AMC multiplexes in downtown Fort Worth, and over the years Price repeatedly complained that the Kansas City-based chain of theaters wasn't the most welcoming host. "I saw a great shift in values," Price said. "I saw AMC's commitment to art film turn to impatience."
Then came the 9/11 terrorist attacks; the 2001 festival was held barely a month later. The atmosphere at that event, as well as the final one the year after, was definitely quieter and at times downright funereal. "September 11 just killed us," said local filmmaker Dave Stovall, who was serving as Lone Star Film Society president at the time.
When I asked Price recently why the FWFF died, his answer quickly wandered off the subject and into anecdotes about Randolph Scott and Fort Worth native Bill Paxton. He didn't seem to be trying to evade my questions or seem bitter about what happened to his brainchild; this is simply how conversations with him tend to go. Finally, 45 minutes later and without any prodding, he suddenly burst out in his booming Texas BBQ-flavored baritone voice with an answer of sorts. "I'm at a loss as to why it died," he said. "I guess I started to lose myself in projects that didn't require consulting anyone. It was selfish on my part, but I gave five years to the cause."
Stovall said that the festival has "basically been on life support" since 2001. "We're hoping a new organization will change that," he said.
A good film festival is a point of civic pride, much like a first-rate art museum or a great symphony orchestra. The world-famous events at Cannes and Sundance have made their resort locations into working-vacation places for both the glitterati and the wannabes. Other festivals in Toronto, Berlin, and Venice have added to their host city's cultural reputations.
Many festival organizers, of course, are seduced by the prospect of hitting the big time and bringing the same kind of international prestige to their hometown, like sex, lies and videotape did for Sundance in 1989. "Every Texas fest is looking for the next [Richard] Linklater or [Robert] Rodriguez to call its own," Robert Wilonsky wrote in a 1999 article for the Dallas Observer. "A native son who will win the lottery, make a big-budget Hollywood movie, and credit it all to Your Festival's Name Here."
But even the cities with little reasonable hope of that still find plenty of reasons to put on their own festivals. For cities that are well outside major media markets, an annual film festival can be the only way to see low-budget or foreign films on the big screen. Programmers who hail from the community they serve can better gauge regional interest and accommodate local tastes.
Al Nigrin, executive director of the New Jersey Film Festival, said local festivals can provide a home for "stray cats" — avant-garde masterpieces — taking them in and loving them as much as pedigreed pets. "Many people feel that the industry has done a poor job" of accommodating talent from outside the system, Nigrin said. His event's location has turned out to be a blessing for a fairly large suburban community of people who don't want to drive to New York or Philadelphia for their festivals. "We screened Julie Dash's Daughters of the Dust back in 1990, when it wasn't playing in a single multiplex, and we had lines around the block for all the screenings," he said. "It meant so much to the African-American community here. And eventually, our crowds became salt-and-pepper, because other people wanted to see what this was. A festival can bridge cultures."
With improved technology opening up the field of filmmaking, festivals offer outsider filmmakers a place to screen their work, whether it's close to their home or across the country. Joffre McClung, who shot her period drama Best Wishes in Fort Worth and screened it at the last FWFF in 2002, said festivals offer the chance for filmmakers to meet colleagues as well as audiences. She faulted the old Fort Worth festival for skimping on this. "I had maybe five minutes to talk with the crowd," she said. "You need time for Q&A."
California-based filmmaker Jürgen Vsych (last name pronounced VY-zick) showed her satirical feature Ophelia Learns to Swim at the 2002 festival as well. "It was the only time [the movie] showed outside of the east or west coasts, and it was one of the best screenings I ever had," she recalled. "Festivals are a chance for people to see movies from other parts of America. We're such a divided country right now. It was my chance to visit Texas and get a taste of that 'red state' mentality." She also cited post-screening parties as great ways for filmmakers to meet each other and said that festivals can do much to drum up business for their host cities.
One Fort Worth film enthusiast went this year to the Waterfront Film Festival, held each summer in the picturesque village of Saugatuck, Mich. "Most of the year, the population of this town is under 1,000. In the summer, it expands to around 20,000," she said, with the festival making a huge impact.
"Everyone in town knows about it," she said. "The B&Bs and motels are full, the restaurants are busy, and the streets have a friendly bustle. It's not too crowded — nothing like SXSW [in Austin], which is a real zoo. … Because I'm a film-lover, not a film-maker, I figured I'd be on the fringes of activities, but it wasn't like that at all. The ambiance was friendly, cheerful, and inclusive."
---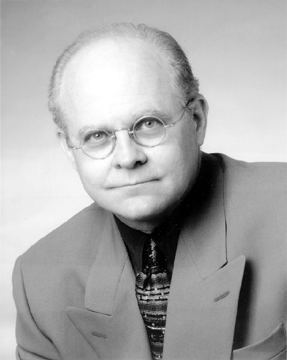 Even without an official civic film festival, cinephiles in Fort Worth don't exactly go begging. TCU hosts two weekly film series, one running during the academic year devoted to Hollywood classics, the other running year-round devoted to foreign films. Fort Worth Central Public Library screens classics on a monthly basis. The Cine de Colores series at Rose Marine Theater offers mostly, though not exclusively, movies in Spanish or with Hispanic American themes. The Fasci$t Watch series at 1919 Hemphill, on most weeks, shows documentaries that promote a progressive political agenda. The Modern Art Museum's weekend series serves up art-house films that would otherwise play only in Dallas. The Modern has also held a series called Great Movies You Haven't Heard of Yet, a small event (fewer than 10 films) hosted by Star-Telegram movie critic Christopher Kelly. Begun only two years ago, it consists of advance previews of movies slated for national distribution.
Fort Worth also has the gay-themed Q Cinema, a niche festival that has taken its share of hits but is still going strong after eight years and has become a prime social event for the city's gay and lesbian community. Other similar events orient themselves toward ethnic minorities, political issues, aesthetic agendas, cinema history, or completely off-the-wall concerns, such as Albuquerque's DogFest, which is dedicated solely to films about dogs. Niche festivals like these are vital, but by definition they don't substitute for a citywide film festival.
City festivals help a community to bond, Price said. "You don't find kindred souls at the multiplex," he says. "You find people who are there to be entertained, or who see that a movie's going to be the hot topic of conversation and don't want to be left out of it. There's nothing wrong with that. But at a festival, you find people who really know how to watch movies and want to discuss them in the lobby."
Nine years after it started, Fort Worth's festival will be back to square one.
Price, now film critic for the Fort Worth Business Press, is still involved, but only as an advisor this time around. (That means, he said, that, "If anyone wants to call for my crackpot advice, they're free to do so.") But he's also involved in plenty of other things — playing music (he and Sumter Bruton teamed up at McNair Rehearsal Studio last spring); editing a book on American roots music for the U.K. market, titled Daynce [sic] of the Peckerwoods: The Badlands of Texas; and researching a biography of the 1940s African-American movie comedian Mantan Moreland.
One of the people who is in charge of the new festival is Lone Star Film Society executive director Darla Robinson, a broadly smiling woman with a powdered-sugar voice. Entertainment journalists hear plenty of canned enthusiasm from publicists who are flogging their products, but Robinson's enthusiasm seems quite genuine. Of course that might have been in part because, when I interviewed her about a week ago, her organization had just moved out of a "closet" at the Fort Worth Community Arts Center and into their own offices near Forest Park and Vickery boulevards. Parts of the space aren't finished yet, but they'll have a conference room and a climate-controlled room to house vintage movie posters.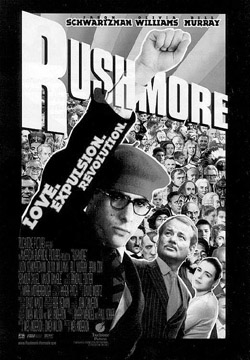 The society already runs Classics at the Modern, a monthly series at the Modern Art Museum of Fort Worth that's taken up with classic films chosen by local celebrity guests. Next month, it will launch another series — bimonthly screenings at the Rose Marine Theater of movies shot by independent filmmakers without distribution deals. Robinson said that she is already receiving submissions from as far away as Kansas. "Many of [these filmmakers] have never seen their work on the big screen," she said. "They just want audiences to see what they've done." Directors and producers won't have to pay to screen their films, so Robinson has high hopes for what the series can do for local filmmakers.
Clearly, there are still mountains of work to do before November 2007. The most pressing order of business right now is hiring an artistic director for the festival, which Robinson hopes to accomplish by September. She still doesn't know what kinds of movies the Lone Star festival will offer or where they'll be shown.
That doesn't keep her from having lofty goals, however. Having just returned from the three-week-long Seattle International Film Festival, with its 270 feature films and packed houses for every screening, she dreams of the same thing happening here.
Robinson is quick to claim that the organizers of Fort Worth's old festival are also the Lone Star's true founders. "We still have Fort Worth Film Festival fans coming to our events," she said. "The loyalty is still there. That's a testimony to [the organizers'] skills."
Fort Worth can't afford to have a second film festival fail, she said. Organizers of the original fest "came at it looking at content first," she said diplomatically. "I want to look at the community first." She stressed that community involvement, i.e. audience turnout, is the key to making the new effort succeed.
Look at the Van Cliburn Competition, the McCammon Voice Competition, at other successful cultural events in Fort Worth, she said. "They all have one thing in common: Artists from other countries are housed in people's homes. They're made part of the community. You won't get that from a hotel room in Dallas." She hopes the Lone Star International Film Festival will one day rival its musical and artistic counterparts as Fort Worth cultural institutions.
In the meantime, Joffre McClung hopes that the festival will benefit the city's merchants. "Fort Worth is such a gem in North Texas," she said. "It's on the edge of hipness. A festival would show filmmakers what a great place this is to shoot. And when you're treated nice [as a filmmaker], it leaves a good taste."
You can reach Kristian Lin at kristian.lin@fwweekly.com.