Since her childhood, Donatella Trotti has earned her keep in the kitchen. In post-war Varese, Italy, where Trotti was born and raised, she and her sister would join their mother in the kitchen to help make large servings of lasagna, gnocchi, and other household favorites for the day's meal. The culinary arts were an ideal way for mama to keep her kids off the streets.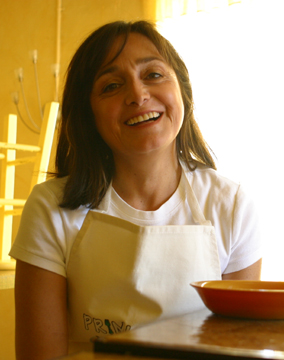 "She would have us cook with her to keep us nearby," Trotti said. "Growing up, learning to cook was like learning to walk. We all learned to cook, even if it really was Mom taking advantage of us."
Fast-forward to 2006: Trotti still has a rolling pin in her hand, but this time she's the boss. A few months ago, Trotti opened Nonna Tata, a Southside Italian eatery named after her grandmother. You'd be forgiven for mistaking the restaurant for a Varesean patio, circa 1965. All of the servers are women dressed like Sophia Loren in Marriage Italian-Style — kerchiefs, jeans, and aprons — and the interior is no bigger than a mafia don's shoe closet.
Better than the sight of restaurant staffers not wearing black-on-black is the fare — decadent, dense, and hearty Italian cuisine that may be almost as good as Nonna herself used to make.
The gnocchi alla fontina e pomodoro (gnocchi in a creamy tomato sauce) had the requisite spongy texture but were amazingly light. (The airiness likely had something to do with the fact that Trotti's pasta is rolled fresh every morning.) Same with the focaccia bread. It was thick and rich but melted in the mouth like cake. The involtini mirella (pasta with bechamel sauce and ham) were also fluffy, which was a bonus considering that the tasty cream sauce was seriously dense.
Trotti came to America about 12 years ago. Her first stop was New York City, where she met up with an acquaintance from Milan who worked in retail for Versace. The Italian clothing designer eventually hired her into management, and she began traveling to stores all over the country, including locations in Dallas, Houston, and Denver. After years of being on the road — and not in the kitchen — Trotti decided to slow down. Three years ago, she married a Fort Worth attorney, dropped out of the work force, and began throwing killer parties at home.
"Every week we were having parties with 30 and 40 people," she said. "I read recipes and cookbooks before I went to bed, constantly researching." Her education didn't stop at bedtime. She's also taken a few classes at Central Market and continues looking for ways to grow as a chef.
Though packed with personal history, Nonna Tata remains a small operation. The relatively straightforward menu changes often, the place is BYOB, and you may have to wait a while to be served. But business has been going well. Trotti recently hired some kitchen help, mainly to lessen her heavy workload but also to allow her to spend more time keeping an eye on customers. But not in a sneaky way — like Mom.
Nonna Tata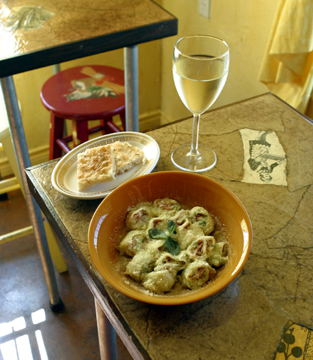 Gnocchi alla fontina
e pomodoro $15.00
Involtini mirella $15.10