Drew Thomas first opened his greasy spoon almost 20 years ago, in Forest Hill, where his smothered pork chops and spicy fried catfish were enjoyed by the locals but not by enough of them to support the business. He moved west, relocating Drew's Place to a spot in Como just off Camp Bowie Boulevard about 15 years ago, and since then there have been enough customers, local and non-, to keep his waist-expanding, carb-loaded entrées in high fashion.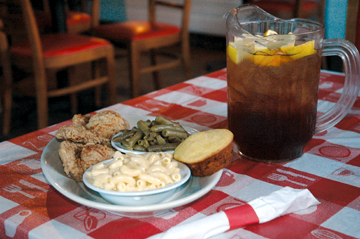 The business, said Thomas, caught on the way most good things do: Friends told friends who told friends. And they took their kids there, unwittingly creating a whole new, younger generation of Drew's Place regulars.
Other than the extremely caloric delights, what makes Drew's a can't-miss stop is the ma-and-pa vibe. For the next while, however, make that a "ma" vibe.
With his wife Elizabeth now running the Como ship, Thomas is concentrating on Drew's Place No. 2, in Stop Six. In April he opened the second diner, not far from where he started his business, to tap into a new but not wholly foreign market.
"We've had a lot of people who used to drive across town" to dine at the Como location, Thomas said. "Now they don't have to drive so far." And his old Forest Hill customers "are coming back around," he said. "I'm seeing them come in now."
The new place may be closer to home for some customers, but it faces some challenges that the Como restaurant doesn't, including appearance. In a small building formerly occupied by a dance club, Drew's Place No. 2 has barred windows and is surrounded by a black wrought-iron fence. Across the street is a nightclub called Classy Lady, with a banner on the front door that reads, in huge lettering, "No handguns allowed in Pop's place, nigga."
There's also a short history of failed soul-food joints in Stop Six to overcome. One of the best in town, Gladys' Soul Food Restaurant, didn't last long there.
Thomas said he doesn't want to compare communities. Business in Stop Six, he said, "is coming along — it just needs a little time."
Whereas Drew's No. 1 has a nice 'n' neat corner-store atmosphere, No. 2 has more of a barbershop feel, which may have something to do with the macho trimmings all around. Thomas, 48, was a star football player in high school and at Texas Tech University, and he proudly displays his Red Raiders jersey on a wall next to framed photographs of him with pigskin legends, including Dallas Cowboys coach Bill Parcells (who long ago was defensive coordinator for Tech). No. 2 definitely isn't a sports bar, but it is the kind of place where working-class guys come in, get stuffed, and then hang around afterward and tell war stories.
After spending his college career smashing into monsters like Earl Campbell, Thomas graduated in 1981, with a degree in telecommunications and a blown knee. ("I took some hard hits," he said, "[but] no regrets.") After graduation, he worked in the control room of Sammons Cable. For some extra money, he took a part-time job at a now-defunct restaurant in The Keg chain. Thomas was never afraid of the kitchen growing up, but working at The Keg was what got him to understand cooking, especially for 30 to 40 people in a two- to three-hour period.
"I went from dishwashing to busing, from busing to cooking," he said. "Now I'm in the kitchen doing it everyday."
Keg boss Dick McMullen owned some other local establishments (Calhoun Street Oyster Bar, Billy Miner's), and he put Thomas to work in them. The whole time, Thomas was devising a plan for his own place. He saved up cash, bought kitchen equipment along the way, and, in 1987 — when he was working an odd job at Bodine's, an old-fashioned Hulen Street grill that barely lasted a year — he got a good deal on the Forest Hill space.
Growing the customer base for the Como location took Thomas a good five years, during which time he worked side jobs. One was in the bakery at Sam's Wholesale Club, a part of the Wal-Mart empire from which, at one point, Thomas planned to retire to take advantage of the handsome benefits package. He sold the Como spot, but the buyer never came up with the money.
"I wanted to get out of it altogether," Thomas said, but when that didn't work out, "It was back to the restaurant."
He opened the Stop Six store for one primary reason: "It just seemed like it was time," he said. "It's a challenge to see if we could do two of them."
Whether or not it pays off, the expansion has been a personal victory for Thomas.
"It has really helped me let go of some of the other stuff," he said. "When you're an owner, you try to do everything. Now [the Como staff] is up to speed. They can handle it. That was a hard thing for me to do, to let go. … Now I'm seeing if I can do something over in this neighborhood." l