Sundays can be mighty painful after some hardcore bingeing on Friday and Saturday, but Texas Music fans are a strong-livered bunch. It takes more than a lethal hangover to slow down these party dogs, and so Labor Day weekend is going to be like Christmas.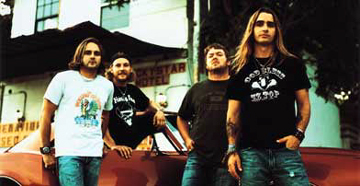 Texas Music's freshest faces and hottest bands — and a couple of loveable "old" dudes — are invading the historic Stockyards for Cross Canadian Ragweed's inaugural Red Dirt Roundup. The raw energy contained in this line-up is combustible enough to burn down the entire North Side. (No wonder concert sponsors include Bud Light, Jack Daniels, Cazadores Tequila, and yours truly, Fort Worth Weekly.) The under-30 crowd that embraces the likes of CCR and Stoney LaRue enjoy nothing better than getting drunk and stoned and then singing along to lyrics about getting drunk and stoned.
Sounds like the perfect Sunday … or Wednesday morning for that matter. People-watchers take note! The event is expected to draw about 20,000, a lot more than Willie Nelson's most recent July Fourth Picnic. Fortunately, the North Forty area adjacent to Billy Bob's Texas has proved adept at handling large crowds. And while youth will rule this show, it's nice to see a couple of old timers were invited — Robert Earl Keen, a musical mentor to most of the young bands, and Ray Wylie Hubbard, an elite member of the 1970s Outlaw movement.
Sun w/ Cross Canadian Ragweed, Robert Earl Keen, The Randy Rogers Band, Micky and the Motorcars, Wade Bowen, Stoney LaRue, Kevin Fowler, Ray Wylie Hubbard, Drive By Truckers, and more. At the North Forty in the Fort Worth Stockyards next to Billy Bob's Texas, 2520 Rodeo Plaza, FW. $30-40. 817-624-7117.