Kinky Friedman's songs are known more for their titles than what the music sounds like. "They Ain't Makin' Jews Like Jesus Anymore" and "Get Your Biscuits In the Oven & Your Buns In The Bed" appear in articles about the novelist and gubernatorial candidate, but most people couldn't hum the melodies or sing the lyrics to save their lives. Try it next time at a party. Sing "Asshole From El Paso" to the tune of "Okie From Muskogee," and everybody will laugh. They don't need to hear any more. Novelty songs are cool, but unless you're Weird Al, it takes more than a chuckle-inducing title and high-school lyrics to make an appealing songwriter. Kinky's serious and poetic side is often overlooked.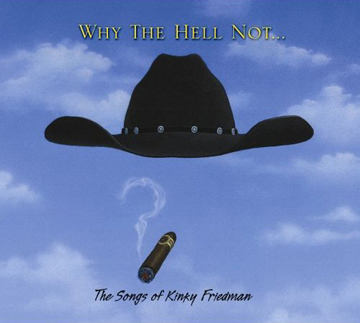 Cultists who have delved into Friedman's obscure albums realize the level of insight and feeling in his lyrics. Back in the 1970s and '80s, he created an entertaining live show with leftist honkytonk band The Texas Jewboys, but Friedman's performances were typically held back by average vocals and guitarmanship. Other artists capture the magic of his songs better than he does, as proven on the 1998 tribute album Pearls In The Snow. Four songs from that album are recycled here on Why The Hell Not …, a tribute album whose proceeds will help fund Kinky's '06 campaign, including Willie Nelson's sensitive take on "Ride 'Em, Jewboy," Dwight Yoakam's Bakersfield-textured "Rapid City, South Dakota," Lyle Lovett's somber "Sold American," and Delbert McClinton's soul-packed "Autograph."
The remaining tracks are new versions of old songs as interpreted by a handful of Texas Music artists. Charlie Robison delivers a surprisingly tender and kick-effing-ass version of "Wild Man From Borneo" And there has surely never been a better version of "Homo Erectus" than the brilliance offered by Asleep at the Wheel frontman Ray Benson and Reckless Kelly. Also, it's great to hear the big-voiced Jason Boland & The Stragglers put their down-home stamp on "The Gospel According To John." My biggest complaint is, at 10 songs, Why The Hell Not … is too damn short. Friedman's detective novels might be lighter than the tip jar at a senior center cafeteria, but his songs make one thing clear — the Kinkster can write like a mofo.