As one of the masters of the blues, Buddy Guy has honored, enlivened, and extended the genre during his 50-year career. The three-c.d., one-DVD box set Can't Quit the Blues spans most of Guy's career, from the early straight blues to the rock, soul, and even jazz variations. The 90-minute DVD includes rare and previously unreleased performance footage, six full performances from the Montreaux Jazz Festival, and an exclusive 2006 interview with Guy, considered the king of Chicago blues, the successor to his idol and mentor Muddy Waters.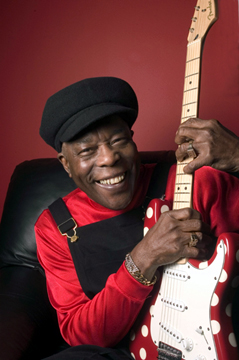 As good a player as Guy still is, the recordings are seldom if ever exclusively about his licks or somewhat strained vocals. Neither are they about the lyrics, which don't stray from familiar blues territory. The recordings are about the whole band. On one of the 47-song collection's best offerings, the rock-oriented, seven-minute "Baby Please Don't Leave Me," persistent bass and drums serve as a comfortable bed for the moody guitar to transport the listener into a sensual, hypnotic world.
The next song, "Done Got Old," is a change-of-pace, old-style blues lament that Guy can't do the things he used to do. On stage, the Rock and Roll Hall of Fame member's shows involved his playing the guitar with drumsticks, with his feet and teeth, tossing it into the air, all that stuff. A pioneer in distortion and feedback, too, he once played hanging from a rafter by his ankles.
The Louisiana native is known as much for interpreting other people's songs as he is for his own material. Eric Clapton, John Mayer, Carlos Santana, and Jimi Hendrix (who sometimes canceled his own shows to hear Guy play instead) all were influenced by the five-time Grammy winner. Clapton and Mayer perform on this collection.
Guy started The Buddy Guy Foundation to help honor long-forgotten blues musicians by paying for tombstones. His stage shows certainly gave the blues a jolt, and his willingness to wander into and out of the genre has extended it.