On For the Living of These Days, Kate Campbell sings slow, contemplative songs of hope in troubled times and of a sort of populist religion that distrusts earthly authority. Known as a literate musical storyteller with a respect for the South's past, Campbell is best when she sings about the search for justice rather than sounding front-pew, piously somber.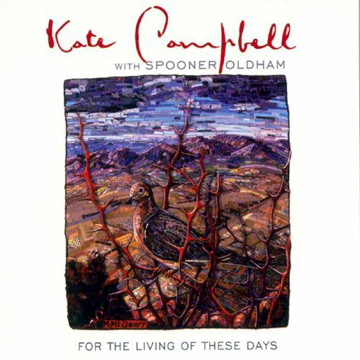 The whole album is simple and straightforward, with the briefest touches of poetry. On the opener, Woody Guthrie's "Jesus Christ," Campbell sings a cappella through the first two-thirds of the song before letting the instruments walk alongside her. Favoring working folks over preachers, sheriffs, bankers, policemen, soldiers, landlords, and the rich, Guthrie's anti-protest protest song is done right by Campbell. On the hymn-like "Dark Night of the Soul," written by Campbell and Walt Aldridge, she sings of the choice between giving in to doubt and surrendering to what she calls the peace of faith. And on the civil rights anthem, "Faces in the Water," she talks of seeing "faces in the water of a time not gone by / I see places in the water where so many souls won't die."
Musically, Campbell contributes piano and guitar. Her partner on the c.d., Spooner Oldham, plays piano, Hammond B-3 organ, Wurlitzer electric piano, and adds occasional background vocals. (Oldham has written for Percy Sledge, Solomon Burke, and Barbra Streisand, and toured with Bob Dylan and Neil Young.) For the Living of These Days is dedicated to Campbell's father, who was not only a preacher but president of the Southern Baptist Convention. The 14-song, 48-minute collection is a less secular companion to last year's Blues and Lamentations, a moody acoustic folk-blues recording filled with the desire to escape a hardscrabble world.