While it was going on, 2006 didn't seem to me like that great a year for movies.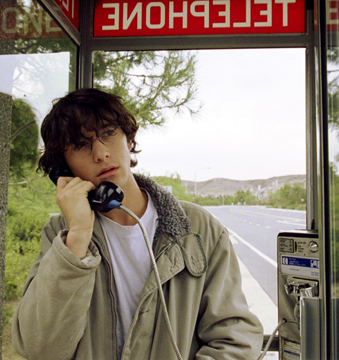 Only now, as I look back, do I realize how spoiled for choice I am. I can't put my top movies in any order that satisfies me, so I'm listing these alphabetically. I also couldn't bear to part with some of the films beyond the first 10, so I've exceeded that arbitrary limit. Even so, there are still some flat-out great films that I've had to relegate to the honorable mention list. Most of them are available on DVD, so you can check them out. As always, an asterisk denotes a film that has yet to open in north Texas.
Brick Rian Johnson's geeky low-budget high-school thriller, with contemporary teens speaking like characters from 1940s film noir. What should have been a train wreck instead turned into the year's most wildly original movie. You'll need the DVD's subtitles to fully appreciate Johnson's coruscating, classically hard-boiled dialogue, but the tragedy underlying it all is quite real.
Deliver Us From Evil Amy Berg's soul-shattering documentary etches a complex, sickly compelling portrait of Oliver O'Grady, a pedophile priest with no clue as to his own monstrousness. The film's true greatness, however, is its detailing of how the Catholic Church protected him. It adds up to a powerful vision of a world, not a fantasy world but the one we actually live in, as a place where evil reigns triumphant.
The Departed Martin Scorsese's operatic police thriller isn't as uncompromising as the original Hong Kong version but expands on it in all sorts of enjoyable ways. The Boston atmosphere is as palpable as the vein of paranoia running through this tale of undercover cops and crooks, and the actors sink their teeth into their shouting matches and battles of wills. This movie's a bath in pure testosterone.
Dreamgirls The best piece of pure Hollywood spectacle this year. Bill Condon's big-screen treatment of the hit Broadway musical retraces several decades of musical history and serves up yummy turns in the spotlight to a cast chock full of vocal talent and star power. It's hard to say goodbye.
Duck Season A little treasure from Mexico about two preadolescent boys on the verge of life-changing events as they while away an uneventful Sunday afternoon in their apartment. Fernando Eimbcke's dryly funny and poignantly true debut film meditates on love, loss, growing up, and hanging out. Also, it has an interlude inspired by pot brownies.
Mutual Appreciation* The New York Times recently called Andrew Bujalski "the voice of his generation." He's not, but he is awfully talented at writing dialogue and directing nonprofessional actors. This micro-budget comedy about a rock musician who's attracted to his best friend's girlfriend is acutely observed, uncommonly good-looking, and warmhearted enough for even the chilliest theater.
Notes on a Scandal* A juicy drama driven by underage sex, blackmail, and homoerotic jealousy among the teachers at an English public school. Cate Blanchett and Judi Dench give ferocious, awe-inspiring performances boiling over with unfulfilled emotional needs. Yet the overall effect is chilling as the movie marches ruthlessly to its end.
Pan's Labyrinth* Intensely beautiful and deeply sad, Guillermo Del Toro's film follows a young girl whose belief in fairy tales insulates her from the horrors of the Spanish Civil War and provides us with wondrous and terrifying sights. A moving testament to the powers of the human mind to protect itself with whimsy and art, and a scarring account of its limitations.
The Queen Stephen Frears' dangerously smart re-creation of the British royal family's public-relations screwup after Princess Diana's death. At the same time, this movie is a dishy exposé, a brilliant workplace comedy of errors, a searching examination of the nature of celebrity, and a touching tribute to a monarch who takes a public beating because her attitudes are out of date.
Talladega Nights: The Ballad of Ricky Bobby Sure, this isn't as meticulously well-made as, well, any of the other movies on this list. It's funnier than any of them, though, and it cuts unexpectedly deep when you're not looking. Decades from now, guys will still be quoting from this movie randomly and cracking each other up.
Thank You for Smoking Jason Reitman's after more than just the tobacco industry in this raucously funny satire. He's out to capture the mendacity and hypocrisy that let our public figures get away with shading the truth in all sorts of ways. He bags his prey and leaves us laughing in his wake.
Tristram Shandy: A Cock and Bull Story The reigning genius of English comedy isn't Sacha Baron Cohen, but rather Steve Coogan. This collaboration of his with Michael Winterbottom and Frank Cottrell Boyce perfectly captures the essence of Laurence Sterne's 18th-century experimental novel by encasing it in a few dozen layers of metafiction. Sort it all out or simply laugh at the jokes, you'll have fun either way.
Honorable mention: Park Chan-wook's beautiful and brutal Lady Vengeance, Fabián Bielinsky's dark valedictory The Aura*, Michel Gondry's joyous concert film Dave Chappelle's Block Party, David Frankel's plush fashion fantasy The Devil Wears Prada, Caveh Zahedi's unsparing and hilarious I Am a Sex Addict, Alfonso Cuarón's hellacious sci-fi parable Children of Men, Cédric Klapisch's messy and romantic Russian Dolls, Deborah Scranton's soldier's-eye view of Iraq The War Tapes, Paul Greengrass' unassuming and potent United 93, Karen Moncrieff's slasher flick with a soul The Dead Girl*, Todd Field's unsettling domestic tragedy Little Children, John Lasseter's scenic drive Cars, Olivier Assayas' accessible addiction drama Clean, and Zhang Yimou's quietly winning devotional drama Riding Alone for Thousands of Miles.
---
Great performances: Ben Affleck's thwarted Superman in Hollywoodland … Emily Blunt's fidgety miserable assistant and Meryl Streep's mogul paying willingly for her power in The Devil Wears Prada … Ricardo Darín's dissociated criminal wannabe in The Aura* … Judi Dench's lonely spinster driven to blackmail in Notes on a Scandal* … Aaron Eckhart's way-too-competent p.r. guy in Thank You for Smoking … Paul Giamatti's smart, skeptical royal fixer in The Illusionist … Joseph Gordon-Levitt's flinty teen sleuth in Brick … Lee Yeong-ae's mild, mad, languorously sexy avenger in Lady Vengeance … Helen Mirren's forbidding yet sympathetic monarch in The Queen … Eddie Murphy's self-extinguishing pop star in Dreamgirls … Paula Patton's inwardly terrified nightclub chanteuse in Idlewild … Ken Takakura's father carrying on his dead son's work in Riding Alone for Thousands of Miles … Forest Whitaker's clownish, murderous Idi Amin in The Last King of Scotland … all the lost girls: Maggie Cheung in Clean, Abbie Cornish in Somersault, Maggie Gyllenhaal in Sherrybaby*, Rinko Kikuchi in Babel, Kerry Washington in The Dead Girl*… and the entire casts of Little Children and The Departed.
Making the leap: Ivana Baquero, Pan's Labyrinth*; Timur Bekmambetov, Night Watch; Sacha Baron Cohen, Borat: Cultural Learnings of America for Make Benefit Glorious Nation of Kazakhstan; Stephen Colbert, Paul Dinello, and Amy Sedaris, Strangers With Candy; Daniel Craig, Casino Royale; Jennifer Hudson, Dreamgirls; Gil Kenan, Monster House; Pierre Morel, District B13; Cristi Puiu, The Death of Mr. Lazarescu.
Misunderstood: Idlewild, Night Watch, Lassie, Monster House, Marie Antoinette.
Overrated: Flags of Our Fathers and Letters From Iwo Jima*, Borat: Cultural Learnings of America for Make Benefit Glorious Nation of Kazakhstan, Little Miss Sunshine, World Trade Center, The History Boys, Akeelah and the Bee.