Watermelon Slim is an ex-reporter, ex-sanitation truck driver, ex-lots-of-jobs bluesman and Vietnam vet who quit the "real world" after a heart attack in 2002 to play the blues all the time.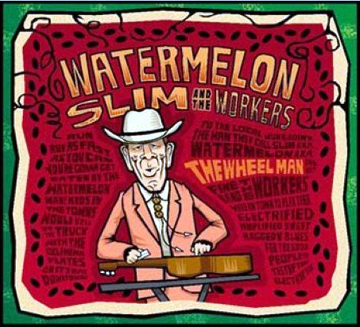 On The Wheel Man, his fourth album in five years, he's in good form, with 14 lively, electric guitar-and-drums blues tracks with doses of harmonica, piano, and attitude. The songs are a mix of originals and covers about life and love that sound as old as trouble and as modern as hard times for the defiant and weary. "You have took all my possessions, but it just weren't my day to drown," he sings on "Black Water." Now that's the blues. With a twist. What begins like a song about lost or never-was love turns out to be a lament about Hurricane Katrina's effects on the Delta. "Jimmy Bell" is a toe-tapping, knee-slapping song about church and (wander-) lust. On the hard-driving "Rattlesnake," he claims that his gal's love is "like a rattlesnake bite / Like poison running in my veins," and on "Peaches" he says that his out-of-control dance partner has everything that they need to keep the good times rolling.
Slim then hits us with "Sawmill Holler," an a cappella performance, something seldom heard anymore in the blues, about a hard-working man. Slim (real name: Bill Homans) also has three college degrees and membership in the high-IQ society Mensa. For last year's eponymous c.d., Slim has earned six Blues Music Award nominations, putting him in the rare company of B.B. King, Buddy Guy, and Robert Cray. The awards show is scheduled for May 10 in Memphis. Stay tuned.