Jed tried to help.
"How 'bout I tell everyone here to ask you why you're in a bad mood," he said. "I bet that'll make you feel better."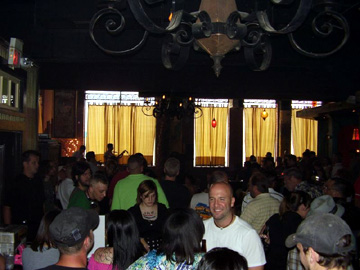 Ah, sarcasm. But my nerves were already completely fried. I had spent the past two months of my life helping put together and promote the Fort Worth Weekly Music Awards, and here I was, sitting with some friends at the Pour House, waiting for — expecting — everything to fall apart. Something had to go wrong. You don't book 30 local bands to perform on a Sunday afternoon in five downtown venues — 8.0, Bass Performance Hall's McDavid Studio, Embargo, Flying Saucer Draught Emporium, and the PH — and have nothing go wrong. Especially when you've never done anything as big before. Especially when your event last year, with 24 local bands at four downtown venues, drew a coupla thousand people and set a pretty high standard.
I couldn't pound 'em fast enough — bam, bam, bam. (The six-ounce cups of complimentary beer at the PH, not the people.) For the record, my anxiety wasn't all in my head. For the first time in years, the daily paper of record's weekly entertainment guide — whose vile, new, scatologically suggestive name I won't repeat here — didn't list our event, easily the biggest local musical happening of the summer. (Apparently, the paper's "local" music columnist was too busy chatting up Kelly Clarkson on the phone and rewriting press releases to bother. Pffshh.) Not to be outdone, the Dallas Observer also didn't list or mention us. Seriously, is there anything worse than putting on your good shoes and throwing a party and nobody showing up 'cause nobody knew you were throwing one? Bam.