Formerly Necrogazm, Fort Worth's Within Chaos has transcended not only that juvenile moniker but local metal itself.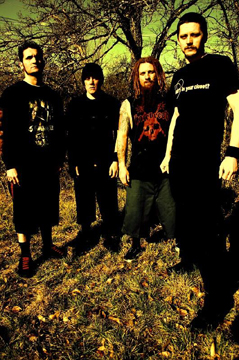 The band recently signed with huge indie imprint Koch Records and is headlining Metal Massacre 2007, a daylong celebration of all things heavy and loud, at Ridglea Theater on Saturday. The band's 2006 album What Doesn't Kill You is a brutal exercise in grunting and caterwauling vocals, all propelled by a maelstrom of chainsaw guitars and machine-gun percussion not far removed from the legendary — and surely influential here — Pantera. Songs like "Buried Alive," "Power Trip," and the title track are pure blitzkrieg, akin to both the '80s thrash that the band members grew up on and today's down-tuned nu metal. thrash that the band members grew up on and today's down-tuned nu metal. In a day and age when rage should fill the airwaves like cannon blasts, very few bands get the opportunity to light a fuse. Within Chaos has, and things stand to be better for it. — Justin Press
Sat w/Verdict of Vengeance, Last of the Heroes, Jacknife, Grain, Negative, Course of Ruin, Lord Slugg, My Plastic Friends, Recommit, When Faith Fails, Vicious Truth, A Theory on Conquest, Addnerim, Debri, No Scope, System Overload, Fist Full of War, Legends of the South, Nevolution, Skard Soul, Hyperion, Kaliya, Drag the Silent, No Souls Lost, Bloodstained Carpet, Aversion to Life at Ridglea Theater, 6025 Camp Bowie Blvd, FW. 817-738-9500.