A spirit hangs over Dutch's, a new burgers-and-beer café in a little vintage strip across from the TCU campus and sandwiched between two beloved ghosts: the TCU bookstore and the theater that housed everything from '70s-era Euro-art films to productions by Stage West.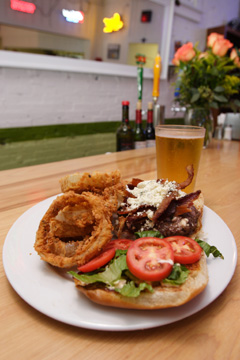 The spirit in question is Leo "Dutch" Meyer, a TCU grad and a Horned Frog football coach of such skill and empathy that people — including Dutch's co-owners Louis Lambert (also a Frog) and Grady Spears — still remember his tenure some 40 years later. Lambert and Spears, celebrated chefs who've slung from numerous kitchens here and elsewhere, met at Reata. Using a beloved local icon as a marketing tool is a dicey proposition. Most students may not even know or care to whom a restaurant's name refers, and most of them also like discovering and cultivating their own dives. When you wander into Dutch's, you'll find a mostly bare, pale, nonde environment, save for a corner-screen tv, big taps, and a polished wood table that runs across the storefront windows, affording customers a view of, well, the corner of the TCU campus and another small retail strip across the street. To reference Hemingway, Dutch's is the picture of a clean, well-lighted place.
The atmosphere probably won't be the reason folks will pile into the joint, but the small, standard, regularly updated menu just may. Full of burgers, dogs, melts, and other comfort foods — including grilled cheese sandwiches and Frito pies — it satisfies. For the most part. There are several signature burgers, and the one we tried on a recent visit was kind of a bust. The Texana was a thin all-beef patty topped by a melted wedge of thick cheddar, shredded lettuce, and sliced pickles, and finished with ranch dressing and a couple of avocado slices. The dressing tasted like bottled commercial stuff, and, along with the avocado and the cheddar, it was too much creamy smoothness to handle. The Frito pie, however, was trailer-park heaven on a plate: big, deep corn chips drenched in semi-spicy thick beef chili, melted cheddar, chunks of tomato and onion, and, on top, small squares of soft, mouth-watering white cheese. This is a Frito-pie-as-monster-nachos dish. The tuna melt was also stellar. It looked a bit like eggs Benedict, arriving as two semi-sweet white buns, each covered in a shell of melted cheddar and Swiss. Beneath the cheese were tomato slices cooked to juicy pulpiness and fat shards of delectable and filling albacore tuna.
The onion rings were also something to squawk about. A bite into the unusually thick and crunchy breading sent tiny explosions of black peppercorn and mild jalapeño into your mouth. The only thing that may keep Dutch's from being a true college destination is its — gasp! — kid-friendly vibe. Maybe we're being presumptuous, but most students of higher learning like cramped, shadowy, and off-the-beaten-path places. They like to lurk and brood and talk about adult stuff, which isn't kosher with little ones around. (Some students also like to study, which is pretty much impossible in the company of children.) In Dutch's defense, the royal appellation "friendly college dive" takes years to achieve, and the place has just opened.
 Dutch's
Texana burger $6.50
Tuna melt $7.25
Frito pie $5.25