So Harry Potter's childhood finally ends this weekend, and the same can be said for that of many of his readers.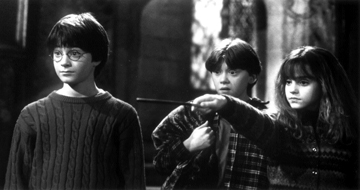 The final book in the series, Harry Potter and the Deathly Hallows, details the boy wizard's last year in school and brings this saga to a close. What happens? Who dies? Does the whole thing end with a Sopranos-style blackout? (Yeah, I read that joke on the internet less than 12 hours after the last episode was broadcast.) And when was the last book publishing event accompanied by so much hype?
Anyway, our local reading places aren't about to let this event go unheralded. Many of them will be holding their own Harry Potter parties, which means you can likely find one near you. They'll be offering face-painting, games, trivia contests, food, and other such activities. The Barnes & Noble University will even have wizarding duels; not sure how they'll manage that. Fort Worth's Central Public Library looks to have the most expansive event, which includes mock-ups of Hogwarts and Diagon Alley as well as a screening of the first Harry Potter film, back from 2001. The literary verdict on the series as a whole will start to roll in soon afterward, but it isn't too early to take in the scale of J.K. Rowling's strange, funny, terrifying achievement, which promises to end before it succumbs to pretentious self-importance or unreadable obscurity (looking at you, Lord of the Rings). We'll be devouring our copy with the rest of you.
Harry Potter parties are going on at various locations. Check our Calendar section for dates, times, and addresses.