A 12-year veteran of the local blues scene, Fort Worth singer-songwriter Drue Webber has finally released a solo album.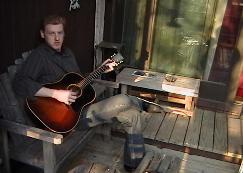 A mix of vocal tracks and instrumentals, The Blues Stay at Home is built on a handful of originals and some uniquely styled renditions of classics. "[The album] was something I had to do for myself," he said. "It's just me. I didn't have anyone to play with, so I did the only thing I knew how to or could do: sing and play guitar." Webber's arrival has been a long time coming. After graduating from Country Day School in 1998, he moved south to Georgetown to attend Southwestern University and then, after leaving school, to Austin. Little did Webber know that he was in line for even more intense schooling. One day out of the blue, Doyle Bramhall — Stevie Ray Vaughan's drummer and now a solo artist — called. Seems that Bramhall had heard good things about Webber and wanted him to audition. For the next three years, the kid with the bright orange hair toured with the blues legend and played on his acclaimed 2003 CD Fitchburg Street. Those deep, rhythmic tones you hear are Webber's handiwork.
At 22, the Fort Worthian looked to be on his way. But on December 16, 2001, Webber's idol and only sibling, older brother Dax Webber, died in a car accident. "I had a blackout period," Webber said. "I'm still in denial about it. I had my certain way of coping, and, honestly, I don't remember everything I did." Bramhall's clean and sober ways didn't jibe with Webber's self-destructive behavior, and the young player suddenly found himself without a brother or a band. Webber won't discuss his dark period. But he said that his brother, who played in the local band Brainface, pushed the limits for him "in terms of what was musically possible — my musical universe was his." The darkness lasted for a couple of years until Webber finally had a break-through. "Eventually, I would have to experience my emotions and thoughts," he said. "I couldn't keep running away forever." Music often serves as good therapy, and Webber delved even deeper into the blues. "[It] is raw, pure, and simple," he said. "It's so honest, and it says so much. Inherently, it evokes emotion." Making The Blues Stay at Home, he said, "saved" him.