If Fort Worth is "Where the West Begins," then the road to the true west has always been West Seventh Street. Leading out of downtown and across the Trinity River, it has always been an important spoke in Fort Worth's transportation wheel.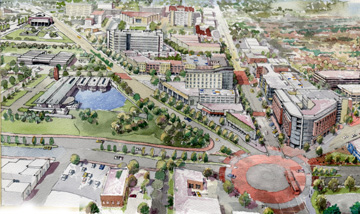 Early settler K.M. Van Zandt and his family bought land just west of the river in the late 19th century, saddling the parcels with deed restrictions (including limits on alcohol sales) that are still being fought. When the United States Army wanted a training base during World War I, they built it just off Seventh, in the spot where the museums now stand. In 1928, Montgomery Ward built its largest store in the country on West Seventh to satisfy the West Texans who traditionally came to the city to buy their dry goods.If you were visiting famed Fort Worth Star-Telegram publisher Amon G. Carter at his Shady Oak Ranch near Lake Worth during the mid-1900s, you drove out West Seventh from your downtown hotel to get to meet with the kingmaker. Presidents like Franklin Roosevelt and Harry Truman and Dwight Eisenhower took that ride, as did Hollywood buddies like Bob Hope, Bing Crosby, and Gene Autry. When Carter's good friend Will Rogers died in a plane crash in 1935, an 85-acre "memorial" was built for the humorist on that same broad street.
It was all about history and culture. The street led to the rich Rivercrest neighborhoods as well as the amusement park at Lake Como. The city's car dealers set up shop along the road, with scores of other merchants. The business plan was simple: Rich Westsiders had to come down Seventh to reach downtown jobs, department stores, and movie theaters —and they might just decide to buy a car along the way. But two weather events 50 years apart drastically changed the business plan for the part of Seventh between downtown and the Cultural District. In 1949, a huge rainfall led to a flood on the Trinity in which water rose to the second floor of the Montgomery Ward store. A thousand other buildings in the city were destroyed, many of them on West Seventh, and 13,000 people were left homeless. Then in 2000, a major tornado ripped its way down the street, leveling many buildings and homes and seriously damaging many more. When it was over, however, at least one neighborhood found itself stronger than ever, and Wards had folded its tent, making way for a significant new development.
In between those storms, the street languished, for the most part. Signs would go up, especially near Trinity Park, saying such and such development was coming soon — but those developments never materialized. One builder even put in footings for an office structure (still there in the parking lot next to the Wendy's hamburger joint), but it never got off the ground. Retail shops came and went, and vacant buildings and vacant lots dotted the street, despite the fact that it was the main drag between downtown and the nationally recognized museums. For a few years, it looked as if Seventh might take off into a Deep-Ellum-style entertainment district, but bars and clubs, like the retailers, surfaced, and most sank, and the once-thriving avenue stayed largely dormant. Until a couple of years ago, that is. Now, if you look up and down West Seventh, you'll see construction cranes and bulldozers working on mixed-use developments that will transform this key part of Cowtown. The big changes started with the tornado and have been gradually moving west from downtown and east from University Drive.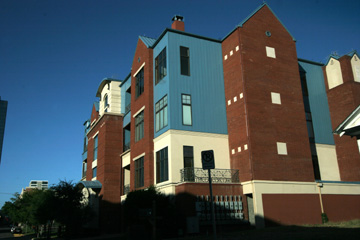 But the pace of change is revving so high that within 18 months the street will be unrecognizable. By the end of 2009, about 1,800 housing units will be coming on line. Accompanying them will be hotels, high-end retail, maybe even an art house movie theater. Restaurants and nightclubs are being planned, along with eight-story office buildings. The new West Seventh is likely to be different from anything Fort Worth has seen. The "urban village" concept, which has already paved the way for redevelopment of several neighborhoods around downtown, is being tested out on this three-mile stretch of roadway in more intensive big-city fashion, where the draw will be the ability to work, dine out, and entertain oneself within walking distance of home. A light-rail line might be built to ferry these "new urbanites" to jobs downtown from their vertical village. What a concept, for a city that has spent the last 50 years sprawling out over every available acre of prairie, post-oak woods, and creek bottom. All of that probably sounds exciting to the empty-nest baby boomers and the young professionals who are expected to fill those apartments and condos and dine at the restaurants and shop at the stores. But what may not be quite as exciting to those raised in Fort Worth is the identity of the folks who are going to be doing much of the developing. Yep, they're from Dallas.
The real estate specialists who successfully rebuilt the area between downtown Dallas and the Park Cities over the past decade are looking west. They say recent changes in land ownership patterns in Fort Worth, their own experience in dealing with this kind of high-density redevelopment, and the fact that they've basically run out of cheap, close-in land in Dallas have taken them to Cowtown for opportunities. The question for Fort Worth leaders is whether an important part of their city will be turned into a Dallas clone or keep its own personality, and whether another trend that Dallas is used to — periodic overbuilding by "me too" developers — will stall Seventh Street's makeover, creating a flood of another sort for the area's latest urban pioneers to deal with. Along Seventh Street right now, four very similar projects are ramping up. Cranes are rising above the Museum Place project near University Drive and Seventh Street that will bring offices and condos, first-floor retail, a hotel, and apartments. A quarter-mile to the east, the land around the old Acme Brick headquarters is being plowed under for more offices, condos, retail, apartments, and another hotel. About a mile closer to downtown, a hotel and apartments are already up and running in the South of Seven project, and condos and retail are on the way.
In between, the Montgomery Plaza development, which replaced the historic Wards department store, is going strong with a Super Target store, retail strips, restaurants, and boutiques, though the condo conversion process is just beginning.
All of this is in addition to the 750 apartments that have been built in the area within the past few years and hundreds more in downtown proper and in the Trinity Uptown area — the developer-imposed name for the neighborhood on the northeast edge of downtown. Another 1,400 units are planned in that area, plus 800 more near LaGrave Field. And then there's the Trinity River Vision, the alleged flood-control project that really is aimed at major redevelopment of the area just across the Trinity north of downtown. TRV leaders have said that 2,000 housing units will be part of their "town lake" development.
An April 2006 study commissioned by Downtown Fort Worth Inc. and conducted by MPF Research Inc. predicts demand for more than 4,000 for-sale housing units in the central city area. But real estate developers are jumping on this housing development bandwagon in such huge numbers that they are far outpacing the study's projected demands.
---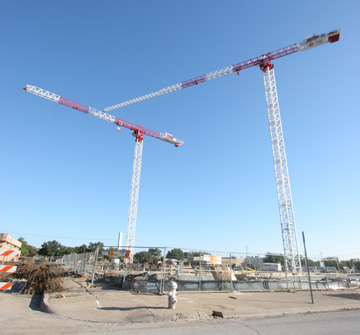 There are other clouds on the horizon. The mortgage industry, stung by foreclosures caused by its own bad lending practices, is tightening lending rules, making credit harder to get and borrowing more expensive. Major homebuilders, including Fort Worth's D.R. Horton, are cutting back because of a glut of housing, here and around the country. And many economists think that the housing collapse in some regions, plus increasingly high oil prices, might be enough to push the nation into recession. Locally, however, North Texas is experiencing high job growth, oodles of Barnett Shale money are flowing into corporate and personal bank accounts, and housing prices haven't been affected as much as those on the coasts. All of which makes the Seventh Street tea leaves hard to read. Regardless of those other factors, lots of business folks are questioning the wisdom of four very similar major projects being built simultaneously within blocks of one another. Will the resulting glut of housing units and retail spaces drive down the market? Or will the influx of residents and customers make the entire area more desirable?
"If we had a crystal ball that could predict all this, it would make our work so much easier," said Wally Maya, a partner in the Plano-based Marquis Group that is developing Montgomery Plaza. "We do our market studies and try to figure out what works out long term, but you never know. Things can change very quickly. "We really hope the other projects have success," he said, "because we will all add to each other. Fort Worth is emerging, and we think it will be able to absorb all these housing units. But I'm not an economist, I'm a developer." The same question of overbuilding has been raised several times in the last few years, as building after building downtown has been converted into condos, and new close-in housing has gone up on all the center city's edges. But thus far, the urban village concept that city planner Fernando Costa has been preaching for years has not played itself out. The ripples have moved further from the core, as city staffers have continued to promote the idea of infill housing and workable urban neighborhoods where people could park their cars and do their errands on foot.
Fort Worth's sprawl certainly hasn't stopped as a result, but there's no question that the housing market has changed, as young professionals looking for hip, close-in living choices, along with baby boomers looking to unload the lawn chores, have begun to demand more urban, as opposed to suburban, options. The only problem for Fort Worth developers has been that the same thing happened in Dallas a decade earlier — and builders and real estate honchos there figured out long before their Tarrant County counterparts how to make those kinds of developments work. Various developers describe differently the changes in attitude that have allowed the Seventh Street explosion. Tom Struhs, developer of the Trinity Uptown project just east of downtown, said Fort Worth "is becoming a little less hesitant" about the advantages of building up instead of out.
Tony Landrum, a developer who has done many projects in Dallas and is a partner in Museum Place project, said that near-downtown land in Fort Worth was so controlled by old families that did nothing with their property that "it was just very difficult to get things done here." But now, he said, "Both the private sector and the city government seem more willing to work with these types of developments." Ken Hughes of Dallas-based Hughes Development, which is doing the South of Seven mixed-use development, said Fort Worth "has been ignored by even Fort Worth developers. Whether Fort Worth likes it or not, there is no more land in Dallas, and Fort Worth is now a bargain." And it's been Dallas developers, to a great degree, who have leapt on those bargains — Hughes Development with South of Seven, the Marquis Group at Montgomery Plaza, Cypress Equities with the old Acme Brick site, and Landrum as one of the partners in Museum Place.
"Fort Worth real estate developers just haven't had the experience of doing these types of things," said one local developer, who didn't want his name used. He was referring to high-density urban village developments. "This isn't like building single-family homes west of town. It isn't like building a strip shopping center," he said. "These are projects that have to be planned out for years, and you have to know the housing, office, and retail markets. Most of the developers here know one, but not the others." In Dallas, by comparison, developers have had years of putting together the deals that worked for Uptown, Mockingbird Station, and similar areas. Hughes Development has completed the Mockingbird Station and Highland Park Village developments. The Marquis Group has had a long presence in Uptown. Cypress Equities, a subsidiary of The Staubach Cos., headed by former Dallas Cowboy quarterback Roger Staubach, is one of the biggest real estate developers in Big D. And they learned that high-density urban design near downtowns can be very profitable.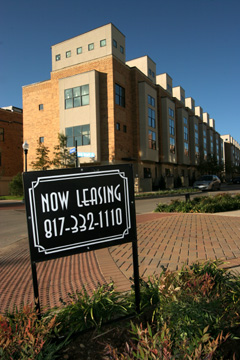 Uptown Dallas has many similarities to the Seventh Street corridor. The square mile of land along McKinney Avenue just north of downtown Dallas had been vibrant through the first half of the 20th century, but by the 1970s had become vacant and undesirable. In the 1980s, speculators began assembling land, but the real estate market collapse forced them to put their plans on hold. By the late '80s, the market had improved, but not for office buildings. Instead, they took a chance on condo and apartment complexes, and over the next two decades, Uptown exploded. Where there was once very little housing, there are now about 6,000 housing units. Office and retail and entertainment venues have followed. "The first was a 16-story condo development called La Tour, and then the Crescent hotel and office complex." said Tracy Curts, executive director of the Uptown Public Improvement District. "Over time the idea of mixed-use was brought in, and even though Dallas didn't have much experience in doing that, the area was built in over time." Curts said total property values in Uptown have increased from $329 million to $2.7 billion over the past decade.
Maya, of the Marquis Group, said the Uptown experience is very much on the minds of the developers near Fort Worth's Cultural District. "Uptown was a development that joined up downtown Dallas with the Park Cities on a major corridor," he said. "Here you have a development area that will link downtown with a place like Westover Hills along a major corridor." Landrum said Uptown Dallas succeeded because of many projects coming online at the same time, much as will happen in Fort Worth. "If only one development was being done, it would have failed," he said. "But what happens is the critical mass enhances the entire area. Within a small area, people will have options for housing and shopping and entertainment. We realize we are in competition, there is no denying that, but the success of one is just going to add to the success of the others." Those developers are all aware of Fort Worth's prickliness over the idea of becoming a Dallas clone. They all deny it will happen, but none were able to explain why not.
---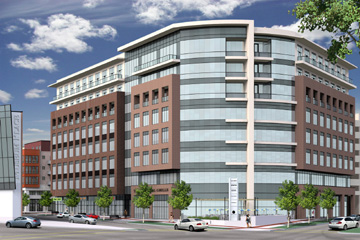 The timeline for the redevelopment of Seventh Street actually began when the killer tornado roared through in 2000. Montgomery Ward was still operating its retail and distribution center built in 1928, but the twister wiped out all of their truck bays. The company had been looking for reasons to close the Seventh Street location, and the storm damage made that easy. Seven years later, Montgomery Plaza's retail section is going strong, and about 60 percent of its 240 loft/condos have been sold before they're even built.
First move-ins are scheduled for late 2008. Soon after the Montgomery Plaza project began, the old Firestone Tires store at West Seventh and Henderson streets, which had been vacant for years, was redeveloped into 350 apartments. After that, two more new apartment complexes farther west added about 400 rental units. Those complexes took longer to fill than planned (six to eight months), but they're now more than 95 percent occupied.
Richard Garvey began plotting out his Museum Place project when philanthropist Anne Marion tore down the old Seventh Street Theater near the intersection with Camp Bowie and started talking about building an elaborate traffic circle as a gateway to the Cultural District. She abruptly cancelled plans and took back her commitment for a major donation to the city, but Garvey remained intrigued. "All I saw around the Cultural District were vacant lots and buildings without much history, and I wanted to do something that would integrate that area in with the museums and the downtown area," he said. Local homeowners, of course, have disagreed loud and long with that deDELETEion of their neighborhood, as have the operators of clubs and other businesses that his project has displaced. Museum Place has started construction of its eight-story office condo complex. Work on a 250-unit apartment building on the site of the now-closed Wreck Room club is supposed to begin early next year. Scheduled next is a six-story hotel, then 250 more apartment units between Camp Bowie and Seventh. All of the buildings will have first-floor retail businesses.
In the past two years, Cypress Equities has moved in with its West Seventh development, buying the old Acme Brick headquarters building, then expanding its holdings to include five acres between Foch and University streets, and has recently acquired property on the north side of Seventh. According to its web site, Cypress will build about 800 housing units, mostly on the higher-end rent side, and is considering an art house theater as one of its entertainment options. While Montgomery Plaza was being created, Hughes Development was assembling land just west of Trinity Park and began to build its South of Seven project with apartments near the Lancaster Avenue bridge. A hotel was added, but Ken Hughes waited for the market to improve before going forward with the higher-end townhouses, condos, and shops on the land adjacent to Seventh. Construction is due to begin on that final South of Seven phase this week. And, Hughes acknowledged, tenants there will bring quite a bit of Dallas to Cowtown: Primo's Bar & Grille, a trendy Dallas Tex-Mex restaurant; Dallas-based Performance Playground, a high-end fitness club; and Hola!, another Dallas-based restaurant that features Spanish tapas and sangria.
If North Texas developers based their bets only on national economic trends, they probably wouldn't be gambling on selling a single plate of tapas, in Fort Worth or anywhere else. After all, U.S. Treasury Secretary Henry Paulson warned last week that the downturn in the housing market, with its negative effects on the rest of the economy, is likely to persist "for some time yet." And the International Monetary Fund issued a report noting that the risks of recession have risen substantially in this country. However, figuring out how those national trends will affect a three-mile stretch of one street in Fort Worth can be about as tough as trying to decide whether one hot week in September is the result of global warming. Even regional economic studies hide the frequently substantial differences in what goes on in Tarrant County compared to the eastern half of the Metroplex. According to state and federal statistics, job growth is still strong in Fort Worth. Sales of existing homes in North Texas dropped substantially in September compared to a year earlier, but the median price of homes went up slightly. New home starts are down almost a third from a year ago, and building permits are down even more sharply in Fort Worth and Arlington — by 41 percent, in fact. Most economic experts expect new-home sales to slow considerably.
That doesn't mean all bad news for the Seventh Street projects, since they involve a high percentage of rental units.
The mortgage crisis "has been a good thing for rentals," said Cassie Gibson, managing director for market research for Residential Strategies, a Dallas consulting firm. She explained that the credit crunch will keep many residents in rental properties who might otherwise have moved on to buying homes. That doesn't help condo sales, however. D'ann Petersen, an economist and housing analyst for the Dallas Federal Reserve, predicted there will be no resurgence in the housing market until 2009. "The areas hardest hit are the new homes in the outer circles" of suburbia, she said. "But our business contacts are concerned about mixed-use projects in Houston and Dallas because there are so many going up. Fort Worth doesn't have the number of these mixed-use projects right now. If we continue to see good job growth in Fort Worth and population increases with relocations from other cities, the market should be able to support the urban housing trends in Fort Worth."
There are more developers in the area now betting on the come. Some large properties in the working class Linwood neighborhood, on its edge next to Montgomery Plaza, have been sold in recent months, based upon speculation that the housing growth will push north to White Settlement Road. Most of this land is intended for high-end townhouse condos. (Linwood residents, benefitting from help they received after the twister, have largely resisted developers' attempts to buy out their modest homes.) The biggest problem for the developers will be filling up retail spaces. The credit crunch and possible recession will make investments in new businesses more expensive. According to some operators looking to lease space from the developers in this corridor, playing them off one another has brought prices down. "Most businesses are waiting to see how the housing works out, and we won't know that for a few years," said one Fort Worth entrepreneur who's been in on those negotiations. "You follow the rooftops, but you have to know if they are full. I would expect that it might take a few years for people to really see how this unfolds."
---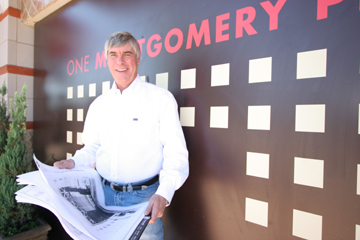 How it unfolds is as much a social experiment as an economic one. "There is not a whole lot of specific data on these urban projects, especially in southern cities," said Mark Dotzour, chief economist for Texas A&M University's Real Estate Center. "What we are seeing nationally is a grand social experiment going on, in Fort Worth and Dallas and Austin and Houston. They are testing the waters to whether high-end families are interested in moving back to an urban location."
Look at the social experiment this way: The three-story building going up across from J&J's Hideaway on Seventh Street, part of Museum Place, will include two floors of moderately priced apartments above a 7-Eleven. Will the newly urban tenants think it's grand to be able to run downstairs in their bathrobe and slippers for coffee and donuts in the morning and for beer when they run out on Friday night? Or will they be more worried about the Stock Show carnies who hang out in the area each February, eating their microwaved Swanson frozen dinners on the sidewalk? How about the way the sidewalks jump and the noise level goes up when the bars let out?
Fort Worth has seen smaller mixed-use projects succeed, in places like the Hospital District, but none have had the critical mass that Seventh Street will produce. Landrum said he hopes that, in 10 years, the Museum Place will include "a tree-lined boulevard with light rail running down it, with beautiful developments that give Fort Worth residents a place where they can come to work and live and play. It will take public and private investment to make that happen, but we really feel this will be a special place." Or maybe we'll get a very crowded street with tons of traffic, one-bedroom apartments that rent for $1,200 a month when tenants can be found, big box retailers you can find in Southlake, and hotels that never fill up. Even areas that get overbuilt frequently succeed in the long run, though late-to-the-game developers may go under.
Regardless of the economic outcome, Seventh Street is about to change drastically. But the museums will remain, cowboys with their spurs on will show up in local bars along with the rodeo, and Fort Worth's development as an indie music town with a growing art community and colorful history will continue. And the West will still begin somewhere in these parts.