Zayra Alvarez is a singer-songwriter from Puerto Rico who has been living in Dallas for "a long time," she said, and is probably best known for her appearance last year on the reality TV show Rockstar: Supernova.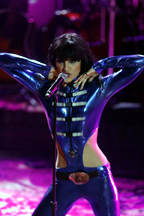 She has long, dark hair and a stage presence largely though not wholly defined by a statuesque frame and penchant for bodysuits and stiletto boots. She also is a serious musician, has a seriously massive fan base, and is going to be a serious star. Dave Karnes and Daniel Harville are two Fort Worth songwriters and performers who are probably best known for their supporting work — Karnes as a sideman for Zac Maloy, Colin Herring, and John Price, and as a jazz bandleader and indomitable force in keeping straight-ahead jazz alive in North Texas; and Harville as the brains and muscle behind the late-'90s alt-rock touring band Sugarbomb. The pair have been friends for years and are probably two of the most professional, dedicated musicians in the state. What Karnes and Harville have to do with Zayra is a new band, Pretty Baby.
Strange bedfellows? A little but not entirely, considering that Harville (via Sugarbomb) and Zayra once shared the same management company, when Zayra was focusing on mainstream Latin pop. The artists in the company's stable, Zayra said, were like family. "We all knew each other really well," she said. About four years ago, after Zayra released her debut solo album Ruleta (Sony International), she and Harville worked together briefly. "I always wanted to be in a band," she said. "I got together with [Harville], and we tried, but it wasn't the right time." She was invited to audition for Rockstar: INXS, the show's inaugural incarnation, but declined. "I said, 'Not INXS. They're not going to want a girl!'" For the show's next season, she was invited to audition for a chance to join the titular band, featuring Mötley Crüe drummer Tommy Lee, former Metallica bassist Jason Newsted, and Guns N' Roses guitarist Gilby Clark. She finished in the final eight.
When she returned home to Dallas, she began looking for writing partners, starting with Harville. At the time, he and Karnes had been writing songs together conceptually. "I didn't necessarily write drums, and he didn't necessarily write the guitar parts," Karnes said. "We didn't write as players. We wrote around ideas, and what we did stuck." Based on the two songs posted on www.myspace.com/prettybabyrocks, what "stuck" is decidedly weird but in a good, brave way: a lot of heavy beats juxtaposed with Zayra's relentlessly feminine, crystalline, sing-talky vocals, plus some ominous, hip-hop-inflected industrial music and bursts of arena-rock. Karnes and Harville had begun writing in January. Zayra (pronounced zi-ee-ra) joined them about a month later and added lyrics and vocals. The band currently is working on an EP and began rehearsing about two weeks ago in preparation for some live dates. The first show, Karnes said, may be in about a month or whenever he and his band-mates get their shit together, he said, half-jokingly.
Karnes and Harville began working together after visiting London and developing an interest in nontraditional musicmaking techniques. A majority of Pretty Baby's music was created digitally. "[Harville] and I have played in countless local bands," Karnes said. "We had a tendency to go with the flow and not give our opinions. … This is different. You use a different side of your brain." Karnes had not heard of Zayra beforehand. But he gladly agreed to work with her, mainly to keep his and Harville's vision going. Zayra proved a natural fit, and Pretty Baby began to take shape around March. "[Harville] and I have played countless local shows," Karnes said. "This is going to be different. It's going to be big."
You can reach Anthony Mariani at anthony.mariani@fwweekly.com.
Pretty Baby
www.myspace.com/prettybabyrocks