Before founding the acoustic-country-revival band 100 Damned Guns about three years ago, none of the six veteran musicians in the band had ever played country.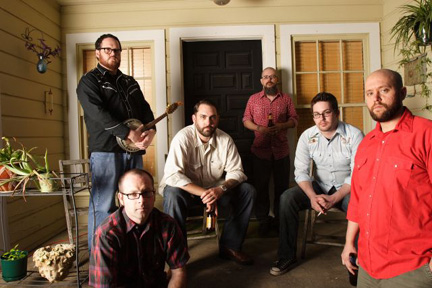 Rock, yes. All of them, according to singer-guitarist Judd Pemberton, considered country — mainly the mainstream stuff — "cheesy." So when the Guns traded in their electric guitars for acoustic ones, the band's new direction was, Pemberton and company admit, cloudy at best. But after a series of front-porch jam sessions, it became obvious. "If you don't like something, you should do it better," said mandolin player and co-lead singer Dave Sherrill — meaning, in a roundabout way, that 100 Damned Guns was formed as a protest to country music. They were affronted by the current state of what was once an important part of American culture, he said. "The stuff on the radio is terrible, so we decided to rip it."
The Guns started out as Easy Cash, a Johnny Cash cover band. Once Pemberton and Sherrill settled into playing together, the two began adding originals to the Cash emulations. Cut to today, and 100 Damned Guns is fully involved in its own sound. Warming up to his and Pemberton's new old-timey tunes, Sherrill asked his high-school friend and former Susans' upright-bass player Lynn Stewart to join in. The Guns' sound, Stewart said, wasn't like the rockabilly he'd been playing, but the growing popularity of the alt-country genre spurred his interest. Besides, he could feel the momentum rising. "Something was going on in this field of music," he said. "People I hadn't seen in years would come up to me and talk about how they had started listening to new country music."
The Guns eventually added another of Sherrill's high-school friends, guitarist Chris Caldwell, and dobro player Alan Prater from the defunct local bluegrass band The Misty Valley Boys. Prater contributed to the Guns several of his original compositions. Sherrill said that the Guns are "the kinds of guys who are always writing." Their set list is now 22 songs long, and most of them are rapidly paced, with hardly any topping out beyond the two-minute mark. The band's recently released album, Songs of Murder, Pain, and Woe, is a flurry of fiddles, gee-tar, and melancholy. The band recorded the album at the home-studio of local punk legends The Marked Men, who also co-produced the album with the band. "Having them record the album gave us a different quality," said Pemberton. "It's a little hot and a little punk, especially in how the vocals are mixed. It's almost overdone, but we like it."
One of the album's strongest points is Pemberton and Sherrill's singing. The pair attributes their crystalline harmonies to metal-bluegrass pioneers Split Lip Rayfield, a now-defunct trio and easily the best-known band to emerge from thrash-grass annual Walnut Valley Festival in Winfield, Kan. The festival, Sherrill said, "is a real movement. Lots of bands are playing this punk-bluegrass" — on stages without electricity, he stresses — "about living in a dry county." Like many Walnuts, 100 Damned Guns also writes about being hung-over, drinking, carousing, and murdering, but the band is doing everyone else one better, chiefly by organizing a local version of the fest. Tired of unsuccessfully trying to book shows with other local alt-bluegrass bands such as Electric Mountain Rotten Apple Gang and Holy Moly, the guys in 100 Damned Guns started the Rolling Trainwreck Country Music Show. For each event, "We try to get three other bands that are great but not huge popularity-wise," said Sherrill, the organizer. "That way, the audience doesn't have to sit through an opener. We only charge five bucks. Every band plays a short set then [they split] the profits evenly."
The Music Show's inaugural concert, at Fred's Texas Café about a month ago, featured the Guns, plus Electric Mountain Rotten Apple Gang, Boxcar Bandits, and Whiskey Folk Ramblers. Fred's rather spacious patio was packed. The event was a success, according to Sherrill, because, "People are looking for good country music." Plans to expand The Music Show to other parts of Texas and beyond are already in the works. Sherrill believes that a community-minded approach is the only way to go. In addition to starting the Music Show, the Guns released their album on TXMF, a not-for-profit Denton collective that also houses popular Dentonites The Record Hop, Hogpig, and the Spitfire Tumbleweeds. TXMF, Sherrill said, "only brings in bands they believe in, and lets them do what they want. … Plus, we get to cross-expose with other bands and trade information."
Even though Tales was originally supposed to be released only in the United States, the album was also circulated overseas, leading to some international interest. "It's really amazing to look at the number of people who listen to our music," Stewart said. Not that the Guns aren't doing well here. They've appeared on KFWR/95.9-FM The Ranch and KTCU/88.7-FM's The Good Show, and have played opening gigs at the enormous and finely appointed House of Blues in Dallas. "Every time we play a huge show, it feels like the bar gets raised," Sherrill said. "I go home and think about working even more on this." The Guns are all in their 30s and don't expect to quit their day jobs any time soon. But, as Pemberton, said, "It's really good on this level. … This type of music we could play well into our 50s and 60s, and it would still be good."
100 Damned Guns
Fri w/Will Hoge and the Avett Brothers at Granada Theater, 3524 Greenville Av, Dallas.
$15-25.
214-824-9933.