Surviving hair-metal musicians seem to fall into three different categories.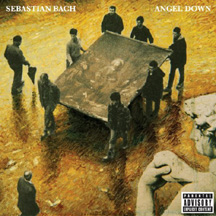 There are the guys (and metal is almost uniformly a male preserve) who reunite every now and then to embark on short, flabby stadium tours to pay the bills (see: Poison, Warrant, "Rockin' With" Dokken). There are the reality-TV whores (see: Mötley Crüe's Vince Neil), and, lastly, there are the guys who have matured tastefully — relatively speaking — such as Judas Priest's Rob Halford, Jon Bon Jovi, and Neil's former bandmate bassist Nikki Sixx. Gravitating toward things like penning memoirs, doing production work, writing new material, or acting, these dudes generally shy away from terrible ideas, like mugging for paparazzi cameras or starting rap-metal bands. ("Hey, Tommy Lee! Fred Durst called. He wants his shtick back!")
And, though he's made his own missteps via reality TV, Sebastian Bach is definitely of the last category. He has continued to record and perform through hair-metal's plummet, about 15 years ago, from accepted genre to late-night punchline and, now, its resurgence. On Angel Down, his first solo album since 2001's Bach 2: Basics, the former Skid Row belter digs some new sonic trenches, but he knows better than to work himself into a weirdo stylistic hole that will alienate his longtime fans.
Along those lines, he plays it pretty safe. Angel Down has hot lixxx, yes, and it's got a power ballad, and it even has flights of Bach's trademark operatic wailing (proving, without a doubt, that unlike Neil, Bach still has the pipes he had in '87).
Angel Down's most interesting moments are on the breakneck tracks, especially "You Don't Understand," which wouldn't sound out of place on an Avenged Sevenfold album. Harmonized guitars wind and slither, and Bach gets shrieky enough to trick kids in skinny black jeans into thinking they've gotten hold of an A7X bootleg. "American Metalhead" is stomping, grinding, and self-explanatory, and it's a fitting ode to Bach's past, present, and future. Then there's "(Love is a) Bitchslap," which is an obvious Skid th-Row-back, a return to his roots as a longhaired Canadian expat prowling the Jersey shore.
But the throwbacks don't end there. If you're of a certain age and resist taking strolls back through the days of spandex and AquaNet, you still should check out Bach's sleaze-metal cover of Aerosmith's "Back in the Saddle," with guest vocals by none other than Guns N' Roses' Axl Rose, who also lends his rusty (in a good way) howl to "Bitchslap" and "Stuck Inside."
Despite the metal classicism, however, a lot of tracks on Angel Down display challenging time signatures. The overall result is a lot heavier than you might expect from the guy who crooned "I'll remember you-ohhhhhh-ahhhhhhh!" In fact, in a lot of places, the record is heavier than a brontosaurus.
You can't really call Angel Down a comeback, because Sebastian Bach never really went away. And you can't call it a retread, because there's enough new stuff here to make hair-metal haters throw up horned hands. If you can get over both Bach's crass past and his guest appearance on The Gilmore Girls, then Angel Down is the perfect soundtrack for a cruise down Sunset Strip in your old I-ROC Z.-Steve Steward
 Angel Down
(MRV)