Some observers are calling this a golden age for comedy films, but even a golden age has its share of fool's gold, not to mention Fool's Gold.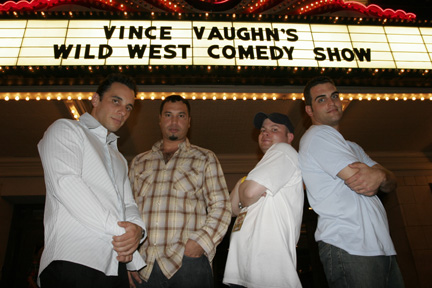 The four movies opening in Tarrant County this weekend are all comedies – not a single slasher flick or cop thriller in the bunch. It says a lot, then, that if you're looking for a new movie that offers serious laughter, you'll have to go all the way to Dallas to catch In Bruges, or wait till it comes here. In the meantime, here's the lowdown on three of the new arrivals. Did anyone watch How to Lose a Guy in 10 Days and come away thinking that the Matthew McConaughey-Kate Hudson pairing was so electrifying that the two stars simply had to make another movie together? Evidently someone did, and presumably that same person thought that releasing the resulting film under the title Fool's Gold wouldn't present a huge bull's-eye for headline writers and hack movie reviewers. Turns out, though, the title isn't nearly as inviting a target as the rest of this turgid, upbeat yet joyless adventure-romance.
McConaughey plays shiftless Florida deep-sea treasure hunter Finn, whose wife of eight years Tess (Hudson) is divorcing him because she's tired of living in debt. She has to stick around, though, because the settlement doesn't leave her enough money to go anywhere and because Finn has found a clue that'll lead him and his newfound wealthy backer (Donald Sutherland) to a legendary 18th-century sunken Spanish treasure. Finn and Tess supposedly stay together for so long because the sex is so hot, but neither McConaughey nor Hudson can really do smoldering eroticism, and they come off more like semi-friendly relatives than spouses. The flat chemistry and painfully lame comic dialogue would be enough to sink this movie, but even worse flaws are at work here. Finn's treasure hunt is impeded by all manner of tiresome subplots and stock villains. The film's forays into action-movie violence are out of place, and the comic supporting roles such as the backer's airheaded daughter (Alexis Dziena) just create dead air. The lowest point is an endless early scene that goes into unconscionable detail about where the treasure is, who put it there, and what they were thinking back in 1715. Say what you want to about the National Treasure films, they have never bogged down like this.
Fool's Gold is filled with pretty scenery, but all the bad accents in the supporting cast are hard on your ears. Canada's Sutherland plays a Briton, England's Ray Winstone tries an American Southern drawl, Scotland's Ewen Bremner is supposed to be Ukrainian, and America's own Malcolm-Jamal Warner fumbles with a Caribbean patois. There's more entertainment value in picking these apart than there is in the rest of the movie. That should tell you all you need to know.
Right on the heels of the Hannah Montana phenomenon comes a concert film of a much different stripe. Vince Vaughn's Wild West Comedy Tour took shape in September 2005, while the actor was on his post-Wedding Crashers high. He used his newly enhanced fame to advance the careers of four of his favorite stand-up comics, taking them on a marathon cross-country bus tour. They played 30 shows in as many cities and as many nights, working their way east from L.A. to Atlanta, then northwest to Chicago. The concert film of this tour was delayed until now by legal wrangling between Vaughn and the original distributors.
None of the headliners looks like the second coming of Richard Pryor, though they're mostly agreeable company. John Caparulo is a short, dyed-in-the-wool redneck from Cleveland who initially comes off as a Larry the Cable Guy imitator (oh boy, do we not need that) but fortunately doesn't project the same air of self-satisfaction. Spindly Chicago native Sebastian Maniscalco has a voice that goes up at least an octave when he's on stage, where he seems to exist in a state of permanent disbelief at guys who drink appletinis and wear flip-flops. He makes the mistake of cracking that latter joke in San Diego – watch the crowd turn on him when he does. Better stuff comes from Ahmed Ahmed (yes, that's his real name), a large-bodied Egyptian-American who plays the cool and laid-back contrast to his high-intensity fellow comics on the tour. His perspective as an Arab is fresh, though I wish it yielded more laughs than it does. ("This one girl at a bar asked me to make her my Egyptian princess. I threw a sheet over her head and told her to be quiet.") The best of this lot is Bret Ernst, the muscular self-described "Guido" from Jersey. His material isn't that compelling, but he puts it over with his frenetic onstage performances, whether he's impersonating a nightclub girl dancing to techno music or his teenage self, flailing around on rented roller skates at the local rink.
The film's poor audio quality compromises its atmosphere. The audiences look like they're cracking up, but we can barely hear them laugh. Following the stars offstage, director Ari Sandel catches a fascinating detour to Bakersfield, Calif. – who knew Vince Vaughn was such a big Buck Owens fan? Less happy is the film's failed attempt at gravity when the stand-ups are predictably sobered by passing out free concert tickets to Hurricane Katrina evacuees in the South. The movie only achieves real emotional power when Ernst pays comic tribute to his deceased gay older brother. Comedy fans will tell you that it's those painful bits of honesty that make a funny set into something more, and it's what carries this concert film past the rough spots on the road.
Martin Lawrence has always been funnier than his material in his stand-up comedy act, but he has never been able to bring that ability to substandard movie DELETEs. Welcome Home Roscoe Jenkins is closer to standard than substandard, but Lawrence's repetitive shtick (with one exception) keeps the movie from gaining any traction. He plays the titular Roscoe, who has adopted the less country-ass name of RJ Stevens to make himself over into a Dr. Phil-type self-help guru and TV host. Rich, famous, and newly engaged to a hot and hypercompetitive reality-show winner (Joy Bryant), he travels to Georgia for a giant family reunion to celebrate his parents' 50th wedding anniversary. Roscoe figures this is his chance to show everyone back home what he's made of himself. Instead, no one is impressed by what he has achieved, while the family treats Roscoe's orphaned cousin, Clyde (Cedric the Entertainer), like a king for owning three prosperous Cadillac dealerships.
---
The film is by Malcolm D. Lee, a cousin of Spike Lee, and though he's probably sick of being described that way, Malcolm hasn't yet made a film good enough to remove the label. None of his movies have been downright bad, either, but they tend to stick stubbornly to formula, even when odd bits of life pop up in their recesses. This one has tired slapstick sequences and a yawn-worthy plotline in which Roscoe becomes obsessed with outdoing Clyde. The cast members (aside from the ever-grating Mike Epps as Roscoe's cousin) are mostly overqualified for what they're given, and as gratifying as it is to see so many talented African-American actors gathered in the same room, it's time for filmmakers to find something other than family reunions as a way to make that happen. Roscoe's childhood sweetheart (Nicole Ari Parker) comes back into his life, so we're treated to the unlikely sight of two gorgeous women fighting over Martin Lawrence. Even that isn't as improbable as Mo'Nique and Michael Clarke Duncan portraying Lawrence's siblings – what set of genes could possibly produce those three people?
The one moment that pops here is the one that the whole movie is building toward, the scene in which Roscoe finally snaps and screams at his stern dad (James Earl Jones) about still being the unappreciated kid after all these years. Amid all the movie's manufactured coziness, the ugliness and messiness of this scene feels like a bracing jolt of reality. It's awesome, and even though it's brief (the movie doesn't really deal adequately with the implications raised here), it still stands out in this comedy's thundering ordinariness.
Fool's Gold
Starring Matthew McConaughey and Kate Hudson. Directed by Andy Tennant. Written by John Claflin, Daniel Zelman, and Andy Tennant. Rated PG-13.
Vince Vaughn's Wild West Comedy Tour: 30 Days & 30 Nights – Hollywood to the Heartland
Starring Ahmed Ahmed, John Caparulo, Bret Ernst, and Sebastian Maniscalco. Directed by Ari Sandel. Rated R.
Welcome Home Roscoe Jenkins
Starring Martin Lawrence and Cedric the Entertainer. Written and directed by Malcolm D. Lee. Rated PG-13.