Recent movies as different as Danny Cannon's Goal!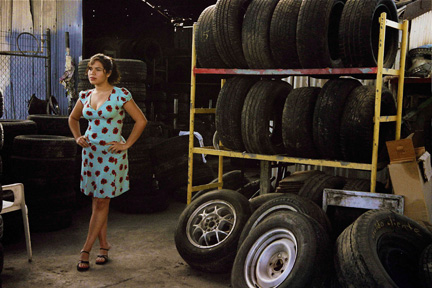 The Dream Begins, Joe Menendez' Ladrón que roba a ladrón, and Patricia Riggen's Under the Same Moon brought stories set in Hispanic America to us by consciously imitating Hollywood genres and storytelling models. The wordily titled How the Garcia Girls Spent Their Summer belongs to a different tradition of Latino films that sets out to emulate American independent cinema with slice-of-life realism and unconventional storytelling. Larry Clark's Wassup Rockers, Richard Glatzer and Wash Westmoreland's Quinceañera, and Alejandro Gomez Monteverde's Bella all elevate character over plot and have long stretches where nothing happens. It's how they capture a mood of disenchantment and alienation or simply the feel of the lives of teen characters with a lot of unstructured time.
America Ferrera made her film debut starring in the best of that latter group, Patricia Cardoso's Real Women Have Curves. Now she portrays one of the main characters in How the Garcia Girls Spent Their Summer, which played at Sundance back in 2005. In the intervening three years, Ferrera went on to some well-deserved mainstream recognition as the star of the TV show Ugly Betty, which is likely the reason why Garcia Girls is seeing the inside of our theaters right now. The most – and perhaps only – interesting thing here is the impressive assurance with which she holds the screen (even though the movie predates her stardom) as a 17-year-old who's coming of age in a nowhere town.