Just before last Saturday's performance of The Book of Liz, a Theatre Arlington staffer gave an odd little speech to the audience.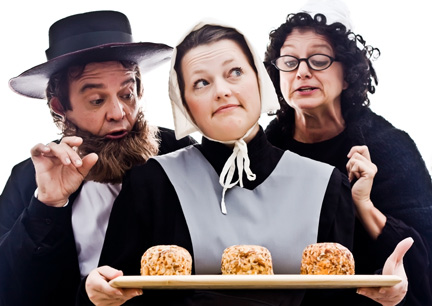 He said something like: If this play seems confusing at first, just sit tight, and we promise that by the end of the show, everything will make sense. While Theatre Arlington is not renowned for experimental fare, their audience is older, well-educated, and clearly not dense. The announcer's friendly little warning was itself confusing, and soon ominous, and finally prophetic. Despite a high-spirited, occasionally virtuosic cast directed by visiting artist Charles Ballinger, The Book of Liz proved to be a chaotic junk drawer of wacky wordplay, forced farcical encounters, physical shtick, and high-concept theatrical absurdism. The issue wasn't so much that ticketbuyers didn't understand this satirical fable featuring a Madame Tussauds' array of waxy comic stereotypes. Rather, they probably grew weary of waiting for something funny to happen.
The gaps between the laughs were sometimes way too long. The Book of Liz is infused with the equivalent of comedic blue blood. It was written by "The Talent Family," a.k.a. the sibling duo of essayist David Sedaris and his actor-playwright sister Amy Sedaris. David is, of course, a veritable rock star in the world of first-person nonfiction and an indispensable NPR contributor; Amy is still beloved for Comedy Central's decade-old warped gem Strangers With Candy and makes regular cameos in high-budget comedy flicks and as a reliable New York City eccentric on Late Show With David Letterman.
Live theater is definitely Amy's forte – she's an alum of Chicago's Second City and has numerous Off-Broadway appearances on her resumé. The Book of Liz favors her sensibility over David's. He captures cringe-inducing exchanges among friends, lovers, and family members, in merciless detail. She tends to create weird alternate universes that contain oddball, unlikely characters, using them to take jabs at broader social trends. This is precisely what The Book of Liz does with the story of Sister Elizabeth Donderstock (Jacque Wahl), a member of the strict, reclusive religious order known as the Squeamish. Sister Elizabeth's adored hand-made cheeseballs (in both smoky and traditional flavors) are what keep the Squeamish community financially solvent. But she wakes up one day feeling unappreciated and soon finds her appetizer skills being hijacked by bearded Brother Brightbee (Shane Strawbridge), who shares a suspiciously close association with the order's equally hirsute patriarch, the Rev. Tollhouse (Kenny Green).
Feeling rejected, Sister Elizabeth flees her claustrophobic community and goes on a Candide-like tour of the outside world whose characters include a Ukrainian woman (Lana K. Hoover) with a mysterious Cockney accent who earns a living dressed as Mr. Peanut. Liz also encounters the servers (Strawbridge, Green, and Hoover in other roles) at a Pilgrim-themed restaurant called Plymouth Crock that seems to have a strict employment policy – only slogan-spouting Alcoholics Anonymous members need apply.
Did I mention that Sister Elizabeth also has a chronic glandular condition that causes her to sweat profusely and that she must decide whether to have this problem cured with "alternative medicine" leech therapy? Frankly, The Book of Liz takes zaniness to oppressive, even totalitarian, heights. During those arid stretches, you almost feel coerced at gunpoint into chuckling, because the authors are firing so many rounds at so many blurry topical targets. Surely this much writing talent can't be so sloppily aimed, right? Well …
There are at least half a dozen big laughs in this show, thanks mostly to the Theatre Arlington cast. Director Ballinger has guided his players toward acknowledging the ridiculousness of the material without actually mugging. Strawbridge, as Brother Brightbee – with the "dollish hands" – does a terrific impression of Bewitched's Uncle Arthur as channeled by Jimmy Swaggart. Hoover loses herself in multiple character roles; you don't realize how many people she's played until you see her at the final bow. As the play's saintly anchor Sister Elizabeth, veteran actor Wahl keeps the clunky plot moving along briskly, but she's not given much to do other than playing the good-natured Mistress of Ceremonies. -Jimmy Fowler
Despite their best efforts, the Theatre Arlington actors can't save The Book of Liz from feeling like a weary slog through a tangle of gags in desperate need of an editor. It's best recommended for fans of David and Amy who are in a particularly forgiving, indulgent mood. I belong to the Sedaris fan club, but by the end of the show I was considering turning in my membership card.
The Book of Liz
Thru May 25 at Theatre Arlington, 305 W Main St, Arlington. $17. 817-275-7661.