A couple of weeks ago, Rodney Lambert undoubtedly caused many of his regulars – including our own Chow, Baby – minor heart stoppage when he relocated his Deer Creek BBQ Co. without telling many people.


The move from Camp Bowie West to Ridgmar's Farmer Market has worked, Lambert said, because now he's closer to his most loyal customers – folks from Lockheed Martin Aeronautics Corp. and the U.S. Naval Air Station Joint Reserve Base. "Most of those guys and gals only have 45 minutes to eat lunch," Lambert said. "In the old location, it was kind of hard to get in and out in that amount of time."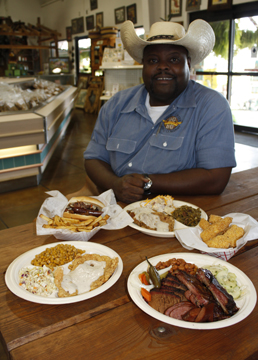 Apparently there's always been a barbecue restaurant in the Farmer's Market, run by the chief farmers themselves (that'd be Jimmy and Wayne). With the Deer Creek crew taking over the cooking, the farmers can concentrate on doing what they do best.
And so can Lambert, who says his grandma taught him how to cook before he was a teenager. Coming to Fort Worth after a stint as a football player at Tarleton State University, Lambert got his start catering what he calls "bootleg barbecue" in a pit hitched to his truck in back of the venerable J&J's Blues Bar.
"It wasn't nothin' fancy," he said, just good eats and an opportunity for him to work on perfecting the sauce that he calls his "old-school blend."
Described by Lambert as a "combination of East and South Texas flavor," the sauce is sweet and slightly vinegary, with a bite courtesy of a chili powder base. While Lambert was cagey about the exact ingredients, he did say that his sauce is simmered all day long to "round out the flavor."
Deer Creek features the standard array of barbecued meats, including barbecued bologna. Didn't try it, but the beef had a nice smoke ring, a light smoky flavor, and was tender enough to cut with a fork, not at all stringy. Sometimes, depending on the joint and recipe, the taste of the smoke can drown out the flavor of the meat. Deer Creek managed a perfect balancing act. You probably won't need the sauce because the meat isn't the least bit dry, but the meat is a good excuse to have more sauce.
The smoked turkey was easily the best thing ordered. Apparently, everyone else there that day thought so too, because there was just enough left for about a half-pound order around dinnertime. The lightly smoky meat was moist and deliciously flavorful, even without skin. Also don't miss the "3-Way" sandwich: chopped beef, hot links, and pulled pork, smothered in sauce and cole slaw, on a monster bun.
But save room for the beans! It's worth the drive to Deer Creek just for the beans. Seasoned with a little barbecue sauce and butter (a lot of butter, actually), the beans also spend time stewing with brisket, rib meat, turkey, and bacon. (There's also probably a secret ingredient in there that no one's telling.) While the dish packs a caloric wallop, Lambert is quick to point out that there are no trans-fats in his cooking. The beans were almost a meal themselves, and the leftovers – with the addition of, yes, a little extra sauce – might make for an excellent day-later snack.
The stuff that Lambert and company don't make themselves – like the sausage and the fries – is fine tastin' but not as good as the other items. The exception was the fried okra that, though from a bag in the freezer, was as good as anything in town.
The walls at the original Deer Creek location were covered with photos of sports and entertainment figures, reflecting Lambert's eclectic taste. At the Ridgmar Farmer's Market, Lambert says he still has a way to go to make the place look like "his." The $2.50 bottled beer is gone – until the alcohol permits get transferred. However, a side benefit to being in the epicenter of Fort Worth's fresh produce universe is that Deer Creek will be able to add some of those goodies to its expanding menu.
Deer Creek's logo says, "Git to the Creek … Git … Git," which is advice worth heeding no matter where you are in town, mostly because, as Lambert says, at Deer Creek you'll find "real people cookin' with passion."
Deer Creek BBQ Co.:
Two-meat combo w/two sides……….. $10.75
Sliced beef basket………………………….. $6.95
3-Way sandwich……………………………… $5.95
Smoked turkey…………………….. $8.95/pound