Happy Hour
Readers' choice: Blue Mesa Grill, 1600 S University Dr, FW
Critic's choice: A Great Notion, 2024 Ridgmar Blvd, FW
As we've said before, the party is inside you. If you're in a good mood and thirsty, heck, any ol' spot is apt. But just as there are places better suited for the night (mainly rock clubs and swanky nightclubs), there are also places that seem to have been built expressly for that hazy, ambiguous, almost surreal time of day – not quite afternoon but not quite evening, either – when the demands of slaving away for The Man have rendered your muscles incapable of doing anything other than hoisting numerous cocktails to your lips and when the setting sun just means a few more hours before bedtime and the next morning, when the rat race begins all over again.
In an ancient, ramshackle strip mall in the once-ritzy area near Ridgmar Mall, A Great Notion allows you to lick your wounds comfortably as it ennobles your proletarian spirit. The employees and regulars have certainly seen their share of 15-hour workdays. Set off from a large game room and scrunched between a low, shadowy ceiling and dusty, shadowy carpeted floor, the square, brown, wooden bar glows like a murky jewel in the dirt, with illuminated faux-stained-glass inlays and scuffs and nicks that say, not "Woe is me" but "I'm a survivor."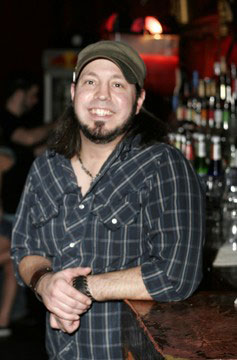 Bartender
Readers' choice: Brad Hensarling, The Chat Room Pub, 1623 W Magnolia Av, FW
Critic's choice: Tony Bacera, Red Goose Saloon, 306 Houston St, FW
Aren't many bartenders in town who not only know what you drink but have your favorite flavor waiting for you the moment you walk in, no matter how super-busy they are. Amazing. For the past eight years, "Little" Tony – lest anyone confuse him with his friend, another, larger, excellent 'tender named Tony – has been an integral part of the Sundance Square nightclub's success. Bacera is fast, friendly, and, according to Goose owner Patrick Kennedy, "knows more shots than anyone I know." Catch "Little" Tony on Tuesdays in the downstairs section of the two-level club and on Fridays upstairs. Big props, too, to Eric Islas, easily the hardest working, fastest, friendliest barback in town and Bacera's partner in crime.


Cocktail Lounge
Readers' choice: M Lounge, 835 Foch St, FW
Critic's choice: Pepper Mill Lounge 6825 E Lancaster Av, FW
"Cocktails." The word simply exudes class, which is why instead of merely asking friends, "Hey! Wanna go to the bar and drink ourselves to oblivion?!" many witticists prefer the succinct and ironic, "Cocktails?!" And where better to mock pretension than at the 'Mill? Dark, homey, and apparently older than Jerry Jones' grandfather's uncle, the edge-of-Eastside establishment isn't for stylin' and profilin', just for getting sloshed with a false though admirable sense of dignity and grace.
Pub
Readers' choice: Finn MacCool's 1700 W 8th Av, FW
Critic's choice: (tie) Flynn's Irish Pub, 3601 Williams Rd, FW
Malone's Pub, 1303 Calhoun St, FW
The mixed crowds that regularly visit Malone's have one thing in common: drinking in peace. Staffers ensure that drama and pretentiousness get checked at the door, leaving patrons free to enjoy the daily drink specials, pool tables, and often intelligent and informed conversation. Service also is full of personality and efficient. Likewise, Flynn's – way the hell out by Camp Bowie West – is full of colorful characters and staffers but has a vibe that's anything but rowdy. Be leery of the beer garden out back, though: After two or three cold ones, its rustic charm can become downright lotus-like.
Bar Bar
Readers' choice: The Chat Room Pub
Critic's choice: (tie) B.J.'s Knotty Pine, 9901 Camp Bowie W, FW; Tiff & Andi's Place, 3516 Bluebonnet Cir, FW
Out in the wilds of Camp Bowie West is one of the most downhome bar bars around. A few blocks from the legendary Margie's Original Italian Kitchen and right next door to the lovable Ole House Tavern, the Knotty Pine is where you go to sip on draft beers, talk sports or the weather, and listen to both kinds of music: country and western. (Though the juke does include some Nashvegas tunes, it favors the classics. A lot of Hank, George, and Johnny.) And while Tiff may no longer work at the bar that bears her name, the TCU-area's T&A's remains a laid-back environment for doing what most of us do best: drink. T&A's diverse regulars choose wisely at the jukebox and are always well behaved. Not that the bar isn't fun. Far from it.

Biker Bar
Readers' choice: Underground Icehouse, 1117 E Belknap St, FW
Critic's choice: 2500 Club, 2500 E Belknap St, FW
Biker bars have gotten too damned nice since doctors, lawyers, and financial advisers started donning black leather and straddling expensive, chrome-covered hawgs. Real bikers don't want frills when plopping their dusty chap-covered derrières on bar stools to compare tattoos, spit, burp, cuss, discuss the merits of torque versus horsepower, or do whatever else bikers do in bars. The 2500 is a small, ugly, dingy dive, which is what makes it so special. A sign outside says the 2500 is "the best little ol' biker bar in Texas," and who are we to disagree?
Gay Bar
Critic's choice: Stampede Club, 621 Hemphill St, FW
For a while earlier this year, it looked like the 651 – a fabled hotspot that had closed unceremoniously about six months ago – was going to make a glorious Phoenix-like return from the ashes. But issues with the AC closed the doors not long after they opened, leaving the Stampede as the place to be for a cozy, small-town-gay-bar vibe. Regularly hosting social gatherings by the Trinity River Bears, Cowtown Leathermen, and Crosstimbers Primetimers, the cowboy-themed bar ensures that you don't have to be a 25-year-old with a 32-inch waist and 17-inch arms to hang out comfortably at a gay bar.

Lesbian Bar
Readers' and critic's choices: Best Friends, 2620 E Lancaster Av, FW
Does Fort Worth's Sapphic sisterhood feel cheated at not having a mainstay bar a la Dallas' vaunted Sue Ellen's? Our theory is that the suitably named Best Friends – an Eastside watering hole that doubles on Friday and Saturday nights as the city's closest thing to a hive of female-centric camaraderie – is just so damned convivial that a "Grrls Only" clubhouse sign feels unnecessary. Until someone opens a more exclusive, uh, joint, Best Friends will serve nicely.
---
Wine Bar
Readers' choice: Zambrano's Wine Bar, 710 Houston St, FW
Critic's choice: (tie) Papparotti's Wine Room, 6100 Camp Bowie Blvd, Ste 22, FW; Sapristi! Bistro and Wine Bar, 2418 Forest Park Blvd, FW
Sidle up to the bar at Sapristi!, and manager Jennifer Kornblum will give you a curious look and, seemingly by magic, choose the perfect wine for you. She always knows what kind of wine you not only want but need and will remember what you had the last time you were in, like, three years ago. You won't find better prices for quality wines anywhere in the city, and most of the extensive list is available by the glass. On a much swankier tip, Papparotti's is a little slice of Big D, with plush furniture, dim lighting, and a homey ski lodge ambiance. Plus the crowds are uniformly pretty, and you don't have to be an unremitting oenophile to fit in – the bartenders will go out of their ways to school you on all things red, white, and rosé.

Sports Bar
Readers' choice: Buffalo Bros., 3015 S University Dr, FW
Critic's choice: Pappa G's Sports Bar & Grill, 8247 Rufe Snow Dr, Watauga
There have to be more sports bars in Tarrant County than anyplace else. Not that we're complaining! Even better, there are a lot of good, unique ones. Rock Star, for example, is for heavy-metal athletic supporters, Bronco's for "Dude" Lebowskis, Dino's for families and dates, Eagle's Nest for refined lake rats, and this year's winner, Pappa G's, for all of the aforementioned and everyone in between. Though you'd think that catering to all kinds would result in attracting no one, "the G spot," as it's jokingly referred to, draws the diverse crowds and keeps 'em, primarily by running a tight, spotless ship: Inside the cavernous, naturally lit box are walls of TVs, yards of comfy high-tops, and professional, crisp servers buzzing like bees around a hive. And the red salsa – homemade, of course – can't be beat. During Cowboys games, some of Pappa G's myriad attractive staffers will summon their inner Cowboys cheerleaders. The Watauga location joins Pappa G's original location, in Bedford.
Strip Club
Readers' choice: Rick's Cabaret, 7101 Calmont Av, FW
Critic's choice: Fort Worth Gentlemen's Club, 3315 N Fwy, FW
Want a little slice of Vegas? Hit the freshly opened Fort Worth Gentlemen's Club. Featuring Grade-A cheesecake (wink, wink), "the Club," as it's affectionately known, also has four-star quality food from Executive Chef Robert Bleibtrey, with all-you-can eat seafood on Wednesday afternoons (11am-2pm) and all-you-can eat rib-eye on Friday afternoons (11am-2pm). The $10 price for both also includes cover charge.

Exotic Dancer
Critic's choice: China, Rick's Cabaret
This statuesque Naomi Campbell look-alike and Houston native has been working this Westside club's stage for three years and is well worth your time – and money. Perhaps one of this remarkable-looking woman's most remarkable attributes is her capacity for witty, bright banter. From what we've heard, strippers hate making small talk. China, though, appears to be a welcome exception.

Margarita
Readers' choice: Joe T. Garcia's, 2201 N Commerce St, FW
Critic's choice: Blue Mesa Grill
Yeah, yeah, yeah. Joe T.'s has strong margaritas. Blah, blah, blah. But for those of us who actually like to taste our cocktails, you really can't top Blue Mesa's handiwork. Not only is the University Park pillar's tequila bar massive and diverse, with everything from Partida and Patrón to Milagro and all brands in between, but the variations are inspired. The bar/restaurant's Blue Signature might conjure up, even in the most immature taste buds, the sights, sounds, and vibes of beach-bumming south of the border.
Martini
Readers' choice: M Lounge
Critic's choice: 8.0 Bar and Café, 111 E 3rd St, FW
With apologies to James Bond purists – who like theirs shaken, not stirred – "Eight-Os" offers a wide and exotic 'tini menu. On Mondays, a 2-oz. pour runs you only four bucks, and for the money, the classic – dirty, extra olives – can't be beat. The selection also includes more than 20 sweet, occasionally funky versions, including the White Chocolate, the Birthday Cake, and in a nod to TCU alums, the Horny Frog (Southern Comfort, Blue Curacao, Amaretto, and cranberry juice).
Bar Décor
Readers' choice: Embargo, 210 E 8th St, FW
Critic's choice: Caves Lounge, 900 W Division St, Arlington
Caves' is a décor all to itself, an eclectic mix of '60s-grotto-lounge decadence and Dia-de-los-Muertos-punk 'tude, as if Esquivel had helped design the Wreck Room. Caves also is the closest thing to a tiki bar in Tarrant County, and given that there are a couple of tikis hovering outside along the boundaries of the lounge's expansive patio (with some palm trees, too), the West Arlington space-age bachelor pad isn't just trying to be outré – it is.
---
Jukebox
Readers' choice: The Ginger Man, 3716 Camp Bowie Blvd, FW
Critic's choice: Caves Lounge
As more and more bars switch to ever-lamer internet jukeboxes, it's nice to know that at least Caves is still kickin' it old-school, offering a mix of indie, punk, classic C&W, funk, hip-hop, and local stuff on a real-life, bona fide jukebox. Employees also make their own compilations and will put in any 817 band's music – as long as it doesn't suck.

Bar Games
Readers' and critic's choices: Fox & Hound Pub & Grille, 6051 SW Loop 820, Ste 322, FW
If you want pub games, Fox & Hound pretty much has it all. And, of course, in its cavernous, wood-and-brass-railed environs, you can actually chunk darts without getting one in somebody's eye. Same with its acres of pool tables. Like shuffleboard? F&H has that, too, plus Golden Tee, if you are one to eschew the classics in favor of running-start-trackball abuse. Not only that, but with more TV monitors than a shuttle launch, there are plenty of, you know, athletic sports to watch.

Outdoor Party Patio
Readers' choice: Joe T. Garcia's Critic's choice: Houston Street Bar & Patio, 902 Houston St, FW
For one thing, the patio's on the roof. For another, it's situated in an urban canyon, which is totally Manhattan. Lastly, it's tranquil but sexy, populated by fun-loving regulars, and serviced by consummate pros. Until another rooftop patio comes along that's even half as elegant, Houston Street will have this award locked up for years to come.
Bar Bathroom
Readers' choice: 8.0 Bar and Café
Critic's choice: Ye Olde Bull & Bush, 2300 Montgomery St, FW
The bar, so to speak, is set very low for bathrooms at watering holes. As long as the toilet works and no one contracts hepatitis B, most customers are happy. However, some rare jewels boast toilet paper, soap, paper towels, and very little if any standing water. The bathrooms at Ye Olde Bull & Bush has all of that, plus some pretty interesting reading material on the walls
Bouncer
Readers' choice: "Big" Joe Gallegos, Billy Bob's Texas, 2520 Rodeo Plaza, FW
Critic's choice: Jason Taylor, Lola's Saloon, 2736 W 6th St, FW
"JT," as he's known, cut his teeth in the muscle game at that dearly departed den of inequity/rock, the Wreck Room. The Florida native and frontman for Fort Worth metal outfit Sweet Tooth has kept the peace mainly on the West Side for about seven years now. Trained in the subtle art of bouncing troublemakers out on their heads by former Best Of bouncer winner Roderick Love, JT is no stranger to bruises. But he says his new gig at the Fort's premier indie-rock club is nothing compared to the Wild Wild West, a.k.a. the Wreck. Or maybe people have just learned not mess with him.

Country Music Venue
Readers' choice: Billy Bob's Texas Critic's choice: Stagecoach Ballroom, 2516 E Belknap St, FW
This honkytonk often gets overlooked by the tourists who flood the Stockyards, but it's as authentic as they come and one of the oldest in town. Family-owned and -operated, the Stagecoach draws an older crowd that appreciates hardcore honkytonk artists such as Johnny Rodriguez, Dale Watson, Johnny Bush, and The Derailers, all recent performers. The place is spacious with plenty of tables and chairs, the dance floor is large, the wooden bar is long, fights are few, cover charges are reasonable, and the help is generally friendly.
Comedy Night
Readers' choice: Hyena's Comedy Night Club, 605 Houston St, FW
Acoustic Night
Critic's choice: Wednesdays at The Fairmount, 600 W Magnolia Av, FW
Bars that feature open-mic nights for local guitar pickers can be as — how you say? — painful as a rusty guitar string jabbed directly into your cornea. A few pearls usually surface among the swine, though, and you can catch some decent acts at the city's newest acoustic music venue, The Fairmount. The décor is pure Texas, the people are friendly, prices are right, and the music is often inspired, especially during the Wednesday evening open-mic guitar pull.

Karaoke Night
Readers' choice: Sarah's Place, 5223 Camp Bowie Blvd, FW

Band Name
Readers' choice: Uncle Bill Roach Band
Critic's choice: Legitimate Bastards
Fort Worth's Justin Hill and Josh Bruton play on the medieval sense of the word "bastard" to come up with the name of their acoustic act (listed as "death metal" and "religious" on their MySpace page). Their sense of humor isn't limited to their name, either, if song titles such as "Burt Reynolds' Mustache" and "Small Penis Man" are any indication. Stuff like that leaves us tickled, legitimately.

---
Local Music Show in Last 12 Months
Critic's choice: Bertha Coolidge, Lola's Saloon, April 16
Mainly because bassist Aden Bubeck plays in the band of Grammy-winning Nashville star Miranda Lambert and drummer Rick Stitzel lives in Chi-town, Bertha plays a show, oh, once every blue moon. The fusion jazz band's weekday set at Lola's was by far the best we've ever seen from the quartet and easily the best of the year, cooking from beginning to end. Even the musicians themselves said they were amazed at the synergy that seemed to form effortlessly.

MVP Musician
Readers' choice: Curtis Heath
Critic's choice: Matt Hembree
He's a self-taught bassist known for inventive pop structures, knotted proggy runs, and hypnotic dub sonics. Matt Hembree does it all, providing the low end in a seemingly ever-increasing number of bands, including brainy pop-rockers Goodwin and reggaemeisters Pablo and the Hemphill 7. When he's not rolling thunder in them, he's freaking out in Stooges tribute outfit Stoogeaphilia and improv noise unit PFFFFT! — did we mention Protect and Swerve, a local Police tribute band? Yeah, well, he's in that, too.
Local Rock Star
Readers' choice: Carey Wolff
Critic's choice: Matt Mabe
As drummer in three local outfits, Matt Mabe sets up and breaks down his kit probably more often than any other skin-beater in town. Once comfortably on his stool, Mabe brings an immeasurable amount of energy and skill to every song. Quiet and polite, he's not your typical rock star but injects nothing but pure positivity into the scene. In addition to his endless slew of dates as a stickman for Stella Rose, Jefferson Colby, and the White Walls, Mabe also plays bass for his brother Chris' band, Quo.

Club DJ
Readers' choice: Danny West (Embargo, Houston Street Bar & Patio)
Critic's choice: Rex 84
Along with his RoundSounds crew – DJs Nasty and Sexy9 – Rex 84 rejects stereotypical notions of club DJs as merely douchebag music snobs with enormous record collections. His sounds could be coming from some pirate radio station off the shores of Ignorance, U.S.A. Interspersed in his snappy house beats are snippets of rock songs, psychedelia, and, in one particular sonic concoction, a full audio recording of Martin Luther King Jr.'s "I Have a Dream" speech. Nasty and Sexy9 can put you in a trance, too – and Sexy9 is at least nine times sexier than any other female turntablist you've ever seen – but Rex 84 veritably lives in that proverbial "other level."
Bar Food
Readers' and critic's choices: The Ginger Man, 3716 Camp Bowie Blvd, FW
Seems like every bar is stuck on the same diet of chicken strips, nachos, and pizza. Fortunately, the G-Man has a little bit of imagination. We assume that its repertoire of gourmet salads, sandwiches (try the roast beef with ale onions), and brats is there to complement the Cultural District pub's copious beer selection. Still, everything is tasty, filling, and perfect for absorbing those numerous bottles of Chimay.
Place to Meet Someone of the Opposite Sex
Readers' choice: 8.0 Bar and Café
Critic's choice: Aqua Lounge, 515 Houston St, FW
Don't look now, but the days of going to nightclubs and picking up one-night stands are back. Sexy house music, dim lighting, and plush furniture make the second-floor neo-disco Aqua Lounge a can't-miss weekend stop. Though the prices are a little steep, which really hurts on those swing-and-a-miss nights, there's no doubt that Aqua is one of the best places to see and be seen – not just in the 817 but in all of North Texas.
Place to Meet Someone of the Same Sex
Readers' Choice: Best Friends Critic's Choice: Q Cinema's monthly screenings and annual film festival
In a city where the lesbian and gay scene is small and unpredictable, Fort Worth's 10-year-old film festival dedicated to queer images in international dramas, comedies, documentaries, animation, and short films provides a welcome gathering spot for birds of a lavender-colored feather. To be sure, Q Cinema's mission is film first, meat market a distant second. But we can't think of a better opening line at a Q party or reception than "So what did you think of that movie?"
Place to Take a First Date
Readers' choice: Zambrano's Wine Bar, 910 Houston St, FW
Place to Nurse a Hangover
Readers' choice: Fred's Texas Café, 915 Currie St, FW
Critic's choice: (tie) Rick's Cabaret; University Pub, 3019 S University Dr, FW
Curing – or at least getting over – a hangover means one thing: Bloody Marys. And when that cruel mistress is begging for attention, calm her down – if not shut her up completely – at the University Pub, where the owner and 2004's critic's choice for best bartender, Dave Mitchell, will whip up that legendarily restorative cocktail exactly to order. The only hang-up is that the pub doesn't open its doors until late afternoon every day, a long time to wait to start, uh, "recovering." Until then, why not schwwwing by Rick's Cabaret? The lighting is dim, and, if you sit far enough away from the main stage, the music isn't that loud. Plus, the Westside hotspot formerly known as New Orleans Nights (a.k.a. "No-No's") has a full menu and a murderer's row of talent, including girl-next-door Morgan, this year's critic's choice for best exotic dancer, China, and blonde anatomical miracle and top breadwinner Blakely.
Cold Beer
Critic's choice: The Bull Ring, 112 E Exchange Av, FW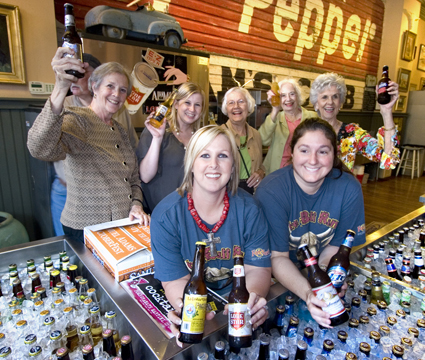 Owner Ace Cook has long claimed to serve the coldest beer in town. We figured he had created his own strain of ice that's several degrees colder than regular ice, but it turns out his secret is putting bottled beer in a metal cooler, leaving enough space around each beer to be totally shrouded in ice, and then filling the cooler so high with ice that only the bottle tops can be seen. One thing's for certain, the tourists, bikers, and cowboys who steadily traipse into the Bull Ring to buy beer aren't complaining.
West 7th Street: Spring 2009
In all 11-plus years of business, Fort Worth Weekly has officed just west of downtown, specifically in the West 7th Street area. Being the perpetually industrious (read: thirsty) journalists that we are, we've endeavored to thoroughly investigate the bars and restaurants nearby. As little as three years ago, happy hour usually began and ended at places like the Wreck Room, Shamrock Pub, or 7th Haven. Morning coffee came from the Four Star. Burgers at Fred's. Lunch was at Milano's, "JJ"'s Oyster Bar, or La Familia. Cocktails at Ten, Michael's, or The Torch. And for last call, it was back to the Sham, Wreck, or Haven. There's a good reason why we Weekleteers have always ended up by West 7th, and affordable commercial real estate prices were only part of the reason.
The West 7th hangouts have always been alt-ish kinds of places, peopled by wildly diverse mixes of lively crowds – on both sides of the bar. Indie rockers, lawyers, mechanics, cops, med students, artists, trust-fund babies, and TCU students all kept the area rowdy and real. Simply put, West 7th was the yin to the 817's heavy chain-bar yang. But the area's alt days are numbered. By next spring, about 30 new bars and restaurants will open, all within about a mile radius of the main drag of West 7th, bringing the total number of eating and drinking places to almost 60, including multiple Tex-Mex, Italian, and burger places, plus one place to dine on sushi and sip on martinis while bowling, and one place to take in a movie while noshing. When you've got pretty much a bar/restaurant for every 10 customers – in a harsh economic climate – something's gotta give We'll be where the five-dollar burgers and dollar-50 beers are, thank you very much.