Customer Service
Readers' choice: Action Insurance
4200 South Fwy, FW
Critic's choice: Teresa Matthews, Dairy Queen, 2050 Montgomery St, FW
While driving down Montgomery Street during the summer months, we saw that the DQ had a special for hot dogs at one dollar each. So we stopped and asked for a dog with chili, cheese, and onions. The bill came to two-something. Isn't it a buck, we asked? No that is for a plain one, said manager Teresa Matthews.

Still, she was so nice about it. Take it for a buck, she said with a gracious smile. But that wasn't the end of it. As we were walking out, she chased us down. She had another dog for us. The order got doubled by mistake, she said. She laughed and thanked us for coming. So in assessing the trip to the DQ we got 1) a chili dog and a plain dog for a buck; 2) friendly and quick service; and 3) a smile and a laugh from an employee who deals with a demanding blizzard of customers all day. That's customer service that's better than good.
Barbershop
Readers' choice: 7th Street Barbershop, 3205 W 7th St, FW

Hair Salon
Readers' choice: Magnolia Avenue Salon, 711 W Magnolia Av, FW
Critic's choice: Esoterica, 941 Foch St, FW; 2100 NW Hwy, Grapevine
While waiting to get the trim no one else in Fort Worth has, customers are encouraged to surf the web and relax to innovative modern music. If the customer appreciation parties with free booze, henna tattoos, and DJs aren't enticing enough, the professionals at Esoterica also know how to do hair and do it well. One customer returned with a fluorescent pink hand print beside his similarly colored mohawk. Esoterica's specialists perfect the backward 'do popular at local clubs and the reverse-gender hairstyles that daring folks like to sport.
Tattoo Parlor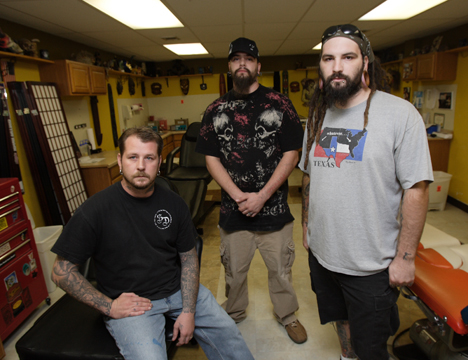 Readers' choice: Lone Star Tattoo, 2467 N Main St, FW
Critic's choice: The Salty Dog, 2908 W Berry St, FW
When it comes to tattoos, the rule is location, location, location, and The Salty Dog's is just about perfect. It's down the street from Paschal High School – perfect for any semi-illicit underage relationships – and next to both The Aardvark and Fuzzy's Taco Shop, so that drunken patrons can wander in after jamming to their favorite band, make a permanent ink-based statement on their extremities, and, after the pain dies off in the early morning hours, stuff themselves with fish tacos. Now that's a successful night. Plus, the Dog's tattoos are legendary (check out the photos on their web site). As the site puts it, "It's all the quality of a fine painting and all the fun of Disneyland on smack."
Masseuse/Masseur
Readers' choice: Jennifer Riddle at Studio de Salon, 252 Lincoln Square, Arl
Critic's choice: Vicky Ruyter at Massage Envy, 3000 S Hulen St, Ste 153, FW
Massage Envy isn't your hippy-dippy little local business with an incense burner, a tape player, and two massage tables. The classy facility at Hulen is part of a chain with hundreds of locations, and they'd be happy to sell you a membership and a long-term plan, etc. But their massage therapists also know what they're doing. Vicky Ruyter, for instance, is well-trained, has years of experience, and loves her job, especially when her toes-to-temple massages help ease pain and lead to real healing. She has plenty of regular customers, and it's easy to see why. After a few minutes under her hands, the nasty old sharp-edged world recedes. Hint: It's OK to fall asleep mid-massage.
Thrift Store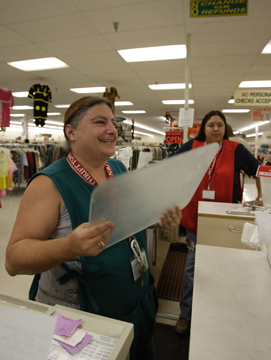 Readers' choice: Double Exposure, 1714 8th Av, FW
Critic's choice: Thrift Town, 6601 Blvd 26, NRH
The city's best selection of used clothing awaits shoppers at this North Richland Hills hot spot, and there's plenty of just about everything else – kitchenware, furniture, mattresses, shoes, sports gear, and on and on. This isn't the cheapest thrift store around, but it boasts the best inventory at reasonable resale prices. And it's certainly the most attractive of the county's three Thrift Town locations.
Detail Shop
Readers' choice: Classic Auto Detail, 2713 W 5th St, FW
Bicycle Shop
Readers' choice: Colonel's Bicycles, 3053 S University Dr, FW
Critic's choice: Panther City Bicycles, 1306 W Magnolia Av, FW
Given that more and more folks are riding bicycles as gas prices run amok, having a good bike mechanic is as important as having a trusty garage to take your car to. Panther City Bicycles is a small shop, but the boys there know how to get the spokes true, make the shifting smooth, and find the right tire for city riding. Plus they are near some good restaurants on Magnolia Avenue. So drop the bike off, eat for an hour or so, and then get back on the road.
---
Car Wash
Readers' choice: Red Carpet Car Wash, 5829 Camp Bowie Blvd, FW
Music Shop
Readers' choice: Guitar Center, 5250 S Hulen St, FW
Critic's choice: Competition Music, 3136 E Lancaster Av, FW
Most independent mom-and-pop guitar stores have gone the way of the dinosaur (or the Ovation). Meanwhile, Guitar Center keeps marching toward its ultimate goal of world domination. We admire the little guys, the stalwarts who won't back down. Once again we honor Competition Music, where you can still buy used instruments at fair prices from an unassuming Fort Worth yahoo by the name of Scott, who's about as un-corporate as they come.
Toy Store
Readers' choice: Designs for Children, 4804 Camp Bowie Blvd, FW
Critic's choice: Toy Works, 6100 Camp Bowie Blvd, FW
Looking for a unique gift that engages your child's imagination or perhaps requires mental and/or physical activity? With a variety of arts and crafts, games, puzzles, dress-up dolls, Brio train sets, and some newer ride-on toys, the little store at the corner of Camp Bowie and Bryant Irvin turns a shopping trip into a hands-on experience that you just can't get in a mega-store. For those in a real rush, Toy Works will gift-wrap purchases for free. And if you're all thumbs, they'll even assemble your new toy.
Motorcycle Shop
Readers' choice: Sundance Scooters, 1311 W Magnolia Av, FW

Head Shop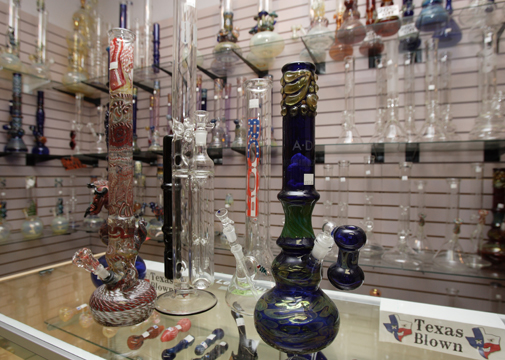 Critic's choice: Smokies House of Pipes, 6031 Camp Bowie Blvd, FW
The grab jar full of quality and dirt-cheap smoking devices is a relief to clumsy "tobacco" users. The huge selection of glassware ranges from practical to extravagant – someone really needs that $800 glass dragon. Visitors to the next-door Ridglea Theater find Smokies a convenient stop for a pack of exotic cigarettes, sassy t-shirts, and wide selection of still-legal herbal supplements. Others drive out of the way for a trip to the humidor to purchase countless other odds and ends to help fill a boring night.
Gym/Health Club
Readers' choice: TCU Rec Center, Rickel Building, 3005 Stadium Dr, FW
---
Skate Shop/Skate Park
Critic's choice: Woodward Skatepark, 3000 Grapevine Mills Pkwy, Grapevine
OK, so we miss Havik, a place that was family-friendly and beer-in-the-parking-lot friendly and that also appealed to padded groms and old-skool Zorlac burnouts alike. Oh, and the skating was good, too. But you know what? Woodward Skatepark at Grapevine Mills is pretty rad in its own right. Sure, it's in a mega-mall, but don't let that stop you. It's got enough transition to take you across the entire layout on a single drop-in – if you're good enough, you can let gravity do all the work. There's a pro shop, Index Skateshop, and an arcade, and it's a safe place to drop the kids off, especially for skater-parents who never graduated from the McTwist.
Enviro-Friendly Business
Critic's choice: Woodbine Furniture, 8705 David Blvd, Keller; 4808 Camp Bowie Blvd, FW
Now that it's become fashionable, not to mention profitable, for businesses to go green, it's nice to recognize a business that was doing it long before it was cool. With all due respect to Spiral Diner and the handful of other businesses that have been walking the walk, no business can compare to the Amish in terms of environmental friendliness. At Woodbine Furniture, most everything in their Fort Worth and Keller showrooms is produced by the Amish, who, as the company's web site explains, have been green since 1693. Until other area businesses stop using electricity, start making their own candles, and travel only by horse and buggy, they've got nothing on Woodbine.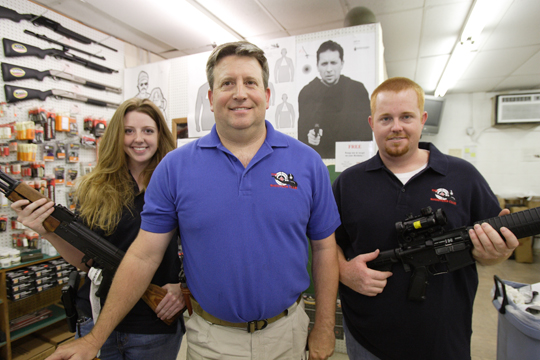 Gun Store
Critic's choice: Shooter's Club, 2420 28th St, FW
The best gun stores offer a wide variety of products while at the same time making safety and respect for weaponry of paramount importance. Such is the Shooter's Club. First-time visitors are required to take a brief safety course, and the "treat it like it's loaded" mantra is automatically repeated by the friendly and knowledgeable staff. Rental rates and gun storage are very affordable, but what's really great is that its training courses aren't limited to the target range – the store features self-defense classes that focus on realistic mugger scenarios so that pulling your piece becomes a last resort.
---
Place To Buy:Books
Readers' choice: Barnes & Noble, 401 Commerce St, FW
Critic's choice: Connections Book Store, 2428 Forest Park Blvd, FW
This small neighborhood bookstore has a warm atmosphere and eclectic collection – bestsellers as well as more obscure offerings that are often better reads, plus art books, poetry, self-help, gardening, humor, and the odd tome from unknown. But its rarest attribute is its very existence – an independent bookseller that has managed to survive the corporate takeover of America's reading habits. Connections has remained a favorite of local book lovers who haven't been seduced by the Starbucks uniformity of Barnes & Noble and Borders and who find the warehouse-size outlay at those corporate giants intimidating as well as exhausting. Connections is an intimate space, and the literate ladies who run it are more than helpful.
Comic Books
Readers' and critic's choice: Lone Star Comics, 1215 S Cooper St, Arl
If the giant murals of iconic DC and Marvel superheroes on the windows don't clue you in, go inside and you'll figure out that Lone Star Comics' main store in Arlington is the place to indulge your inner fanboy (or -girl). The Texas comic chain moved its main store from East Abram Street to South Cooper four months ago and did it in style. Far from a simple hole in the wall, the new location is a wide, classy (in a geeky sort of way) joint, full of comics, graphic novels, manga, and sci-fi and fantasy books. The décor includes glass cases full of models, busts and collectibles, movie posters, and more. About the only things missing are a couch, a big-screen TV, and a Kevin Smith movie on repeat.
---
Used CDs/Records
Readers' choice: Half Price Books, 5417 S Hulen St, FW
Critic's choice: Record Town, 3025 S University Dr, FW
Record Town may not boast towering racks of well-deserved obscurities, but for a thorough deDELETEion of your new treasure, the Bruton family delivers. The selection includes a lot of local heavy hitters from then to now. They also cut down on the junk – stuff that looks enticing but ends up collecting dust on the shelf. One of the oldest record stores still operating, it owes its longevity to quality product and friendly service.
New or Used DVDs/Videos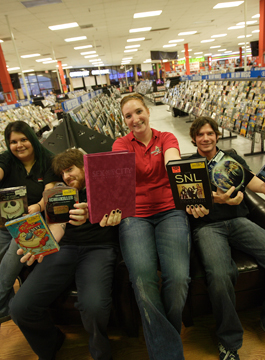 Readers' choice: Half Price Books, 417 S Hulen St, FW
Critic's choice: Entertainmart, 3415 S Cooper St, Arl
This gigantic outlet store doesn't have the best selection of foreign films or classics, but you can find just about anything else here, including CDs, LPs, and video games. The DVDs are arranged solely by title, so you'd better know the name of what you're looking for. Bonus points for the 20-plus high-definition TVs on the shelf rows, each playing a different movie.
20th-Century Relics
Critic's choice: Used car lots, NE 28th Street, FW
Truly, how long into this century can America's jones for gas-guzzling vehicles survive? Between the oil companies' greed, the effects of global-warming-aided hurricanes on the Gulf Coast, and what looks like an impending stock market crash that will reduce us all to wearing skins and burning dried cow plop for heat, surely low-gas-mileage cars will soon be rarer than rotary phones and black-and-white TVs. (There's another category of future relics: non-digital TVs.) Which means this stretch of secondhand car lots could one day become a kind of antique-shop row. But not yet.
Antiques
Readers' choice: Montgomery Street Antique Mall, 2601 Montgomery St, FW
Critic's choice: Benbrook Antique Mall, 9250 Benbrook Blvd, Benbrook
This huge warehouse of individual antique dealers' booths manages to exude the warmth and intimacy of the old antique shops on the town square without their musty smells. Hundreds of small "shops" line the aisles with neatly arranged goods offering everything from well-upholstered Victorian-era "nursing chairs" to 19th-century chiffarobes to a plethora of early-20th-century wares that range from a mint-condition 1930s gas range to dishes, cooking utensils, linens, dolls, and a wide selection of Depression glass. There are also a few junk-cluttered booths to satisfy the antique prowler who likes to dig through stacks of tacky hoping to find that rare and underpriced gem (to resell for thousands of dollars on eBay). Best of all, the prices are bargain-basement. Really. While you're there, stop by the lovely little tea room in back for a tasty lunch, and don't leave without sampling the luscious bread pudding – recipe straight out of the Betty Crocker Cookbook, circa 1950.
Jewelry
Readers' choice: Hot Poppy Couture, 6333 Camp Bowie Blvd, Ste 208, FW
Critic's choice: Artful Hand, 3408 W 7th St, FW
You just can't beat the wearable offerings at this store, although the art on offer also includes beautiful handmade furniture, dishes, and various dust-collectors. The jewelry selection is not huge, but it's full of unusual and one-of-a-kind pieces, many of them very affordable. Proof of the affordability: Some of our most complimented pieces are from the Hand, which moved recently from Camp Bowie Boulevard. If you see something you like, get it – there may not be another sample of it there again.
---
Western Wear
Readers' choice: Leddy's, 2455 N Main St, FW
Adult Toys
Readers' and critic's choice: Christal's, 3012 Alta Mere Dr, FW
Considering the dismal selection of adult toys in F-Dub, Christal's stands out. With two locations, the store offers a great variety of toys, lingerie, costumes, XXX magazines, and movies, as well as various lubes and lotions that will make anyone's weekend "wet 'n' wild." They have a decent discount sale area, and the staff is friendly, laid-back, and can answer any question you have about the array of stimulating gizmos without blinking an eye.
Video Games
Readers' choice: Game Stop, 4800 S Hulen St, Ste 2074, FW
Critic's choice: Movie Trading Company, 4604 SW Loop 820, FW
How kick-ass is this place? In addition to its massive selection of used and new DVDs, this gigantic store has more than an entire wall devoted to games, ranging from Nintendo Wii offerings to cartridges for the Atari 2600. If you're wondering what use Sega Dreamcast games are without the system, this place just might have the console on sale, too. The prices are way better than GameStop's resale prices as well. Now we're off to get a deal on Space Invaders.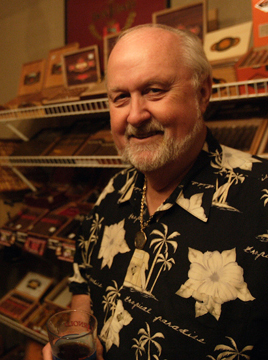 Cigars
Readers' choice: Pop's Safari Room, 2929 Morton St, FW
Critic's choice: Pop's Safari Room
It may be the easy choice, but until another cigar shop features fine dining, a wine list the size of a phone book, a brand-new party patio, and some of the best finger-snappin' live music around, Pop's Safari Room smokes the rest of the field. With the building boom going on along West 7th Street and various bans on smoking, Pop's is not only still standing, it's thriving. When the construction dust settles, Pop's will still be there, with a raised glass and a coughing laugh for anyone who ever doubted the place would survive.
Kitchen and Tableware
Readers' choice: Kitchen Store, 4714 Little Rd, Arl
Critic's choice: Pottery Barn, 1616 S University Dr; Pier 1, 433 Carroll St; and Lemon Tree Antiques, 804 Pennsylvania Av, all FW
So, what are you really looking for, honey? A casserole dish or table runner you're going to use once every five years when the extended tribe lands at your house for Christmas? Two dozen extra glasses for a wine tasting? Pier 1 is your place, and the new one in Montgomery Plaza seems particularly well stocked. Lots of choices, including lots of reasonably priced and pretty ones. Or maybe it's time to buy that one special piece that you've been coveting, whether it's lovely stemware, fanciful napkin rings, or beautiful table linens. In that case, wait for a sale at the Pottery Barn. Their stuff is classy, and the stock changes often. But if you really want something unique for the table, whether for yourself or as a gift for someone with great taste (or a good sense of humor), check out the Lemon Tree, the venerable, incredibly cluttered antique shop in the Hospital District where you might find anything from souvenir plates and ancient waffle irons to amber glassware and the finest china. The shop's open only a few days a week, so call ahead at 817-332-5519.

Future Garage Sale Items
Critic's choice: Scott and Carter avenues, East Side, FW
With the way the Shale is being pushed down our throats, you really could say future garage sale items could be had anywhere in the Fort, because if they keep it up, our homey little city is going to look like Gary, Ind., and smell like Odessa before long. But we're going with Scott and Carter avenues on this one because with the amount of drilling to be done and pipeline to be laid, well, residents might start leaving in droves. Which will be good for garage-salers if the rutted roads and rig and water trucks don't prevent them from getting in there to get all that good stuff that probably will be left behind.
Touring Van
Critic's choice: Galaxy Auto Sales, 608 E Division St, Arlington
OK, one day you're going to get the gigantic tour bus with wall-to-wall flat-screen TVs and strippers draped over the marble countertops. But before your band becomes globally known for fantastic excess, you have to pay dues and stuff. One part of that involves working countless crappy clubs; another part involves getting to the crappy clubs in a succession of crappy vans. Oh sure, you could go to CarMax, but if you're all about the experience, man, you gotta go to Galaxy Auto Sales. It's got a sizable selection of conversion and cargo vans all on one lot, and they come in a whimsical array of models, all perfect vessels for spilled bongwater, roadside shouting matches, and living the dream.
Actual Fashion Fad
Critic's choice: Beard/Vest/Flat Cap Combo
Call 'em hipster newsboys or the Ghosts of Tom Joad, but imagine dressing Cat Stevens up like Sean Connery in the The Untouchables, and that's what a lot of the cool kids are wearing. You won't really find this in L.A., and Dallas hipsters seem to be doing whatever Brooklynites were doing two months ago, which makes the beard/vest/newsie combo a look unique to Cowtown. If you think about it, it's perfectly logical – taking fashion cues from the Great Depression makes a lot of sense given the current economic climate.
Would-Be Fashion Fad: Return of the Mullet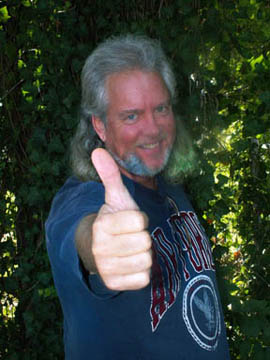 Some people partake in unexplainable quests or pursue odd courses of action without even knowing what forces propel them toward their heroic fates – Kevin Costner building a baseball diamond in a cornfield in Field of Dreams or Richard Dreyfuss building a mountain out of mashed potatoes in Close Encounters of the Third Kind. Or Julia Roberts marrying Lyle Lovett. Unexplainable forces at work!
And now I tread among this touched bunch. For no good reason, I'm compelled to reintroduce the mullet to mainstream America (the mullet being the business-in-front/party-in-back hairstyle made popular in the early 1970s by rockers like David Bowie). Who can forget those glory years? Paul and Linda McCartney even grew matching mullets. Then '80s hair bands took mulletry to new heights and lengths. But the style fell out of rock favor eventually. Country artist Billy Ray Cyrus mounted a revival in the '90s, but the world just wasn't ready. Since that time, two groups have pretty much owned the coif – lesbians and uber-rebellious rednecks – and even those groups seem to be losing interest. I attended a Shreveport mudbug festival not long ago and hung out in a hot asphalt parking lot with a thousand beer-chugging maniacs and saw only one other person with a mullet – a really butch young woman.
Joe Dirt types abounded but most wore crew cuts.  I'm not dissing lesbians or Joe Dirts, I'm just saying neither group represents me. Come to think of it, I am white-trashy. And I do like girls. So maybe I'm a combination Joe Dirt and lesbian. Regardless, I'm driven to re-mullet America, which confounds the hell out of my middle-aged Hispanic hairstylist. She shakes her head each time I sit down in her barber chair and says solemnly, "Why you no getta man's haircut?"  Her cracks prompted my research into mullet evolution, a style that goes back thousands of years. My favorite theory is found on the "Les Mullet" web site, which claims that ancient Polish intellectuals styled their locks that way, and mullet comes from "mull" (to ponder) and "et" (a Polish suffix meaning eternally). Sounds fishy.  I don't understand my quest. I just plug away, spreading the gospel, refusing to rest until mullets indiscriminately top the heads of men, women, and children of all races, creeds, religions, and social stratospheres, free of derision, free of stereotyping. Free.