Cutie Pies Roadhouse has been custom designed for one particular demographic. Multiple plasma TV screens broadcast NASCAR and pigskin drama. ZZ Top, the Nuge, and other classic rockers growl from the speakers. Most notably, all of the servers are young, female, and curvaceous and wear uniforms that appear to have been designed by Daisy Duke herself. The owners might as well have named the place "Hot Chicks and Food."


Nothing wrong with that, but what about customers whose idea of a great lunch or dinner experience does not involve the kind of cheesecake that can't be found on any menu? Well, think what you may about Cutie Pies' "ambiance." Turns out that the relatively new Grapevine restaurant serves up fresh, delicious comfort fo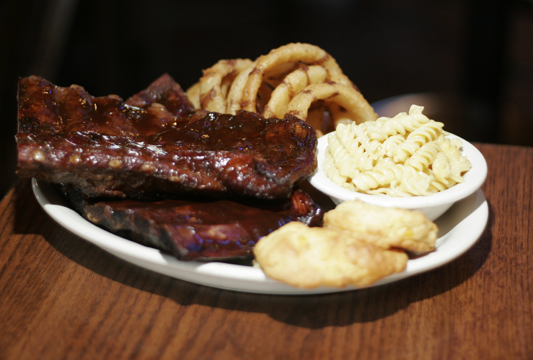 od.
Even the least impressive item during a recent meal scored. Fried pickles are typically just fried pickles. But what saved Cutie Pies' from being merely rote was the breading, a hearty coating that had the tantalizing afterbite of an unsweetened pastry. The pickles' tanginess and the thick ranch dressing that came on the side were handsomely complemented by it. (The same breading also comes on Cutie Pies' Frisbee-sized onion rings.)
Though the thin-crust 12″ Bar-B-Q Pizza is listed as an appetizer, it's more than a meal for one person. You have your choice of meat toppings, but go for the beef: chopped brisket between gooey layers of yellow and white cheeses studded with red onions and a thin slathering of Cutie Pies' sweet-smoky house barbecue sauce. Delish.
The restaurant's dark-brown, molasses-based version appears in many dishes. Because it's a sticky, assertively flavored condiment, a little goes a long way. The chefs on duty seemed to know that and held back appropriately. As a result, the smothered chicken breast was a delight. The inch-thick bird had been superbly grilled and topped with slippery mushroom caps and a silken blanket of melted, mild cheddar. The 'cue sauce arrived on the side and gave the otherwise subtly flavored combo a good swift kick. The best side veggie was the fridge-cool "Tasty Tater Salad": a mustard-based concoction, with the spuds partly mashed and partly cubed.
With all of the deadly serious barbecue joints in town – from Mama E's to Drew's Place, the Smoke Pit to The Pit, Deer Creek to Wilson's – you may think that Cutie Pies has a lot of nerve even daring to serve barbecue. But the restaurant's pulled pork sandwich was spectacular: tender, juicy porcine shreds edged with fat and generously portioned in a hot, springy, ciabatta-like bun. The sammy was the highlight of a surprisingly tasty gustatory adventure. Kudos to the proprietors for not relying on sex appeal alone to give their cuisine a, uh, leg up.
Cutie Pies Roadhouse
1720 Hwy 26, Grapevine. 972-539-5511. 11am-midnight Mon-Fri, 11am-1am Sat-Sun.
Cutie Pies Roadhouse:
Fried pickles……………………………. $5.99
Pulled pork sandwich…………………… $8.29
Bar-B-Q pizza…………………………… $10.99