Neighbors say they're getting the shaft from Beggs Ranch wells.
By JEFF PRINCE
For motorists near I-20 and FM 3325 just west of Fort Worth, the Beggs Ranch makes a picture worthy of a Marlboro ad. The Beggs family's connection to this land stretches back generations, to the hardscrabble 1870s, and their ranch remains a living testament to an era when cattle was king. In 2005, the family was honored with the Charles Goodnight Award, presented each year in Fort Worth to those committed to preserving Western heritage and livestock traditions.
These days, however, a look at the ranch doesn't reveal any huge herds. On a recent visit to the 3,070-acre spread, a lone calf stood on a gravel road and gave meek challenge to a passing pickup, and only a handful of grazing cows were in sight. The cash crop these days is natural gas. A dozen wells have been drilled, and more are expected. Giant water trucks that serve the well sites, weighing about 80,000 pounds when loaded, come and go at the ranch day and night.
Cattle trucks use one of the ranch's main entrances on FM 3325. A private gravel driveway runs past a house, barns, and cattle pens, then meanders across the ranch. But the gas trucks use a different gate. On orders from the Beggs family, those noisy, lumbering trucks use county roads to cut through a neighboring subdivision known as Chisholm Heights. From FM 3325, they rumble west on White Settlement Road for a mile, turn south on John Chisholm Road, and cut through a peaceful neighborhood made up of beautiful houses on five- and 10-acre lots.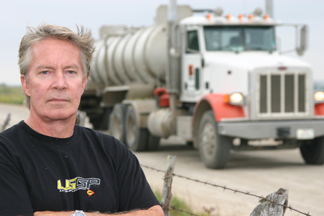 "These roads weren't built to have hundreds of heavy 18-wheelers coming down them every day," homeowner Bobby Pickard said.
Heavy trucks have flattened asphalt speed bumps installed by a Parker County road crew, torn up streets, and plowed over a sign that warned of children playing. Once they enter a gate on the ranch's north side, the trucks hug a fence line just beyond the backyards of houses. Dust from the gravel road drifts across the neighborhood.
"We've been fighting this for almost two years now," homeowner David Watson said. "We can only hope the Beggs family would do the right thing."
So far, the ranching family has been reluctant to talk to their neighbors. Chisholm Heights residents are reaching the boiling point. They've tried calling and writing county commissioners, state representatives, and a variety of state agencies, including the Texas Commission on Environmental Quality and the Texas Railroad Commission, which oversees drilling.
They've discovered they don't have a legal leg to stand on. What they probably don't know is that, besides falling prey to Texas' woefully inadequate regulatory system for gas drilling, they're the victims of a power play between Ed Farmer Beggs and Parker County officials, in a fight over a disputed piece of land.
Cities across North Texas are passing and enforcing ordinances to regulate the separation between drilling rigs and residences, but people in rural areas must rely on state laws that are friendly to mineral-rights owners. For instance, natural gas rigs can be erected within 200 feet of a home, compared to a minimum 600 feet in Fort Worth and up to 1,000 feet in other cities. State law provides no tool for pedestrian-heavy neighborhoods to divert truck traffic. As a result, neighborhood streets once populated with joggers and horse- and bike-riders are now mostly empty.
"I would love to prohibit those trucks from passing through that subdivision," Parker County Commissioner Jim Webster said.
But John Chisholm is a county road, and "you cannot prohibit access by trucks on county roads" in places where there is no other public ingress or egress for traffic, he said. The two entrances to the ranch from 3325 are private roads.
"We have tried to solve this problem every way possible, and I feel for the residents," he said.
Neighbors pleaded for county officials to build a new entrance to the ranch from FM 3325, which is a major north-south artery for Parker County residents and truckers, and then let the ranch owners or the gas company, EnCana, build a gravel road to the wells. After all, neighbors said, the Beggs family stands to earn millions of dollars in gas revenues, so they should be the ones who have to put up with the resulting problems. Drilling and truck traffic are expected to continue for decades.
"You can't just go in and bulldoze a road through somebody's private property without prior permission, and they don't want that road at the entrance to their house, and there is nothing in the world that allows us to make that an entrance," Webster said.
Commissioners discussed the situation with State Rep. Phil King, a Weatherford Republican, and requested legislation prohibiting heavy truck traffic from using subdivision streets as thoroughfares.
King understands the neighbors' frustration – he's frustrated too, he said, particularly because "there is plenty of potential access" onto the ranch from FM 3325. Parker County officials, the Texas Department of Transportation, and EnCana have all expressed willingness to create a new entrance and road. Only the Beggs family has resisted, he said.
"The ranch owners are just not being the best of neighbors," King said. "I'm sure they've got their reasons, because they're fine people, but it would be a great blessing to those people in the neighborhood if they would allow a temporary road onto the property."
Turns out, the ranch owners do have their reasons.
---
A Fort Worth Weekly reporter drove to the ranch house, entered the unlocked main entrance, and knocked on the ranch house's front door. A pickup was parked in the driveway, the house's front door was open, and a television could be heard from inside. But nobody responded to numerous knocks. While waiting to see if somebody might show up, the reporter saw a pickup truck carrying two cowboys come up the driveway. They dropped off a trailer and then drove away. When the reporter tried to leave the ranch a few minutes later, he was trapped – the cowboys had locked the gate.
As a result, the reporter was able to take a leisurely 30-minute drive around the ranch, looking to escape through the north gate used by the gas trucks. Beggs was obviously making an attempt to placate the neighborhood – 5-mph speed limit signs were posted beside the ranch roads. A gasfield worker at a pad site said the painfully slow speed limits were maddening to truck drivers but strictly enforced by the ranch owners. Also, the gravel road near the neighborhood had been watered to reduce dust.
Those attempts to lessen the impact on Chisholm Heights are meager, said Pickard, whose backyard faces that gravel road. Large picture windows in his living room are often coated with dust but don't obscure the family's view of gas trucks streaming past, he said.
"They've turned our residential neighborhood into an industrial zone, and the Beggses are letting it happen," he said.
He's happy for the Beggs family to be able to tap into their minerals and make a fortune in royalties but doesn't understand why ranch owners expect him and his neighbors to put up with all the downside.
"We're paying for the good thing that's happened for the Beggses in our lost home values, long-term health effects, tax dollars for road repair, and lifestyle," he said.
An empathetic King is considering introducing legislation in the next session that would regulate the use of some neighborhood roads by gas trucks. In the meantime he's waiting for the results of a TxDOT study on the impact of Barnett Shale truck traffic on area roads. The study might lead to solutions or public-private partnerships to remedy the problems.
"I hope that will give us some evidence we need," he said. "It's not just about this housing development, it's about the damage to the roads all over Parker County."
After the impromptu visit and tour of the ranch, the Weekly reporter contacted Ed Farmer Beggs by phone. The rancher said he's taken steps, such as watering roads and slowing down trucks, to appease Chisholm Heights residents, but they can be hard to please.
"If the neighborhood association had any mineral rights, they probably wouldn't be bitching," he said. "I told them I'd put up a privacy fence, and they didn't want that."
Another reason for resisting a new road across his ranch appears to be a battle of wills between Webster and Beggs. The rancher said he is willing to build a new entrance and road from FM 3325, but he wants a concession. One of Beggs' former neighbors sold three acres of adjoining property to the county about two years ago, and county workers use it like "a dump," he said. Mounds of dirt, gravel, and building materials are kept there, as well as county equipment, he said, and county crews use the site to burn brush piles.
"If you want to talk about neighborly, that was real neighborly what the county did to us – it bastardized the ranch," he said. "I said, 'You sell me the three acres, and that road [beside Chisholm Heights] could probably go away tomorrow.' "
Is the routing of heavy trucks through Chisholm Heights a pressure tactic in his battle with county officials?
"It very well could be," Beggs said.
Webster said the county needs those three acres to store materials. Still, he has offered to trade the land to Beggs for similar acreage somewhere in the general vicinity, but the rancher doesn't want to trade.
"The issue is not the three acres," Webster said. "The issue is whether or not [Beggs] will continue to allow those trucks to go by those houses."