To most folks, the Stockyards means just both kinds of music: Country. And Western.
Inside the few storefronts that don't offer cowboy-themed knick-knacks, cowboy-friendly food (steaks, barbecue, steaks, Tex-Mex), or cowboy-themed music are clubs where you can do the "Soulja Boy" and "Da Stanky Legg" in between bouts of two-steppin'.


In short, the Stockyards isn't the kind of place where you'd expect to find a rock club. Yet in several weeks, Brian Forella, owner of Lola's Saloon and the recently shuttered Wreck Room, plans to reopen the venerable Longhorn Saloon as a club where it will be indie-rock, not hip-hop, alternating with the boot-scootin'. Sacrilege, maybe – or just badly needed new blood.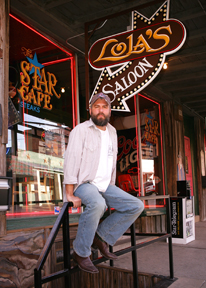 But that's not all. A couple of storefronts down on the same side of West Exchange Avenue, in the space formerly occupied by the blues bar Spinners, Forella is opening another, much smaller club, Lola's Stockyards.
Forella believes that opening the Stockyards clubs makes sense for several reasons One, there have been huge touring bands that Forella wanted to book at Lola's Saloon but couldn't because it is too small. But they can play the Longhorn, a venue that can comfortably hold about 700 people. Two, Lola's Saloon's strong happy-hour/early-evening crowd often disappears once the live music starts, and Forella doesn't want to lose them. And, three, the chance to do something in the most historic and popular part of town was an opportunity he couldn't pass up. He and the investor who's backing his play (but who didn't want to be named) got a great deal on both places, Forella explained, due in part to the tough economic climate.
"You'd get a good deal that you won't be able to get in two years," he said. "And the Longhorn is so kick-ass, there's no way we couldn't try it.
"To go down there and open a bar, it costs you a fourth of what it would cost you anywhere else," he said. "If it was someplace that I had to go in and spend $300,000, I wouldn't do it in these economic times. But these places are already set up and ready to roll."
Lola's Saloon will become just a bar-bar, with much less live music (mostly just an acoustic singer-songwriter or two). Small local and obscure touring bands will play Lola's Stockyards, a downstairs room that can comfortably hold about 150 people. The fate of Lola's Saloon's Sunday night jazz jams is up in the air, though Forella sees no reason why the event can't be relocated to Lola's Stockyards.
Change, however, is not something that Stockyards fans, or the area's movers and shakers, respond to very well. In the span of a year, Spencer Taylor, one of the founders of Billy Bob's Texas, launched and promptly shut down a five-bar/nightclub concept designed to attract an eclectic crowd. A year earlier, several hip-hop and salsa clubs opened up, only to be met with passionate resistance by the Stockyards powers that be. The clubs promptly closed.
But Forella has been welcomed warmly. Everyone from the so-called Mayor of the Stockyards, Steve Murrin, to celebrity chef Tim Love has given Forella a big hell-yeah. "The biggest reason that we decided to do the Longhorn is the reaction we've gotten from people in the Stockyards, the sheer excitement and support we've gotten from other bar and restaurant owners," Forella said.
He also has approached a handful of other local bar owners about opening up second locations in the Stockyards. They're waiting to see what happens with Forella's ventures before jumping in.
It wasn't that long ago that Fort Worth couldn't support two competing rock 'n' roll clubs, let alone two clubs practically next door to each other. And though various venues peppered throughout the city have proven to have remarkable staying power, Forella may essentially become his own biggest competitor. He feels, though, that the three clubs in the Lola's empire each offer something different. The Longhorn is gigantic and also has a kitchen – Forella hopes to have a menu completed and start serving food by March. Lola's Stockyards is literally underground and is as intimate as any club in town. The two new clubs also will create a number of jobs. The Longhorn will carry a staff of 20 to 25 people, Lola's Stockyards eight. Add that to the 12 employed at Lola's Saloon, and you've got a micro-economy.
Forella realizes that the Lola's brand will be a difficult sell with the usual Stockyards crowd, but he hopes to attract people from outside of the circle.
"From our standpoint, there's already a good crowd of people down there," he said. "There are established clubs, restaurants, hotels, and everyone already knows where it is. The hardest thing for us to do is to get people from Fort Worth to go down there, and I think if we have local bands that aren't just country we can do that."
Editors' note: The author's band, the Rivercrest Yacht Club, has played Lola's Saloon.