Does the taxman tiptoeth around some properties?
By PABLO LASTRA
Property owner: In these days of volatile housing markets, do you yearn for your property to rise in value while you simultaneously keep the taxman at bay? If so, look no further than the example of Steve Murrin and 806 Irma St.
This littered, deserted plot, less than a half-acre in area and adjacent to I-35W just south of downtown, in the Hillside neighborhood, was appraised by the Tarrant Appraisal District at a mere $5,250. But in July, the city of Fort Worth bought it from Murrin for a fire station for $85,000 – more than a 1,600 percent return on its TAD-appraised value, yet Murrin still considers it a fire-sale price.
What was the true value of 806 Irma St.? Murrin, the city, and TAD couldn't seem to agree.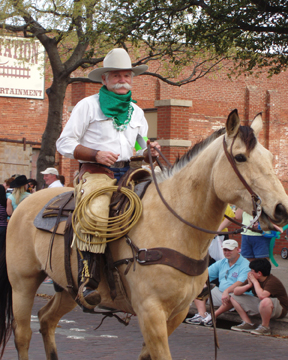 Murrin, the so-called "mayor of the Stockyards," was traveling through Mexico when contacted by the Weekly. He said that the plot of land had been in his family since his father bought it. "It sold cheap for what it sold," he said. "I wouldn't have sold it for any less."
Doug Rademaker, head of the city's engineering department, wrote in an e-mail conversation with the Weekly that the city hired a third-party appraiser, "who established the fair market value at $72,000. The city council approved staff to proceed with condemnation in the event a reasonable price could not be negotiated." In the end, the Murrins sold for $85,000 plus $5,000 in closing costs, and condemnation was averted.
When told that the property was appraised by TAD at only a sixteenth of that figure, Rademaker replied that "the TAD value does not always track the fair market value," which "is the universal standard utilized when buying and selling property. The city utilizes the FMV as the negotiating benchmark."
If the appraisal district's property valuations, which provide the basis for tax bills for cities, school districts, and other taxing entities throughout the county, are that far off of real market value, what's happening? Are connected Cowtown residents getting a break from TAD?
Getting answers from the appraisal district about its methodology is in itself taxing. In TAD's residential appraisal department, one appraiser simply said "Wow," when asked to review the Irma Street listing. She said that TAD's value is based on the sales information that the district had and that it didn't look like the property had changed values in a long time. Further, TAD never got to see the city's appraisal.
A supervisor, Vicki Willkie, manager of the residential appraisal department, said that since the sale had recently transpired (about five months ago), TAD had no record of it, but that the agency would take a look at the independent appraisal if the city would hand it over. Fort Worth Weekly submitted an open-records request to the city for the appraisal and got it just before the state-mandated deadline for responding.
Willkie said TAD calculates values based on sales records and other methods. "Basically, we get sales information from different sources," she said. "I even send out survey letters to homeowners asking what they paid for their properties."
While Murrin said the $85,000 price to the city was cheap, he also said the TAD value of $5,250 was right. "For what the property was being used for [a vacant lot], it was a proper appraisal," he said.
"It was a piece of property I was holding onto for potential use down the line," he said. "I didn't want to sell it because it's freeway frontage. I guess they gave it a low value because it's vacant and a source of trash dumping and drugs and whatnot in a neighborhood they're trying to clean up."
---
The city plans to redevelop the neighborhood, especially around Evans Avenue, Murrin said, and he sold the property because he didn't want to stand in the way of progress. "I mean, so many of the old unused properties in Fort Worth require a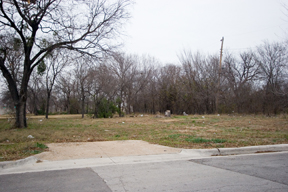 social change in the neighborhood," he said. "And they also need a developer with long-term vision to come in and see the long-term future – like myself. They would hold onto them until you had that potential increase in value, but in the meantime it has little value. I don't like selling real estate. Never have. My philosophy has been to accumulate it."
Or consider the case of U.S. Rep. Kay Granger, whose office is located on the edge of downtown, at 715 Jones St. The Granger building, a commercial property subdivided into six suites, is listed on the Tarrant Appraisal District rolls at a total value of $744,240. The much smaller residential condo just next door, part of The Bijou development, is worth $861,560 to TAD, but developers are asking $1.12 million for it.
In Granger's case, a spokesperson for the congresswoman confirmed that she owns the entire building, which is listed in her U.S. House financial disclosure form as an asset worth between $500,001 and $1 million.
But trying to compare the values of the Granger building and its neighbors is difficult because while TAD lists the million-dollar condo next door as including 3,769 square feet of space, the size of the Granger building or its individual suites is not specified on TAD's web site.
On the Jones Street office building, TAD appraisers again said they would need to study the property before answering questions. One appraiser cautioned against comparing residential and commercial properties. "It changes everything," Josie Porter said, "because one generates revenue and the other does not. The commercial value won't be only about the square footage. It considers the revenue the property generates."
So a commercial property typically is appraised for more than a similar residential property? Yes, Porter said, "The commercial is likely to be worth more."
But Porter's colleague Tammy Wood, a TAD appraiser on downtown properties, said that trying to compare an office condo with residential condos is like "comparing a cat and a dog." She said that the higher value in a smaller residential unit reflects the luxury touches included there versus a basic, bare-bones office finish. "There's a big difference between residential condos and commercial condos," she said. "Even though they are next to each other, they are not comparable in any way."
Chris Huffman, an independent appraiser in Fort Worth, said commercial and residential properties are rarely found together, and, in addition to that, "Condos downtown [are] a whole different deal."
It is difficult or impossible to compare values of downtown residential and commercial properties, even when they're side by side – in part because the market conditions for condos may be quite different than for office space. "The value of the condo units, he said, "is derived by the market, and the market will decide what it's willing to pay for them," whereas the value of commercial property is based more on what income it can bring in.
As for the city's newly acquired trashed lot on Irma Street, Huffman said that while the highway frontage and the up-and-coming setting could mean that TAD's appraisal was low, the ramshackle properties down the street would also hold down values. "That area is in such a transition right now," he said. "Over the past 10 or 15 years there's been so much happening in the South Side and Fairmont area that the values of these properties could be easily skewed to the high side or the low side."
TAD, he added, faces a big challenge in having to appraise all the county's properties every year. "TAD does mass appraisals," he said. "They're not necessarily [doing] an on-site inspection, looking at the sites physically. Sometimes they look at averages and comparables." Independent appraisers, on the other hand, can concentrate on one task at a time. "We do a site inspection and analyze the surroundings and come up with a value," Huffman said. "It's not unusual for TAD to be high or low; their methods are just different from what we do."
Pamela Ferguson, a selling agent for another property on Jones Street, cautioned against taking the appraisal district's values too seriously. "The tax value means nothing," she said.
Freelance writer Pablo Lastra can be reached at lastra.pablo@gmail.com.l