Pantego is probably best known as the home of the late, lamented "Dimebag" Darrell Abbot and as a city of speed traps that's completely surrounded by Arlington. What it's generally not considered is a hub of good eats.


One of the few ma-and-pa restaurants in Pantego, Mijo's Fresh Mexican Food has been in business since 1995, an achievement considering all the cheaper, much less adventurous fare available in the are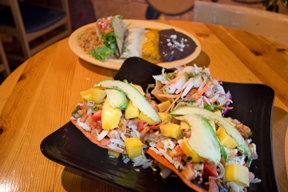 a.First thing you'd probably notice on walking into Mijo's is a fridge full of wine and beer, Jarritos, and saran-wrapped platefuls of creamy, caramel-loaded flan. A double-plus. Over to the side, the condiment bar features cilantro, chopped jalapeños, a smooth, spicy salsa verde and a chunky, mild salsa rojo, all looking (and tasting) incredibly fresh. Another plus. Mijo's standing menu is augmented by a large variety of specials, some of them only loosely affiliated with "Mex" cuisine, such as apricot-grilled chicken and apricot-margarita chicken.
Pondering the enchiladas, quesadillas, burritos, "classics" and specials, you may notice that, like hurricanes, most of Mijo's specials are named after people. Jose must have been a really big eater – his special includes three of their enchiladas. There also is a nice selection of appetizers, including several variations on nachos.
Start with the fresh, chunky guacamole – a small bowl runs just under $2. It needed salt but otherwise was an ideal companion for the thick corn chips.
Mijo's serves breakfast tacos in your choice of three wrappers: crunchy corn, soft corn, or flour. The chorizo and egg was long on egg and short, unfortunately, on the tasty, smoky chorizo. On the other hand, the contents of the bean and cheese taco oozed out of the double layer of soft, moist corn tortillas. The tortillas themselves would have been perfect just with the salsa verde from the condiment bar.
But because you can't live on tortillas alone, there are the queso blanco nachos: a huge mound of chips, black beans, chicken, and salsa verde, topped with white cheese, crumbly Mexican añejo cheese, tomatoes, and jalapenos. The white sauce was a little runny. Otherwise, it was tasty and a nice twist on the traditional cheddar nachos. The añejo provided an unusual flavor, almost parmesan-like in its sharpness.
The beef enchilada plate came with a thin, pinkish "rojo" sauce that had some kick but wasn't too spicy. A generous serving of seasoned ground taco meat filled up two of those thick corn tortillas. The plate came with more of the borracho beans and rice.
Randy's Plate featured sour cream chicken, New Mexico red chili cheese enchiladas, and a hard corn taco. The chicken enchilada was delicious, perfectly spicy and with a hearty amount of shredded chicken. The cheese enchilada with the red sauce was unusually tough. The crispy taco had a veritable field of greens along with a little more of that añejo cheese.
Mijo's opens early and closes late and also offers catering services. Restaurants in the Pantego part of Arlington don't stay open unless they have something really good to offer, a la Mijo's.
Mijo's Fresh Mexican Food
2304 W Park Row Dr, Ste 10, Pantego. 817-226-3001. 7:30am-9pm Sat-Thu, 7:30am-10pm Fri. American Express, MasterCard, Visa accepted.
Mijo's Fresh Mexican Food
Guacamole (small) $1.89
Beef enchiladas $6.39
Randy's Plate $7.25
Queso blanco nachos $6.29