Prayer of a Desperate Man's title track could be the best spiritual song of recent years. But singer-songwriter Thom Schuyler isn't content with that. He also tells us he loves Kit-Kats, hates the SOBs who drive Hummers, and loves often and sometimes well.


This is a consistently beautiful album delivered in a quietly expressive tenor by a man recalling s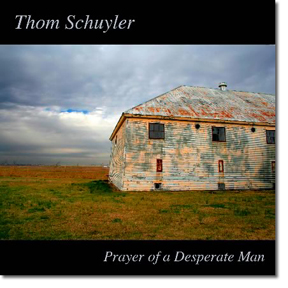 ome of his own resurrections and occasionally having a bit of fun. His lyrics are exquisite, sharing simple and personal stories and reflections and are accompanied by pedal steel, dobro, banjo, mandolin, guitar, bass, drums, and touches of more "exotic" instruments, including bouzouki, djembe, clarinet, saxophone, and trombone.
On the title track, Schuyler hints at the glory of wind, of the wolf's howl and the bumblebee's buzz, of Rodgers & Hammerstein and Beethoven, but he says the real power is in how God "answers and gathers His dancers / for the prayer of a desperate man."
Schuyler can have fun with the seriousness. On the prayerful "Talk To My Old Man," he asks God for a few minutes to talk with his father, whom he misses: "This isn't about the Mighty King of Glory / It's more about Prince Albert in a can / I'd love to smell his pipe and hear him laughing."