It's taken 46 years for Paul McCartney to finally enter a blue(s) period. His new side project, The Fireman, starring über-producer and ex-Killing Joke bassist Youth (just one name, kids), has been in operation since the early 1990s. Most of the project's output has been ambient and semi-classical in nature, with no vocals. Electric Arguments, however, reinterprets The Beatles' Lennon-led excursions as swampy vamps, all sung and all sung by McCartney.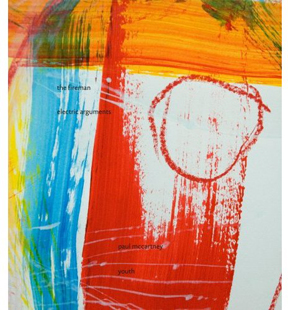 Imagine The White Album as done by The Black Keys – that's The Fireman's Electric Arguments, a hipster blues record with just enough tender moments to remind you that this is the guy who wrote "Yesterday."
Other than the doomed longing of "Traveling Light," the record is pure 4/4, with stomped pianos and harmonica throwdowns. Sir Paul's voice hasn't sounded this good since the early 1970s. Check out "Two Magpies" and "Highway" as shining examples of Macca's newly honed, gravelly voice and also his attention to phrasing, placing him somewhere between backporch Mississippian shaman and English manor gypsy. "Singing the Changes" is pure Traveling Wilburys – his fellow Beatle George Harrison's stamp is all over the tune: serene, detached vocals delivered in an echo chamber no doubt as deep as one of Brian Wilson's hallucinogenic drug holes.