Formed in 1996 in Himeji, Japan, and named after a song by '70s German psych-rockers Guru Guru, LSD March is the latest in a line of Japanese noisicians that also includes Makoto Kawabata of Acid Mothers Temple and Keiji Haino: leather-clad longhairs who keep their shades on while churning up an infernal racket. But there's more to the band's sound than energy and skronk – and lyrics in Japanese.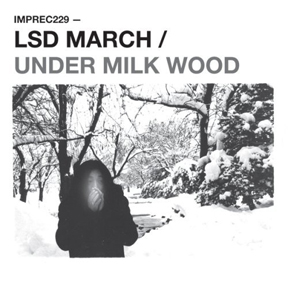 Their 2007 opus, Constellation of Tragedy, plumbed the somber, elegiac depths of sad bastard-dom, eliciting Velvet Underground comparisons, circa the legendary psych band's third album, while last year's Uretakumo Nakunarutorika caught them delving into realms of lo-fi psychedelic weirdness.
Under Milk Wood reunites singer-guitarist Shinsuke Michishita and drummer Ikuro Takahashi with engineer Richard Horner, who helped craft the sound of their last two releases. "Bisyonure No Kimi" starts things off with a mournful, moody melody, floating on layers of distortion and feedback that are mixed low, so as not to obscure the vocals. "Shiroi Sekai De" frames the most lyrics since Springsteen recited the Manhattan phone directory on Greetings from Asbury Park with textures of harmonium and chimes. You won't even care that you can't understand what Michishita is singing.
"Ai No Sakebi" and "Taiyo No Uta" employ percussion instruments playing asynchronous beats to create a wiggy atmosphere of disorientation. Things get heavier on "Dare Ga Hoera," six minutes of monotonously hypnotic pulse and throb with slashing guitars. "Kimi No Uta Wo Kiite Boku Wa Akuma Ni Natta" almost sounds like a more verbose Japanese "Jolene" before Michishita kicks on the fuzz pedal and takes off for the stratosphere. One bonus track consists of 10 takes of a song, including hilarious (staged?) studio chatter ("Try make it faster, but more slowly"), while another is 18 seconds long. A highly addictive spin.