Seven candidates want the Fort Worth City Council seat left vacant by veteran Chuck Silcox's death, but none have nabbed the two endorsements that could have the most impact. Neither Silcox's influential widow, Brenda, nor Mayor Mike Moncrief is endorsing anyone for the job of representing southwest Fort Worth.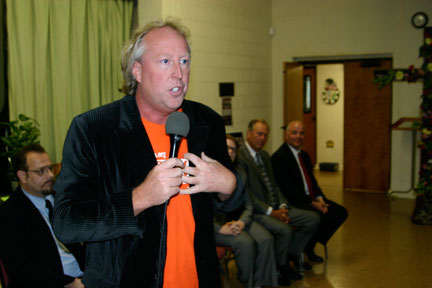 Moncrief has said publicly he hopes all the incumbents on the council will be re-elected. That leaves only the District 3 race ripe for endorsement, and Moncrief thus far has given only an unofficial nod.
"In November, he came out and said Eric Fox would be a great candidate," opponent Matthew Hudson said. The mayor "has made no such comments on any of the other candidates."
Fox is the downtown establishment's golden boy, endorsed by a Who's Who of politicians, lawyers, developers, and movers and shakers who have donated thousands of dollars to his war chest. U.S. Sen. Kay Granger, Moncrief's wife Rosie, and Chesapeake Energy spokesman (and former mayor) Kenneth Barr are among the well-connected donors.
Fox is a sharp-dressed, well-spoken, and enthusiastic cheerleader for the Trinity River Vision development. By day, he's a Lockheed Martin Aeronautics executive who lobbies on legislative action that helps secure billions of dollars worth of contracts from the federal government for one of the city's largest employers.
Besides Fox and Hudson, the District 3 candidate lineup includes W.B. "Zim" Zimmerman, A. James Nuttall, Elizabeth Jane McCune, Bill Lawson, and Gary Hogan.
Silcox isn't endorsing anyone, but when asked which candidate is most characteristic of her late husband, who died in October, she named Hogan, the Lockheed Martin aircraft assembler who has been a leading voice of restraint on urban gas drilling.
"He is a neighborhood man and has grown up with the neighborhood," she said. "But that doesn't mean I'm endorsing Hogan."
She said she prefers the candidates to win or lose on their own merits. "I want them to get out and earn the job," she said.
Many people encouraged Brenda Silcox herself to enter the race, and most of the candidates waited for her to make a decision before they filed. Only one candidate, whom she refuses to name publicly, pushed for her endorsement. "Everybody else has been understanding," she said.
Hogan said he was encouraged to seek election after talking to the former city councilman last year while Silcox was battling prostate cancer. Silcox had pushed for strong rules on urban drilling, which sometimes put him at odds with his pro-drilling council colleagues. He chose Hogan to serve on a task force charged with recommending ordinances to control the industry.
"I'm the guy that Chuck Silcox raised from a neighborhood leader, and he put the confidence in me to be on that important gas drilling task force," he said. "I still call Chuck my mentor. His theology about what's important as far as representing neighborhoods makes sense to me."
Hogan would gladly have accepted Brenda Silcox's endorsement, he said. Since it wasn't offered, he did not ask. But he said he got a private endorsement from Chuck Silcox himself shortly before the veteran council member's death.
"Last summer he says, 'So, Gary, when are you going to run for my seat?' That was the first time I sensed a little weakness in Chuck over his illness. I told him, 'You're not going anywhere.' He said, 'Why wouldn't you run?' And I said, 'Chuck, it ain't my time – I'm still working full time at Lockheed, and I don't know if I could dedicate my time the way you did it, and if I did run I would want to do it the way you did it.' "
Silcox's response changed Hogan's mind, he said.
"He told me that sometimes you don't get to choose your time, sometimes it's just the right time," Hogan said.
Fox, in many ways, is the opposite of Silcox, who was known for his bluntness, fashion-challenged neckties, and willingness to butt heads with Moncrief and to vote against the majority.
"Everybody seems to think Eric Fox is going to be Moncrief's chosen boy – he seems to be part of the network," said Louis McBee, who is running for mayor against Moncrief.
Fox said he enjoys wide support and top-shelf endorsements because "they like my vision of Fort Worth." Fox's web site lists strong neighborhoods as his main priority but doesn't mention his thoughts on gas drilling. His other priorities are fiscal responsibility and mobility projects such as Southwest Parkway.
Hudson, as a former president of the Fort Worth League of Neighborhoods, has worked closely with Moncrief over the years but has never been shy about challenging or disagreeing with the mayor. Most recently, he spoke out against a high- impact-drilling permit that the council later granted to Chesapeake.
Candidates on the campaign trail have expressed concern over the close relationship between Moncrief and Fox.
"Eric's family and the Moncrief family were connected socially and personally before this race ever began," Hudson said. "When I go door to door, it's a huge issue with neighborhoods. There is a big concern that Chuck Silcox was the one voice on council that stood up to the mayor, and the neighborhoods don't want to lose that."
Hudson said he doubts whether Moncrief will officially endorse any candidate since it might appear unprincipled for a sitting mayor to campaign for a city council candidate before an election.
However, Moncrief did just that three years ago. After Eastside business owner Danny Scarth was nominated to sit on the gas drilling task force in 2006, he aligned himself with the drillers, ingratiated himself with the downtown elite, and sought the District 4 city council seat. Moncrief endorsed him just prior to the election, and Scarth narrowly defeated populist candidate McBee by 54 votes.
Hogan refused to speculate on which candidate might win Moncrief's official endorsement. "Certainly it's not me," he said.
Hogan continuously challenged the industry representatives dominating the gas drilling task force; Moncrief, who makes his living from oil and gas, has been a strong advocate of drilling inside the city. The mayor's leadership style involves seeking a united front from elected officials, and he carries much influence in the corridors of city hall. He runs city council meetings with a firm hand, often chastising and glaring at residents who criticize drilling companies or otherwise upset him.
"I don't like the oppressive nature I see at city hall, and it's coming from the highest level," said Hogan, who's been on the receiving end of the Moncrief glare more than once. "Why am I getting his glare? Because he doesn't agree with my agenda? His agenda is serving special interests. We seem to be operating under a strong-mayor dictatorship."
Brenda Silcox, still grieving from the loss of her husband, said she wishes all the candidates well but doesn't expect any of them to match their predecessor's energy and devotion to neighborhoods. "There's nobody that can fill his shoes – those are pretty big shoes to have to fill," she said. "Chuck voted how his constituents in the neighborhood told him to. He went to every one of his neighborhood association meetings, and he listened."