OPENING: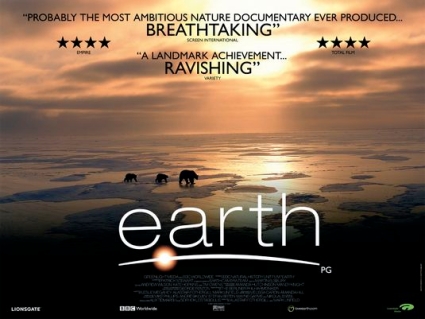 Earth (G) Alastair Fothergill and Mike Linfield's documentary about the impact of global warming on polar bears, humpback whales, cranes, and African elephants. (Opens Wednesday)
Fanboys (PG-13) Comedy set in 1999 about a group of Star Wars fans (Jay Baruchel, Kristen Bell, Dan Fogler, and Sam Huntington) who try to steal a print of The Phantom Menace so that their terminally ill friend (Chris Marquette) can see it before he dies. Also with Christopher McDonald, David Denman, Danny Trejo, Ethan Suplee, Jaime King, Pell James, Joe Lo Truglio, Ray Park, William Shatner, Kevin Smith, Jason Mewes, Billy Dee Williams, Carrie Fisher, and Seth Rogen. (Opens Friday at AMC Grapevine Mills)
Fighting (PG-13) The least original movie title of 2009 belongs to this unoriginal piece about a combative New York street kid (Channing Tatum) who's recruited by a two-bit agent (Terrence Howard) to engage in organized underground fights for money. Director/co-writer Dito Montiel layers enough grit to make this look like a New York movie from the 1970s, but his approach is betrayed by the Hollywood formulas in his script. Two decent fight scenes and Howard's entertaining hustler's patter can't make up for Tatum's nonacting and the deeply uninteresting romantic plot between his character and a cocktail waitress (Zulay Henao). Also with Luis Guzmán, Michael Rivera, Flaco Navaja, Peter Tambakis, Roger Guenveur Smith, Anthony DeSando, Altagracia Guzmán, and Brian White. (Opens Friday)
Obsessed (PG-13) Idris Elba stars in this thriller as a married business executive who's stalked by his firm's new temp worker (Ali Larter). Also with Beyoncé Knowles, Jerry O'Connell, Bonnie Perlman, Bruce McGill, Scout Taylor-Compton, and Christine Lahti. (Opens Friday)
Shall We Kiss? (NR) Emmanuel Mouret stars in his own romantic comedy as a Frenchman who falls in love with his best friend (Virginie Ledoyen). Also with Julie Gayet, Michaël Cohen, Frédérique Bel, Mélanie Maudran, Marie Madinier, Lucciana de Vogüe, and Stefano Accorsi. (Opens Friday in Dallas)
The Soloist (PG-13) Based on Steven Lopez' best-selling memoir, this drama stars Robert Downey Jr. as a Los Angeles Times columnist who befriends a mentally ill classical cellist (Jamie Foxx) reduced to living on the street. Also with Catherine Keener, Tom Hollander, Stephen Root, Rachael Harris, Angela Featherstone, and Lisa Gay Hamilton. (Opens Friday)
Sugar (R) This drama by the writing-directing team of Anna Boden and Ryan Fleck (Half Nelson) is about a Dominican baseball pitcher (Algenis Perez Soto) trying to adjust to life in rural Iowa while playing in the minor leagues. Also with Rayniel Ruffino, Andre Holland, Ann Whitney, Richard Bull, Ellary Porterfield, Jaime Tirelli, Karl Bury, and José Rijo. (Opens Friday in Dallas)
NOW PLAYING:

Adventureland (R) This warm and winning coming-of-age flick stars Jesse Eisenberg as a 1987 college grad forced to take a summer job at a run-down amusement park, where he falls desperately for a troubled co-worker (Kristen Stewart). Sold as a comedy, this is really a romance, with Eisenberg neatly capturing the vibe of a kid who's smooth but not smooth enough, and Stewart showing sexiness, fear, and self-loathing like we've never seen from her before. Mottola shows great attention to period detail (especially with the soundtrack) but also brings out notes of melancholy and pain in this story, particularly with the climactic scene. A movie that can be treasured for years to come. Also with Ryan Reynolds, Martin Starr, Wendie Malick, Jack Gilpin, Margarita Levieva, Matt Bush, Josh Pais, Mary Birdsong, Bill Hader, and Kristen Wiig.
American Violet (PG-13) Proof that an indie film can stretch a true story as cheaply as a Hollywood movie can. Based on the Regina Kelly case in Hearne, Texas, the film changes everybody's names, which should tip you off that its history is seriously compromised. Nicole Beharie plays a single mom who's scooped up in a drug raid and jailed on the word of a single unreliable informant and subsequently sues the D.A. (Michael O'Keefe). In the tradition of bad drama everywhere, the D.A. is a loathsome racist while she and her legal team are spotless heroes. At its worst, the movie's lack of subtlety reaches Tyler Perry levels. Also with Alfre Woodard, Tim Blake Nelson, Will Patton, Malcolm Barrett, Xzibit, Paul David Story, and Charles S. Dutton.
Crank: High Voltage (R) Jason Statham's character returns from the dead for this sequel as a man whose human heart is removed against his will to be transplanted into a crime lord. Kept alive by an artificial heart, he must electrocute himself once every hour or die … again. The writing-directing team of Neveldine + Taylor (as they sometimes bill themselves) goes completely over the top here, aiming for more humor than action. Too bad their sense of humor amounts to rampant racial and sexual stereotypes, a stripper having her breast implants leak out after she's shot, and the hero sodomizing a fat guy with a rifle barrel. Where the first movie was just silly, this one is downright repellent. Also with Amy Smart, Clifton Collins Jr., Bai Ling, Corey Haim, Efren Ramirez, Dwight Yoakam, and David Carradine.
Dragonball: Evolution (PG) What a disaster! Justin Chatwin stars in this adaptation of the anime series as a teen who must find seven magical orbs before a demon (James Marsters) locates them and uses them to destroy the world. The only suspense value here is gauging whether the acting, the writing, or the special effects is the worst part of the film. (The special effects win, repelling a late charge by the acting.) Chow Yun-Fat is in here, too, cast as an old letch with tacky fashion sense, but he has never looked more out of place. Also with Emmy Rossum, Jamie Chung, Park Joon, Eriko Tamura, Randall Duk Kim, and Ernie Hudson.
Duplicity (PG-13) The most purely entertaining movie so far this year stars Julia Roberts and Clive Owen as former spies who've crossed over to the private sector so they can run a complicated scheme to steal millions from the warring pharmaceutical companies that they work for. Writer-director Tony Gilroy (Michael Clayton) cuts loose with this caper flick that springs some head-spinning smaller cons within the big con, and his sense of fun infects his lead actors. It's refreshing to see Owen in a playful mood, and the role of a con artist adds a dangerous new dimension to Roberts' trademark charm. This isn't a great movie, but it's a brain-tickling diversion for grown-ups. Also with Paul Giamatti, Tom Wilkinson, Denis O'Hare, Kathleen Chalfant, Oleg Stefan, Khan Baykal, Wayne Duvall, Ulrich Thomsen, Carrie Preston, and Tom McCarthy.
Fast & Furious (PG-13) Really, are moviegoers this nostalgic for 2001? The four original lead actors return for this fourth film in the series, in which street racer Dom (Vin Diesel) and FBI agent Brian (Paul Walker) are forced to work together after the murder of Dom's girlfriend, Letty (Michelle Rodriguez), which leads back to a shadowy Mexican drug smuggler who hires ace drivers to deliver his stuff across the border. The actors phone in their performances, perhaps knowing that they're playing second fiddle to the cars. Director Justin Lin coordinates a nice opening sequence with Dom, Letty, and some cohorts stealing containers of gasoline off the back of a tanker truck. The rest of the car chases are incoherent, and the smuggling plot defies all logic. Also with Jordana Brewster, John Ortiz, Laz Alonso, Gal Gadot, Jack Conley, Liza Lapira, Shea Whigham, and Sung Kang.
Hannah Montana: The Movie (G) A dark and twisted journey into the soul of evil … wait, no, it's the big-screen version of the TV show starring Miley Cyrus as a pop star living a double life as a "normal" teen, only to find her fame eclipsing everything else. The whole conception of Hannah Montana was always a bit bizarre, and it isn't cleared up here despite the movie's hand-wringing over whether "Miley" should keep up the "Hannah" façade. The slapstick is fairly uninspired. So are the songs, with the exception of the half-memorable climactic number, "Butterfly Fly Away," and the gruesome "Hoedown Throwdown." The movie's still terrific if you're lucky enough to be an 11-year-old girl or unlucky enough to have the mind of one. Also with Billy Ray Cyrus, Emily Osment, Vanessa Williams, Lucas Till, Margo Martindale, Jason Earles, Mitchel Musso, Moises Arias, Melora Hardin, Barry Bostwick, and Taylor Swift.
The Haunting in Connecticut (PG-13) Based on an story that was claimed to be true but was almost certainly false, this movie depicts a family moving into a spacious Victorian mansion so that their ailing teenage son (Kyle Gallner) can be closer to the hospital where he's being treated. The house turns out to be filled with spirits who largely manifest themselves as non-terrifying hallucinations of blood and tiny crabs – yes, you read that right. The writers and actors make an honest attempt to portray a family that's fraying, with a recovering alcoholic dad (Martin Donovan) and a steady mom (Virginia Madsen), but the tension never ties into the scares. The plot resolutions also verge on insulting. Really, crabs? Also with Amanda Crew, Sophi Knight, Ty Wood, Erik J. Berg, and Elias Koteas.
He's Just Not That Into You (PG-13) Greg Behrendt and Liz Tuccillo's best-selling self-help book becomes this occasionally insightful but mostly overlong and repetitive ensemble comedy about people misreading each other's romantic intentions, including an aspiring singer (Scarlett Johansson), a bar owner (Justin Long), an office worker (Ginnifer Goodwin), and a real estate agent (Kevin Connolly). There's a nicely played plotline with a long-term couple (Ben Affleck and Jennifer Aniston) who haven't gotten married yet, but the characters are too indistinct and the pairings are too random to make this stick. These people live in what must be the only all-white enclave in Baltimore, in houses that look so nice that they upstage the actors and the material. That's a bad sign. Also with Drew Barrymore, Jennifer Connelly, Bradley Cooper, Busy Philipps, Wilson Cruz, Leonardo Nam, Kris Kristofferson, and an uncredited Luis Guzmán.
I Love You, Man (R) This thoroughly charming knockoff of a Judd Apatow comedy is a more persuasive movie about male friendship than Superbad. Paul Rudd plays a real estate salesman who has no close male friends until he meets a fun-loving private investor (Jason Segel) who teaches him to cut loose. The characters are a bit thin, but the two leads have effortless chemistry together, with Segel in surprisingly self-assured form and Rudd pulling off the difficult task of being funny while portraying a character who's not funny. (His attempt at a cool catchphrase: "Totes magotes.") Watch for Jon Favreau and Jaime Pressly, who steal some laughs as a married couple who are continually resolving their fights through sexual bartering. Also with Rashida Jones, Andy Samberg, Sarah Burns, Mather Zickel, Thomas Lennon, Joe Lo Truglio, Jay Chandrasekhar, Carla Gallo, Liz Cackowski, J.K. Simmons, and Jane Curtin.
Knowing (PG-13) A movie that falls apart more spectacularly than The Happening. Nicolas Cage plays a widowed astronomer whose young son (Chandler Canterbury) receives a kid's drawing that's been buried in a time capsule for 50 years. Cage finds that the numbers in the drawing correctly predicted every global disaster since 1959. Director Alex Proyas builds suspense rather deftly in the first half of the film, but the thing gets sunk by an incredibly silly climax that plays out like the Left Behind series with space aliens instead of God. The last half hour rots with sentimentality, and Marco Beltrami's score is truly awful from beginning to end. The supporting cast, which is almost entirely Australian, includes Rose Byrne, Lara Robinson, Nadia Townsend, D.G. Maloney, Alan Hopgood, and Ben Mendelsohn.
Monsters vs. Aliens (PG) An animated movie with about as much depth as a Saturday morning cartoon, though it does look quite a bit better. The heroine of the piece is Susan (voiced by Reese Witherspoon), a woman who's turned into a 50-foot giantess after being hit by a meteor and who teams up with the U.S. government's captive "monsters" to defend the Earth against an alien overlord (voiced by Rainn Wilson) who tries to take over the planet. Most of the movie evaporates as soon as the closing credits roll, but it is enjoyable while it's unspooling, and Seth Rogen steals the biggest laughs as a clueless, all-devouring gelatinous blob named Bob. All in all, this is more fun than Knowing. Additional voices by Will Arnett, Hugh Laurie, Kiefer Sutherland, Stephen Colbert, Paul Rudd, Jeffrey Tambor, Julie White, Amy Poehler, John Krasinski, and Renée Zellweger.
Observe and Report (R) The scariest movie so far this year. Seth Rogen teams with writer-director Jody Hill (The Foot Fist Way) to create the character of Ronnie, a bipolar shopping mall security chief with a hero complex and no heroic qualities. Rogen junks his teddy-bear persona to portray a guy who's dangerously disengaged from reality, and though he deploys just enough charm to generate pathos for the maladjusted Ronnie, he also locates a core of serenity at the heart of this self-appointed savior that makes the character terrifying, especially during his quasi-religious monologue near the end. The laughs on offer here are all of the nervous variety, and they make this a descent into the depths of madness that's funnier than it has any right to be. Also with Anna Faris, Ray Liotta, Michael Peña, Celia Weston, John and Matt Yuan, Collette Wolfe, Randy Gambill, Aziz Ansari, Patton Oswalt, and Danny McBride.
Race to Witch Mountain (PG) This big, noisy remake of the 1975 Disney movie Escape to Witch Mountain stars Dwayne "The Rock" Johnson as a Las Vegas cabdriver whose young sibling passengers (Alexander Ludwig and AnnaSophia Robb) turn out to be aliens looking to return to their spaceship so they can forestall an invasion of Earth by their fellow aliens. The Rock's comic technique still needs refining, and the last scene is way too syrupy by half. Still, director Andy Fickman handles the action well enough to make this into watchable, if instantly forgettable, entertainment. Side note: The kid actors from the 1975 movie, Kim Richards and Ike Eisenmann (the latter for some reason billed here as Iake Eisinmann), appear here as a waitress and a sheriff. Also with Carla Gugino, Ciarán Hinds, Tom Everett Scott, Chris Marquette, and Garry Marshall.
17 Again (PG-13) Unexpectedly funny genre picture stars Matthew Perry as a self-loathing 37-year-old named Mike who relives his high-school years after being magically transformed into his 17-year-old self (Zac Efron). A bit fuzzy on Mike's mid-life crisis, the film nevertheless has a number of terrific lines, Leslie Mann investing all sorts of conviction in the role of Mike's wife, and a scene-stealing turn by Thomas Lennon as Mike's tech-geek best friend who poses as his dad and flirts awkwardly with the hot high-school principal (Melora Hardin). Efron's pretty funny, too – his early career is starting to look like John Travolta's in his 1970s glory. Watch for the early scene in which Efron and Lennon duel with lightsabers. Also with Michelle Trachtenberg, Allison Miller, Sterling Knight, Brian Doyle-Murray, Jim Gaffigan, Collette Wolfe, and Hunter Parrish.
State of Play (PG-13) Flawed but savvy thriller stars Russell Crowe as a schlubby newspaper reporter who's forced to investigate a congressman and longtime friend (Ben Affleck) after the murder of a Capitol Hill staffer leads to a Blackwater-like private security contractor. This two-hour film is based on a six-hour BBC TV miniseries, and the compression shortchanges characters like the congressman's wife (Robin Wright Penn) and a blogger (Rachel McAdams) who helps report the story. Still, the film boasts some wondrous individual performances (including Helen Mirren as the paper's editor and Jason Bateman as a shady publicist), includes some tart asides on the decline of the newspaper industry, covers a great deal of ground efficiently, and delivers enough thrills to make it go down smoothly. Also with Jeff Daniels, Harry Lennix, David Harbour, Michael Berresse, Maria Thayer, Wendy Makkena, Katy Mixon, and Viola Davis.
Sunshine Cleaning (R) Brilliant performances by the two lead actresses raise this movie above the ranks of other derivative indie feel-good stories. Amy Adams and Emily Blunt play sisters who go into the business of cleaning up crime scenes after the police are finished with them. The film could have included more details about this odd job, but the delicate comedy of Adams and Blunt reacting to the grossness of their new work is funny, as is the brisk way they go about their grim tasks. The script too neatly ties all of the character developments together, yet it's given human dimensions by Blunt (delicious as an American slacker) and Adams as a single mom plagued by self-doubts who finds new purpose in life. Also with Alan Arkin, Steve Zahn, Clifton Collins Jr., Jason Spevack, Eric Christian Olsen, and Mary Lynn Rajskub.
Taken (PG-13) Liam Neeson stars in this French-flavored revenge flick that starts out well but goes all rancid in the second half. He plays a retired American secret agent who's forced to call on his old skills when his teenage daughter (Maggie Grace) is kidnapped in Paris by Albanian mobsters hoping to sell her into sex slavery. French director Pierre Morel (District B13) contributes a couple of good chase sequences early on, but the picture indulges in turgid family melodrama and shameless race-baiting (with its Slavic and Arab bad guys), and the hero does some truly reprehensible stuff in the latter stages that we're supposed to forgive. Pas de chance. Also with Olivier Rabourdin, Leland Orser, Xander Berkeley, Jon Gries, David Warshofsky, Gérard Watkins, Arben Bajraktaraj, Katie Cassidy, Holly Valance, and Famke Janssen.
12 Rounds (PG-13) This fast-moving thriller would feel impersonal even if the lead actor were more expressive than former WWE wrestler John Cena. He plays a New Orleans cop who's forced to complete a set of challenges set by an international arms smuggler (Aidan Gillen) who has broken out of prison and kidnapped the cop's girlfriend (Ashley Scott). The bad guy's impossible brilliance means that every piece of this plot fits way too neatly, and you can see every death and every explosion coming from a mile away. The script makes use of tension between the local cops and the feds, and director Renny Harlin keeps things moving, but there's no spark of invention and no delight in this exercise. Also with Steve Harris, Brian White, Gonzalo Menendez, Taylor Cole, Kyle Clements, and Peter Navy Tuiasosopo.
Watchmen (R) Alan Moore and Davd Gibbons' comic series broke all kinds of new ground when it came out in 1985, but after so many other superhero sagas have plumbed the same territory, the long-awaited film version has little new to say. Taking place in an alternate version of 1985, the story concerns the efforts of retired superheroes to find out who's targeting them after one of their own (Jeffrey Dean Morgan) is murdered. Director Zack Snyder makes every shot pregnant with meaning, imitates the look of 1970s paranoid thrillers, and delivers a great set piece for the opening credits. However, the story's momentum frequently stops dead, and though Snyder's a first-rate visual stylist, he can't deal with the intense emotions in Moore's material. Accomplished as this is, it feels less like a great movie and more like a marble monument. Also with Jackie Earle Haley, Billy Crudup, Malin Akerman, Patrick Wilson, Matthew Goode, Matt Frewer, and Carla Gugino.
DALLAS EXCLUSIVES:

Gigantic (R) Matt Aselton's comedy stars Paul Dano as a mattress salesman who falls in love with a customer (Zooey Deschanel). Also with Ed Asner, Jane Alexander, Zach Galifianakis, Ian Roberts, Robert Stanton, and John Goodman.
The Great Buck Howard (PG) Sean McGinly's dramedy stars Colin Hanks as a law-school dropout who takes a job as a personal assistant to a washed-up celebrity magician (John Malkovich). Also with Emily Blunt, Steve Zahn, Adam Scott, Griffin Dunne, Tom Arnold, Ricky Jay, Debra Monk, Casey Wilson, Regis Philbin, Kelly Ripa, Martha Stewart, Conan O'Brien, Jon Stewart, and Tom Hanks.
Harvard Beats Yale 29-29 (PG) Kevin Rafferty's documentary about a thrilling football game between the two schools in 1968.
Tokyo! (NR) A collection of three short films directed by Michel Gondry, Leos Carax (The Lovers on the Bridge), and Bong Joon-ho (The Host), all set in Tokyo. Starring Denis Lavant, Teruyuki Kagawa, Ayako Fujitani, Ryo Kase, Jean-François Balmer, Yû Aoi, Naoto Takenaka, and Julie Dreyfus.