As a volunteer at Cook Children's Hospital in 2005, singer-songwriter and TCU pre-med major J Mack Slaughter noticed something missing. "There was a void in the teenage range," he said. "It's awkward. There are board games and video games, but there's not necessarily as much focus on [the teens] as there is on the younger kids." To fill that void, Slaughter turned to his other passion: music.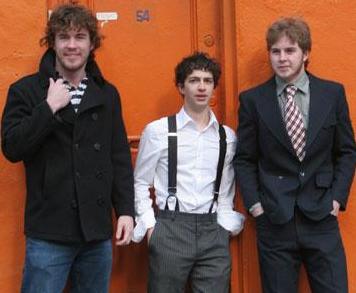 The 25-year-old recently created the Zachary Music Foundation, a nonprofit organization named after his grandfather, local philanthropist J Mack Zachary, with the mission of bringing musical instruments and education to hospitalized teens. Cook has already agreed to participate. Slaughter hopes that by providing hospitalized teens the ability to make and learn music, they will develop "a sense of independence and confidence." Music, he said, "has healing powers," and he noted that hospitals all across the country have begun hiring music therapists. Slaughter has been writing and performing music since he was 12. He was once a member of Sons of Harmony, a short-lived boy band started several years ago by radio DJ Kid Kraddick. As a child, Slaughter performed with his two sisters and father in a Partridge Family-type band. He's been performing and writing as a solo artist for about the past eight years. The foundation's first fund-raiser is Thur., April 30, at The Moon (2911 W. Berry St., by TCU, 817-926-9600). The Frontier Brothers, Stella Rose, and former Flickerstick frontman Brandin Lea are slated to perform, and all three artists plan on trotting out new material. (Stella Rose is working on a new album now.) The show is called Music for Medicine, and proceeds from the $7 cover charge and other donations will help Slaughter pay for instruments to donate to Cook. His Moon-gig goal is modest: about $1,000 to $1,500. Slaughter also is seeking local musicians to donate instruction time. "In my experience, it's never been hard to get young people interested in music," he said. "It's so integral to our lives. I think everybody has an interest in learning but no opportunity or resources. I know there are some young Hendrixes out there, but they haven't had any opportunities." Slaughter's long-term goals are big — he wants to grow Zachary to Make-A-Wish proportions. The road might not be exactly rose-petal-strewn. Slaughter is starting med school at UT-Southwestern in the fall, and the demands of his pre-med studies are what kept him from moving on his Zachary idea sooner. He's the foundation's sole employee. "I want to have bigger fund-raisers," he said. "We can invest in research that strengthens the connection between music and medicine." Visit www.myspace.com/jmackslaughtermusic. … On Sunday at La Grave Field (301 NE 6th St.), Immortal Soldierz, Frankie J, Gemini, Chingo Bling, and others will perform as part of Fort Worth Latin Fest, a car show and festival. Tickets are available at To The Max Footwear (2600 Ephriham Ave. and 2516 NE 28th St., 817-628-2110) and at Urban Teez (3712 Decatur Ave., 817-625-8339). For more ticket info, call Lucio at 817-663-3634 or Hex at 817-966-0817.
Contact HearSay at hearsay@fwweekly.com.