**ONLINE EXCLUSIVE**
The fourth annual Texas Frightmare Weekend, um, killed at the Sheraton Grand Hotel-DFW the weekend of May 2. There were special guests, like filmmaker Tobe Hooper (Texas Chainsaw Massacre) and actress Linda Blair (The Exorcist), and lots of screenings, including Mario Bava's classic Black Sunday. There also were hordes of vendors on hand. Estimated attendance was 5,000.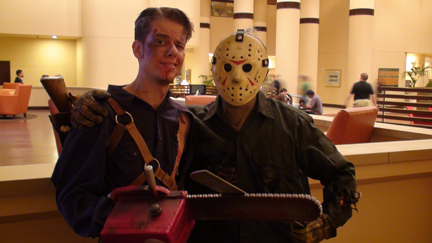 Guest of honor was rock icon Alice Cooper, who was awarded the con's Lifetime Achievement Award for his years of schlockery. He seemed to spend most of his time at his booth, chatting up fans. Didn't get a chance to talk with him but did say what's up to actor Jason Mewes (Clerks, The Tripper), who, while clearly worn out, seemed happy to entertain fans during his smoke breaks outside and said he was having a good time. "There's lots of people to like," he said.
The movies were all over the place stylistically. There were new no-nonsense slashers like Laid to Rest and comedies like Untitled Horror Comedy, whose cast and crew were asking fans to submit ideas for a proper title. The most creative film was probably Pathogen, a low-budget zombie fright directed by Emily Hagins of Austin when she was only 12 — she's now 16 — and starring people under 13. The film had great kills in it and deserved the massive applause it got afterward. Hagins' inspiration? "I saw this Australian movie called Undead and thought 'I could do that!' " She made Pathogen with friends from school.
There was a lot of standard fare at the vendors' booths (Leatherface mask, t-shirts, toys, and so on). But there also was some original merchandise, like artist Jayde Hillard's acrylic gothic pinups. "Business has been so-so," she said, "but it's been a great time." Other unique fare included custom jewelry (though I was disappointed at the lack of cool skull rings) and bootleg DVDs.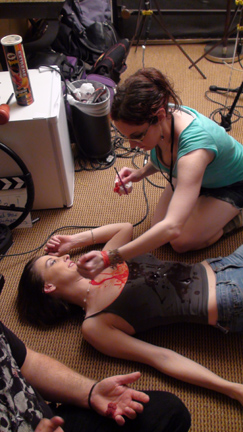 Also on hand were independent filmmakers such as Jeremy Sumrall, there to promote his upcoming movie about the horrors of blind faith, Possum Walk. The trailer, along with several others, premiered on Sunday. Other independent horror filmmakers there included Bryce Dahlfours, producer of Midnight Drive-In — a throwback to, well, guess — who was definitely having a great time. "We've sold a lot of DVDs," he said, grinning.
Every day brought new horror-ible delights. On Thursday, Texas Chainsaw Massacre was screened in honor of its 35th anniversary. Director Hooper and stars Marilyn Burns and Teri McMinn were in the house. On Friday, special guests began to arrive, and movies like Plague Town, about a town of killer children, were screened.
The big day, though, was Saturday, beginning with what has become a Frightmare tradition, the "Zombie Walk." Dressed and made up to look like the great undead, at least a hundred attendees met at a combination Whataburger and Shell Station and stumbled the mile back to the hotel, freaking out passersby along the way. (Lots of people were zombie-like sans costumes the next day. Saturday night during Frightmare is definitely party night.)
The best part of any Frightmare, arguably, is the fans — who, though dressed ghoulishly or as their favorite iconic characters — were endlessly endearing and dedicated. One guy, Kerry Sweeney, who works as a gaffer in California, flew all the way to North Texas just to get his copy of the Chainsaw Massacre script signed by director Hooper.
And the Sheraton wasn't complaining. "The hotel loved the people," said Montana Wilcox, who works the front desk. She also echoed what several other staffers had told me: that of all the conventioneers that come through the Sheraton, Frightmare's are easily the most pleasant and polite.
And, evidently, effusive. Convention organizer Loyd Cryer said one thing he kept hearing throughout the weekend from attendees was "'Thanks for the hard work.'" (Frightmare is staffed by volunteers.)
The official DVD of the fest, covering all of the panels and offering interviews with all of the special guests, will be available soon from producer Casey Corpier via his web site, www.caseyccorpier.com.