Surprise: Band name and title notwithstanding, Cries from tha Ghetto isn't a hip-hop album. Rather, it's the second album from a 30-year-old trumpeter who had the unenviable task of replacing Lester Bowie, one of the most distinctive voices on the instrument, in the Art Ensemble of Chicago a couple of years after Bowie's death in 1999.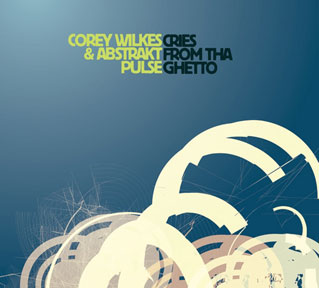 Corey Wilkes apprenticed under the Art Ensemble's founder, saxophonist Roscoe Mitchell, who picked him to fill the AEC's trumpet chair. Wilkes covers a lot of bases, from Bowie-esque abstraction to something approximating the aggressive and virtuosic styles of Freddie Hubbard and Lee Morgan, trumpeters who helped guide the venerable Blue Note label from hard-bop into freer sounds in the '60s.
Opener "First Mind" is as informed by street funk as it is by modal jazz. The first of four short intervals ("Abstrakt #1") is a duet between Wilkes and tap dancer Jumaana Taylor, who elsewhere functions as an integral part of the band, performing accompaniment and taking solo turns. "SICK JJ" is an open-ended, impressionistic piece in the grand Art Ensemble tradition, while "Levitation" shows that Wilkes and his crew are equally adept at straight-ahead blowing, with the leader unleashing cascading spirals of notes. "Rain" is a pensive ballad, leading into the 11-minute title track, an opus that winds its way through several movements.
Saxophonist Kevin Nabors (who solos on "Abstrakt #2") serves as a worthy foil for Wilkes, playing Wayne Shorter to the trumpeter's Hubbard. Guitarist Scott Hesse complements and solos in a spiky, early-John McLaughlin vein. Bassist Junius Paul and drummer Isaiah Spencer play with the empathy and versatility of the best rhythm sections. Wilkes is a smart, fiery player. It will be interesting to hear him mature further.