With a relatively small collection of scripts to her name, New York playwright Sarah Ruhl has been praised as one of the premier American stage scribes of the still-young 21st century. She studied at Oxford, won the prestigious Susan Smith Blackburn Prize, and was a Pulitzer finalist for drama. After catching Stage West's clean, bright staging of her alt-reality comedy Dead Man's Cell Phone – a Texas premiere – let me just say: I don't get it.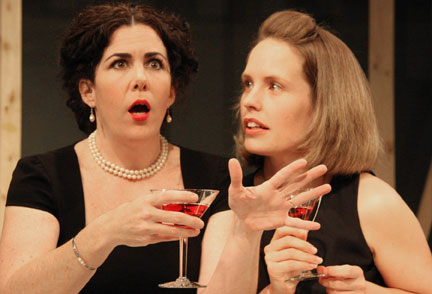 My reaction to last year's Stage West production of another ditzy, skin-deep Ruhl script, The Clean House, was also that of bafflement. The success of these two plays may be a case of theater boosters willfully mistaking intention for execution. Because theater is such an underappreciated art form in this country, stage loyalists – including artistically inclined producers, directors, and critics – can be a tad too enthusiastic about any author who pours as much imagination and effort into her work as Ruhl does. Her quick shifts of tone, time, and space seem inspired in part by the flexibility of digital media: With the perennial declaration that theater is dying, Ruhl seems like just the kind of playwright to save the stage from its own real-time, landlocked limitations.
Because a lot of people want Ruhl to succeed in her ambitions, they find euphemisms for her technical sloppiness and flat, self-infatuated humor. The flow of her short, choppy, underdeveloped scenes can euphemistically be called "elliptical." Her thinly conceived characters here – a fearsome, bourbon- swilling matriarch; a sexually and creatively repressed widow; a glib, fast-talking black-market salesman – could kindly be described as "archetypes" that the author manipulates through absurdist "existential" situations. The latter can also be found in the tarted-up sketch comedy that Woody Allen and Steve Martin have previously disguised as high-concept theatrical pieces.