OPENING:
Chéri (R) Dangerous Liaisons director Stephen Frears, writer Christopher Hampton, and star Michelle Pfeiffer reunite for this drama about a retired Parisian courtesan in the 1900s who falls in love with a rival's son (Rupert Friend). Also with Kathy Bates, Felicity Jones, Harriet Walter, Toby Kebbell, Anita Pallenberg, and Iben Hjejle. (Opens Friday at AMC Grapevine Mills)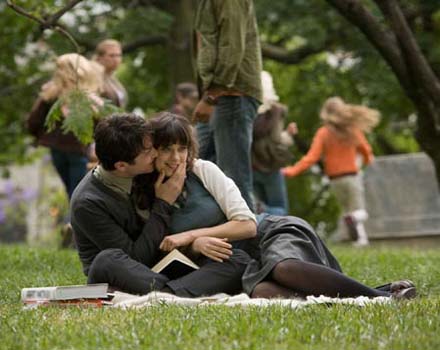 (500) Days of Summer (PG-13) Joseph Gordon-Levitt and Zooey Deschanel star in this romantic comedy chronicling the highs and lows in a 16-month relationship between co-workers. Also with Geoffrey Arend, Chloe Moretz, Matthew Gray Gubler, Clark Gregg, Patricia Belcher, Rachel Boston, and Minka Kelly. (Opens Friday in Dallas)
The Stoning of Soraya M. (R) Based on a true story, this drama stars Shohreh Aghdashloo as an Iranian villager who tries to save her friend (Mozhan Marnò) from being stoned to death on trumped-up charges of infidelity. Also with Jim Caviezel, Navid Negahban, Ali Pourtash, David Diaan, and Parviz Sayyid. (Opens Friday in Dallas)
NOW PLAYING:
Angels & Demons (PG-13) Better than The Da Vinci Code, at least. Tom Hanks returns with a more sensible haircut for this sequel as a Harvard professor who's called in by the Vatican to use the clues in a set of Bernini sculptures to solve the kidnappings of four cardinals on the eve of a new pope's election. There's still too much expositional dialogue, especially at the beginning. Once that's out of the way, director Ron Howard turns this into a functional action thriller. The story's religious trappings are so much nonsense, but this is acceptable, if slightly stale, popcorn fare. As a sympathetic priest, Ewan McGregor steals away the acting honors despite his unsteady Irish accent. Also with Ayelet Zurer, Stellan Skarsgård, Pierfrancesco Favino, Nikolaj Lie Kaas, Thure Lindhardt, and Armin Mueller-Stahl.
Away We Go (R) Sam Mendes' best film yet bears no resemblance to American Beauty or Revolutionary Road. This scruffy indie comedy stars John Krasinski and Maya Rudolph as a couple preparing to have their first child and free to choose a new city to relocate to. The episodic script by Dave Eggers and Vendela Vida begins with a couple of sitcom-broad chapters (including an off-target interlude with Maggie Gyllenhaal as a smothering New Age mom), but it hits stride with Chris Messina and Melanie Lynskey's wrenching depiction of a couple unable to have children. Rudolph is revelatory in a quiet, resilient role, and she provides the most moving moment at the very end. It's only half a great film, but that's better than a whole mediocre one. Also with Allison Janney, Jim Gaffigan, Catherine O'Hara, Jeff Daniels, Carmen Ejogo, Josh Hamilton, and Paul Schneider.
The Hangover (R) It has some hazy spots, but it's also funny enough to make your head hurt. Bradley Cooper, Zach Galifianakis, and Ed Helms play three friends who accompany a groom-to-be (Justin Bartha) on a bachelor's fling in Las Vegas. The prologue takes entirely too long, but the laughs eventually kick in when the friends awake with no memory of the night before and the groom MIA. Director Todd Phillips (Old School) returns to R-rated territory and retains his sense of comic timing, injecting bursts of violence and surrealism that keep us from getting too comfortable. The cast is a tad off, but the laughs scored by random jokes (like the song about the tiger and Mike Tyson's cameo as himself) make up for it. Also with Heather Graham, Ken Jeong, Rachael Harris, Mike Epps, Rob Riggle, Cleo King, Bryan Callen, Matt Walsh, and Jeffrey Tambor.
I Love You, Beth Cooper (PG-13) Unexpectedly winsome teen comedy stars Paul Rust as a nerdy high-school valedictorian who uses his graduation speech to declare his love for the head cheerleader (Hayden Panettiere, who looks eager to cut loose), who then proceeds to show him a post-graduation night of partying that he'll never forget. Adapted from Larry Doyle's novel, this rapid-fire film cuts against the conventions of teen comedies by showing the girls partying harder than the boys and reveals Beth as more interesting than the angelic dreamgirl of the hero's fantasies. Chris Columbus directs in herky-jerky rhythms when the movie should be hurtling at pell-mell pace, but the strength of the writing and performances here still makes this the Risky Business of this generation. Also with Jack T. Carpenter, Lauren London, Lauren Storm, Shawn Roberts, Josh Emerson, Andrea Savage, Alan Ruck, and Cynthia Stevenson.
Ice Age: Dawn of the Dinosaurs (PG) The third installment of the animated saga has the gang finding a secret cavern under the ice where dinosaurs still roam. Basically, it's the same plot as Land of the Lost. Too much of the film is taken up with Manny the mammoth (voiced by Ray Romano) becoming a father and his pals (voiced by Denis Leary and John Leguizamo) feeling left out of the family loop. There's better stuff when the group meets a crazed survivalist weasel (voiced by Simon Pegg) who guides them through this unfamiliar world, but even this character – and a weird version of "Alone Again Naturally" rewritten from the point of view of an acorn – can't lift this visually and comedically uninspired film from its doldrums. Additional voices by Queen Latifah, Seann William Scott, Josh Peck, Jane Lynch, Clea Lewis, Bill Hader, and Kristen Wiig.
Imagine That (PG-13) Eddie Murphy continues his reign of mediocrity with this uninspiring if harmless family comedy, playing financial executive Evan Danielson, whose career is in the pits until his daughter Olivia's imaginary friends start providing spot-on financial advice. Cue: predictable story of workaholic dad learning true worth of family. Murphy's mugging is unfunny, though there are flashes that remind you how good he can — or used to — be. As his faux-Native American adviser who spouts goofy New Age aphorisms, Thomas Haden Church provides most of the real laughs here. The film is mildly amusing and does have a heart (albeit a worn one), and it will probably work best as a rainy-day rental/babysitter. Also with Yara Shahidi, Nicole Ari Parker, Ronny Cox, Vanessa Williams, DeRay Davis, and Richard Schiff. — Cole Williams
My Sister's Keeper (PG-13) In adapting Jodi Picoult's novel, director/co-writer Nick Cassavetes goes back to the formula that served him well for The Notebook, only it doesn't serve him so well here. Abigail Breslin stars as an 11-year-old girl who sues her parents for the rights to her own body after a lifetime of providing spare parts for her leukemia-suffering older sister (Sofia Vassilieva). The movie starts out pretty well, with some sharp exchanges between Breslin, Alec Baldwin as her lawyer, and Cameron Diaz as her mom, who serves as opposing counsel in the case. However, Cassavetes forgets to vary the tone, the movie seriously loses its way in the middle, and the book's ending is radically changed to bring the movie in line with other overly tasteful Hollywood weepers. Also with Jason Patric, Evan Ellingson, Thomas Dekker, Heather Wahlquist, David Thornton, Emily Deschanel, and Joan Cusack.
Night at the Museum: Battle of the Smithsonian (PG) Mediocrity reigns in this sequel starring Ben Stiller as a security guard-turned-infomercial guru who teams up with Amelia Earhart (Amy Adams) to prevent an Egyptian pharaoh (Hank Azaria) from raising an undead army to unleash upon the world. The film's too scattered to work as a thriller, the comic material isn't good enough for the actors, and the special effects are thrown at you until your senses overload. As summer movies go, this is pretty weak. Also with Robin Williams, Christopher Guest, Ricky Gervais, Bill Hader, Alain Chabat, Jon Bernthal, Patrick Gallagher, Mizuo Peck, Jay Baruchel, Mindy Kaling, Craig Robinson, and uncredited cameos by Thomas Lennon, Robert Ben Garant, and Jonah Hill. Voices by Eugene Levy, Brad Garrett, and Jonas Brothers.
The Proposal (PG-13) Sandra Bullock stars in this romantic comedy as a high-powered Canadian-born book editor who avoids deportation from the United States by blackmailing her put-upon personal assistant (Ryan Reynolds) into agreeing to a sham marriage. The film gets off to a good start, with Bullock relishing the chance to play a cold person forced to pretend to be warm and sweet, and Reynolds getting some rewarding stuff about his difficult relationship with his family. Still, after the couple visits his relatives in Alaska, the slapstick grows labored and the heroine's romantic dilemma doesn't provide enough suspense. Despite the two leads' best efforts, the film dies about halfway through. Also with Craig T. Nelson, Mary Steenburgen, Denis O'Hare, Malin Akerman, Oscar Nuñez, and Aasif Mandvi.
Public Enemies (R) Michael Mann's strangely uninvolving history piece focuses on the manhunt for bank robber John Dillinger (Johnny Depp) led by FBI agent Melvin Purvis (Christian Bale). The film's romance between Dillinger and Billie Frechette (Marion Cotillard) is emotionally distant. While the Purvis half of the film has more potential, the tragedy of a lawman who catches the bad guy and loses his soul is never searing. There are some cool action sequences, the best of which is a nighttime FBI sting that turns into an ambush outside a bar in the woods. The film is eminently well turned and watchable, but it never reaches the operatic pitch it's aiming for. Also with Stephen Graham, Spencer Garrett, Giovanni Ribisi, John Ortiz, Rory Cochrane, Peter Gerety, Madison Dierks, Bill Camp, David Wenham, Stephen Dorff, Domenick Lombardozzi, Branka Katic, Lili Taylor, Billy Crudup, Channing Tatum, and Leelee Sobieski.
Star Trek (PG-13) The funniest sci-fi blockbuster in recent memory, this relaunch of the fabled franchise tells the backstory of Kirk (Chris Pine) and Spock (Zachary Quinto) as they make their way through Starfleet Academy and earn their stripes fighting a rogue Romulan warrior (Eric Bana). The antic, high-energy Pine and the deadpan Quinto make an effective hot-and-cold comedy team, and the supporting cast contributes mightily to the laughs, especially Simon Pegg as Scotty. The film includes tons of in-jokes for the fanbase, but non-fans will find plenty to enjoy as well, not least the extended action sequence when Kirk and Sulu (John Cho) parachute onto a Romulan drilling platform and tangle with the guards. For a big-ticket event movie, this film's lightness is refreshing. Also with Zoë Saldana, Karl Urban, Anton Yelchin, Bruce Greenwood, Clifton Collins Jr., Ben Cross, Chris Hemsworth, Jennifer Morrison, Rachel Nichols, Tyler Perry, Winona Ryder, and Leonard Nimoy.
The Taking of Pelham 1 2 3 (R) Tony Scott's remake of Joseph Sargent's 1974 thriller stars Denzel Washington as a New York City transit cop who tangles with an armed former Wall Street wizard (a miscast John Travolta) who takes a train full of hostages and holds them for ransom. Director Tony Scott manages to bring some emotional heft to this slick thriller, which features long, tense pauses in its real-time setup. Scott's frequent leading man Washington invests the role with gravity and restraint. Watch for the melee triggered by a rat. Also with James Gandolfini, John Turturro, Luis Guzmán, Michael Rispoli, John Benjamin Hickey, Victor Gojcaj, Gbenga Akinnagbe, and Aunjanue Ellis.
Transformers: Revenge of the Fallen (PG-13) Michael Bay directs this sequel like a 15-year-old boy fumbling with a bra strap. The film actually doesn't start out too badly, with Shia LaBeouf holding the center of a mysterious plot that revolves around more evil robots arriving on Earth. After one good action sequence early on, however, the plot stops dead, and the sequences become more incoherent. It's a watchable summer blockbuster, but it could have been so much better. Also with Megan Fox, Josh Duhamel, Tyrese Gibson, John Turturro, Kevin Dunn, Julie White, Spencer Garrett, and Rainn Wilson. Voices by Peter Cullen, Hugo Weaving, Frank Welker, Charles Adler, Tony Todd, Grey DeLisle, and Michael York.
Up (PG) The latest Pixar animated film features an absurd yet somehow logical plot about a 78-year-old retired balloon vendor (voiced by Ed Asner) who attaches enough balloons to his house to sail away to South America, accompanied by an 8-year-old kid (voiced by Jordan Nagai) who's marooned on his porch. The best part of the film is a deeply moving wordless montage early on, depicting the early married life of its elderly hero. The rest of the movie is a Pixar adventure that's more lightweight than usual, though no less enjoyable for that. The warmth and simplicity at the heart of this fable are enough to win you over. The film doesn't even need 3-D to work. Additional voices by Christopher Plummer, Bob Peterson, Delroy Lindo, Jerome Ranft, and John Ratzenberger.
Year One (PG-13) On their way to Sodom to free their enslaved tribe and meet their would-be mates (Juno Temple and June Diane Raphael), two cavemen played by Jack Black and Michael Cera wander through Old Testament times, running into biblical personages such as Cain and Abel (David Cross and an uncredited Paul Rudd) and Abraham (Hank Azaria) and running into trouble at every turn. There are a few inspired pokes at religious zealotry, but the film is mostly a sophomoric comedy full of the oldest dick and fart jokes. The cast doesn't help, either. There's little buddy chemistry between Black and Cera, and neither is as funny as he can be. You know a movie sucks when the outtakes at the end are the funniest part. Also with Oliver Platt, Christopher Mintz-Plasse, Olivia Wilde, Vinnie Jones, Xander Berkeley, Horatio Sanz, Kyle Gass, and Bill Hader. — C.W.
DALLAS EXCLUSIVES:
Departures (PG-13) The winner of last year's Oscar for Best Foreign Film, Yôjirô Takita's drama stars Masahiro Motoki as an unemployed Japanese cellist who takes a job at a funeral home. Also with Tsutomu Yamazaki, Ryoko Hirosue, Kazuko Yoshiyuki, Kimiko Yo, and Takashi Sasano.
Food, Inc. (PG) Robert Kenner's documentary exposé of contemporary corporate food practices.
The Girl From Monaco (R) Anne Fontaine's dramedy stars Roschdy Zem as a French bodyguard who tries to keep his lawyer client (Fabrice Luchini) from an affair with a TV weather forecaster (Louise Bourgoin). Also with Stéphane Audran, Gilles Cohen, Alexandre Steiger, and Jeanne Balibar.
The Hurt Locker (R) Kathryn Bigelow's latest thriller stars Jeremy Renner as a U.S. soldier who defuses bombs and IEDs in Iraq. Also with Anthony Mackie, Brian Geraghty, David Morse, Christian Camargo, Guy Pearce, Ralph Fiennes, and Evangeline Lilly.
Lemon Tree (NR) Eran Riklis' drama about a Palestinian widow (Hiam Abbass) who sues the Israeli defense minister (Doron Tavory) after he moves in next door to her and orders her to cut down her lemon orchard. Also with Ali Suliman, Rona Lipaz-Michael, Tarik Kopty, Amos Lavi, and Amnon Wolf.