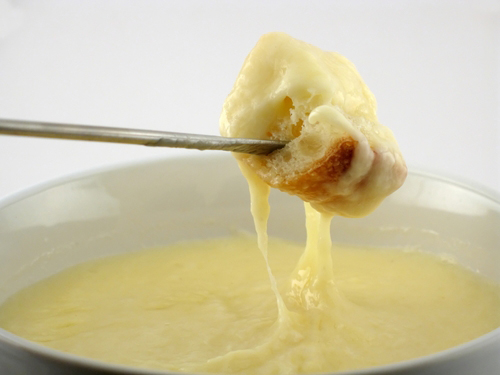 The owners of the Simply Fondue franchise downtown have done right by their location in the basement of the historic 1920s-era Woolworth Building. That piece of belowground real estate, also home to Scat Jazz Lounge, is a sweet retreat for couples wanting a romantic dinner. It's also a pretty nice spot for a ladies' get-together, especially for the gals who know their He-Men would balk at dipping tiny cubes of food into pots of melted cheese or chocolate.
The restaurant's dinner-for-two package includes choices in four hefty courses: salad, cheese, meat, and dessert. The hard part is selecting from the varied menu options. For starters, do you want the Fontana and truffled Pecorino Romano cheese blend fondue or the Mediterranean with cheddar, beer, basil, pesto, garlic, and sun-dried tomatoes? We picked the beer and pesto and weren't disappointed. The sun-dried tomatoes didn't add much to the mix, but the flavors of the slightly spicy garlic, mellow pesto, and sharp cheese worked magic with the beer. For dipping: three different kinds of bread and some standard-for-dipping veggies (broccoli flowers) accompanied, oddly, by teeny pickles and grapes. Nothing that went into the cheese – not even the grapes – came out tasting bad.
The salad course featured fewer choices. The gorgonzola salad with mixed greens, tomatoes, crunchy walnuts, and a sweet-tart raspberry vinaigrette was perfect. The caesar salad was a pedestrian blend of romaine lettuce with a "lite" dressing (not the best I've ever had), but the dish was redeemed by the huge chunks of wonderfully salty parmesan cheese on top. Sadly, the Greek salad with kalamata olives and feta cheese was awash in too much vinegary dressing.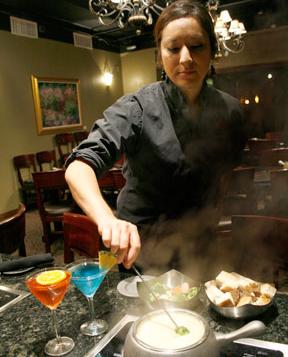 Now that you've picked your cheese, select six proteins from Simply Fondue's overwhelming 18 choices. We picked scallops, shrimp, Jamaican jerk-style chicken, mahi mahi, salmon, and bacon-wrapped sirloin. The spicy chicken was a winner, as were the plump, juicy shrimp and the salmon. The bacon-wrapped sirloin was OK — it didn't pop — and we wish we hadn't ordered the scallops or the mahi mahi. They weren't bad, just bland in comparison to the chicken. The meat course comes with several sauce choices, served cold on the side. The horseradish had a nice pungent kick for the meat and less-flavorful fish. The honey mustard was more sweet than savory.
And perhaps the whole point of a fondue restaurant is dessert. We couldn't decide between a dark-chocolate fondue with raspberry and cabernet or the milk chocolate infused with Bailey's Irish Cream. Both come spectacularly presented with a starter shot of Everclear (most useful for toasting the full-size marshmallows that come as dippers). In addition to the marshmallows, the dessert included pieces of delicate angel food cake, crispy pirouline cookies, Rice-Krispies treats (which were a real treat), and a selection of fruit for dunking.
Things to know about Simply Fondue: The restaurant is not just for lovebirds, even though it's dark enough that you might want to bring your own flashlight for reading the menu and checking meat doneness. And it's not just for weekends. Weekly specials include bottomless fondue on Wednesdays, when the four-course meal runs $39 per person and you could eat, theoretically, as much as you want. On "Family Sundays," children under 10 eat free, though I don't believe I'd take a kid to a place where dinner takes two hours. Still, the unhurried pace and tasty food will leave you full and relaxed, even at the end of a hectic weekday.
Simply Fondue
111 W 4th St, Ste15, FW. 817-348-0633. 4pm-midnight daily. All major credit cards accepted.