This is why I love my job: Sometimes I'm pleasantly surprised when I expect nothing. Bandslam is a cookie-cutter teen comedy released in the dead of August with a "let's get a band together" plot, headlined by two Disney-backed musicians who are still trying to prove their acting chops. Could you really blame me for thinking this movie would be as much fun as a dental appointment? Yet it turns out to be pretty good, and I'm not just saying that because it's a Texas product. (The movie was filmed in Austin, and Fort Worth indie-rockers The Burning Hotels receive a prominent cameo.) In terms of both plot and musical taste, this movie throws you enough curveballs to keep you on your toes.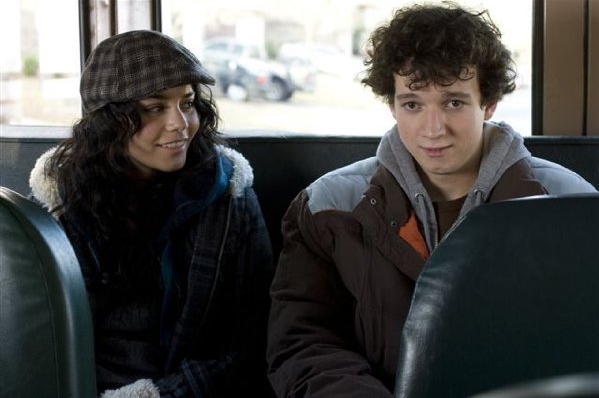 Slightly built, curly-haired newcomer Gaelan Connell stars as Will Burton, a music-loving high-school dweeb who wins a reprieve from his sucky life when his divorced mom (Lisa Kudrow) takes a new job and moves him from Cincinnati to Lodi, N.J. That may not sound like an upgrade, but in his new surroundings he befriends Charlotte (Aly Michalka from Aly & AJ), an upperclassman and lead singer of a dinky three-piece rock band with a drum machine. Impressed by his musical knowledge, his honest assessment of the group's shortcomings, and his story about his absent dad's being a sideman for The Who, she appoints Will as the band's manager. He sets about recruiting a human drummer (Ryan Donowho) and raiding the ranks of the school's classical-music students and marching band for a pianist, a cellist, and three brass players. Armed with a newly robust and distinctive sonic profile and a new name – Will rechristens it I Can't Go On, I'll Go On – the group enters Bandslam, a tri-state battle of the bands described by one character as "Texas high-school-football big." Among ICGO's competitors is the school's other band, Ben Wheatly & Glory Dogs, whose frontman (Friday Night Lights' Scott Porter) just happens to be Charlotte's ex-boyfriend.
The film is by Todd Graff, who hasn't been heard from since his 2003 directorial debut Camp, an indie comedy about teen musical-theater geeks that won a sizable cult following. That movie fulfilled genre expectations a little too well, but this one plays havoc with them. Charlotte is an unusually complicated character presented in a believable way, a reformed bitch queen who has reinvented herself as a down-to-earth rocker. Similarly, Ben is a standard-issue high-school jerk-ass, but he's also clever, charming, and manipulative, which makes him a more dangerous bad guy. Most movies would have turned Will's platonic friendship with Charlotte into a major obstacle to his romance with the school's jaded, cool loser girl (Vanessa Hudgens, cast markedly against type), but Bandslam refreshingly doesn't make the two girls into adversaries.
(The loser chick's name is Sa5m, by the way. "The '5' is silent," she offers helpfully. Lame as this is, it's not necessarily untrue to the character. The problem is that late in the film she gets I Can't Go On's fans to start adding digits to their own names, and it's a bridge too far for one annoying tic.)
The first half of the movie showcases Graff's talents for comedy. Will gives a funny running commentary on his life in a series of fan letters to David Bowie. (In Cincinnati, Will writes, "The indie-rock clique at my school consists of me and one other guy whom I refuse to meet until he bathes and stops smoothing his hair with his hand." Cue: accompanying shot of an appropriately greasy-looking dude.) There's also a cleverly staged early scene between Will and Sa5m at a shopping mall, with the gags coming from the passersby wandering into the frame, and the best bit is a slapstick interlude when Will tries to follow Charlotte's advice in putting the moves on Sa5m.
The comedy subsides into some unusually heavy drama in the second half, and only Graff's assured direction keeps it from tipping over into weepiness. The young actors aren't quite up to handling the turns here, and it's up to Kudrow to show them how it's done with a monologue about where Will's dad actually is. (I can't shake the feeling that Kudrow would have developed into a powerful dramatic actress if she'd never been cast on Friends.)
We hear two songs by ICGO: covers of Jason Robert Brown's neo-Broadway ballad "Someone to Fall Back On" and David Gates' well-traveled "Everything I Own," though the former is presented in the story as Charlotte's composition. The fictitious band's performances could have been more galvanizing, but the earlier scene when Will creates the band's sound by layering on each instrument gives the movie its musical energy. The script labors mightily to impress us with its rock cred (name-checking The Arcade Fire and CBGB), but Bandslam isn't for real-deal teen music intelligentsia like last year's Nick & Norah's Infinite Playlist. Rather, it's for the teens who grew up with the High School Musical series and are now ready for more sophisticated fare. For the rest of us, this is a funny movie that rings a few welcome changes on the old formulas.