A maelstrom of cymbals and aggressive, feverish guitars, Novels sets a hectic pace from the get-go. A chaotic feeling pervades the 37 minutes and 11 songs, but an underlying mathematical genius rules. Every note complements every other.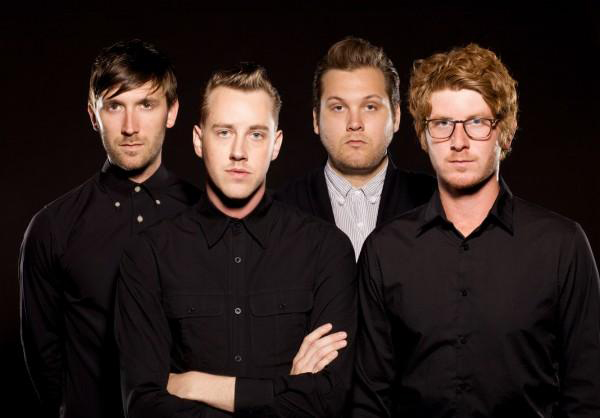 Burning Hotels guitarists and co-lead singers Chance Morgan and Matt Mooty started the band when they were teens. Now they're precocious twentysomethings who have mastered the kind of post-punk that's rampant on the airwaves and in Novels, the group's first full-length and second overall long-form recording. (The first was the EP Eighty-Five Mirrors.) Novels' highly polished precision displays maturity, as every turn and every verse is well planned and executed without error. Drummer Wyatt Adams seals the deal with machine-like perfection – his drumming suits the music while remaining richly textured and imaginative. Producers Will Hunt and Chad Copelin outdid themselves. Novels sounds like a five-star production.
Morgan and Mooty trade off songs and, when sharing songs, often bolster each other via harmonies and calls and responses. Bassist Marley Whistler sings lead on a track, "One to Five," and also holds the low end peacefully – like a good bass player in a post-punk band should.
The frontmen's voices are easily distinguishable. Mooty's musings are airy and pensive, lyrically and sonically. Married and a father, he tackles existential subjects, most notably in "Time" and "Boy or a Girl," in which he brings listeners into the world of a nervous first-time dad. Morgan has an optimistic yet sometimes discontented voice, and his compositions tend to be more festive. In "To Whom It May Concern," he succinctly captures a bacchanalian spirit. You can almost imagine him leaving a bar at closing time wearing his trademark skinny black jeans, eager to keep the party going.
The Burning Hotels recently made a performance cameo in Bandslam, a tween movie that showed great promise but flopped at the box office. But who needs Hollywood anyway? Novels has the mettle to stand on its own.