This full-length debut effort by a Seattle-based ensemble built around Haltom City expat and former Hasslehorse member John Frum marks a significant step forward from 2008's Plantation To Your Youth EP. In some ways, Cave Syndrome is the culmination of a musical journey that began with Hasslehorse's 1996 CD The Chicken Factory.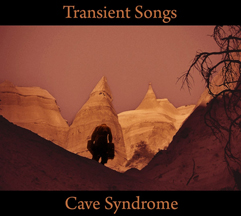 A couple of Cave Syndrome's songs are older. "Greenwood Backyards" is a retooled version of a Plantation track, while "A Burrow Patch" dates back to the Pine Barrons, an earlier incarnation of sorts of HC's The Me-Thinks. The majority of songs here, however, were written around the time Frum was recovering from a painful bone break in early 2009. That experience, the gloomy Pacific Northwest winter, and some other personal dramas inform Cave Syndrome's bleak mood.
Sonically, the disc is a textural feast. On several of the tracks, Frum's hallucinatory dream-pop is adorned with strings (violin and cello) that give the sound the same richness that distinguished Bob Mould's similarly themed Workbook. As always, Frum layers on the crystalline acoustic, distorted electric, and slithering slide guitars. He also adds some novel touches, like the piano intro to "Greenwood Backyards" or the fuzz bass on "Sin Through the Summer." More to the point, he's become more adept at writing for his vocal range; the sense of strain that was evident in some of his earlier recordings is wholly absent here. This new assurance and the overall unity of sound and theme make Cave Syndrome a particularly striking achievement. Cop via www.indiancasinorecords.com.