A couple thousand good, music-loving souls came and went throughout the afternoon and evening on Saturday for Fort Worth Sings for Haiti, an all-day concert at Magnolia Green Park on the South Side to benefit Doctors Without Borders' relief efforts in the earthquake-ravaged country.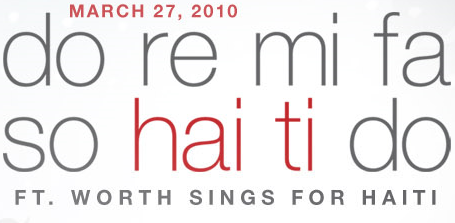 The vibe was excellent: lots of folks chilling out on blankets, a few dogs running around, kids kicking makeshift soccer balls across the open grassy area in front of the stage. Hey, even the Porta Potties were clean. The bands, at least the ones that I saw, sounded great: clean, crisp, not too loud, not too soft. The amount of money raised is being tallied now. The Haiti concert may be only the first of many benefit events put on by the newly created Fort Worth Sings charity group.
Indian Casino Records ("South by Northwest," Feb. 11, 2009), the Seattle label run by Haltom City expat John Frum, is about to release The Return of HellDamnCrap, a comp CD referencing another Fort Worth indie label with Frum connections but one that is long defunct. The comp will feature songs by a mix of bands from Fort Worth, Seattle, and beyond, including Drug Mountain, Barrel Delux, The Me-Thinks, Eyes Wings and Many Other Things, The Pungent Sound, PFFFFT!, Transient Songs, Gordo's Birthday, The Headlights Up, Rapid Chair, With Signs Following, Andy Gassaway, Napoleon Complex, Shotgun Messenger, Vorvon, and the project Bandy, Medio, and Marty Day. Indian Casino will still be putting out records no matter how bloody-crimson the shade of red on the bank ledger gets ("No Reservations," Oct. 7, 2009). "We are barely hanging in there financially," Frum writes. "Actually we are broke, as I've once again blown what little money we have made from iTunes sales at airport bars across the world. How can you resist when they say make it a double for a dollar more? I love the warm, fuzzy feeling of getting blasted before I fly the friendly skies.
Anyhow, enough about my hobbies. We are pressing — no pun intended — ahead. Damn the torpedoes."
The Gourds will kick off 2010's first First Friday on Green at Magnolia Green Park (1100 block of Lipscomb Street between Rosedale Street and West Magnolia Avenue on the South Side) on April 2. Opening for the wildly popular Austin band will be Fort Worth bluegrazz picker Darrin Kobetich, who has about 900 other things going on, including releasing two CDs in a couple of weeks (after having already recently released two other CDs), working on music for a play based on the writings of Edward Abbey to be staged at Hip Pocket Theatre, and having contributed some handsome fretwork to a forthcoming CD by local composer Darryl Wood. First Friday on the Green with The Gourds and Kobetich is, like every show that's part of the monthly Magnolia Green Park concert series, free, and frosty beverages will be available for purchase — bring your blankets and friends (and well-behaved dogs and, if you must, family members) but leave the coolers at home.
Contact HearSay at hearsay@fwweekly.com.