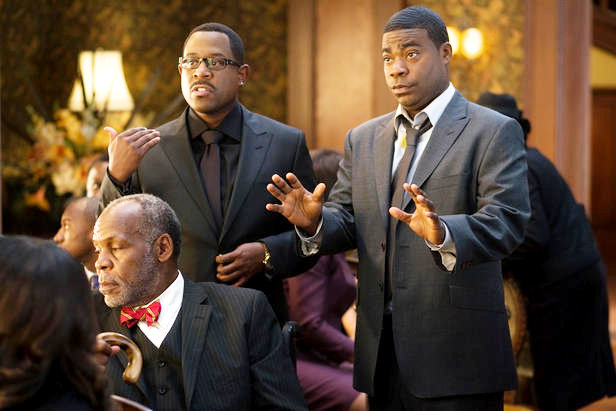 OPENING:
Death at a Funeral (R) Neil LaBute's remake of the similarly titled 2007 British farce stars Chris Rock and Martin Lawrence as brothers who become entangled in a sexual blackmail scheme while attending their father's funeral. Also with Zoë Saldana, Tracy Morgan, James Marsden, Luke Wilson, Danny Glover, Loretta Devine, Kevin Hart, Columbus Short, Regina Hall, Keith David, and Peter Dinklage. (Opens Friday)


The Eclipse (R) Not to be confused with the upcoming third film in the Twilight series, this drama by Conor McPherson stars Ciarán Hinds as an Irish horror novelist who starts to see ghosts in real life when he visits a seaside Irish town. An entry in last year's Lone Star International Film Festival. Also with Iben Hjejle and Aidan Quinn. (Opens Friday in Dallas)
The Joneses (R) Demi Moore and David Duchovny star in this satire as stealth marketers who move to a new town posing as a perfect family to convince their neighbors to buy products. Also with Amber Heard, Ben Hollingsworth, Gary Cole, Lauren Hutton, and Glenne Headly. (Opens Friday at AMC Parks at Arlington)
The Perfect Game (PG) William Dear (Angels in the Outfield) directs this film about a baseball team from Monterrey, Mexico that in 1957 became the first non-American team to win the Little League World Series. Starring Clifton Collins Jr., Cheech Marin, Moises Arias, Jake T. Austin, Gabriel Morales, Ryan Ochoa, Jansen Panettiere, David Koechner, Frances Fisher, Bruce McGill, Emilie de Ravin, and Louis Gossett Jr. (Opens Friday)
The Secret of Kells (NR) A surprise Oscar nominee for Best Animated Film, Tomm Moore's adventure is about a medieval Irish boy (voiced by Evan Maguire) who must complete a quest to help a book illustrator uncover the wisdom in the Book of Kells. Additional voices by Brendan Gleeson, Liam Hourican, Mick Lally, Michael McGrath, and Christen Mooney. (Opens Friday in Dallas)
Vincere (NR) This historical drama by Marco Bellocchio (Good Morning, Night) stars Giovanna Mezzogiorno as Mussolini's secret mistress. Also with Filippo Timi, Corrado Invernizzi, Fausto Russo Alesi, Michela Cescon, and Pier Giorgio Bellocchio. (Opens Friday in Dallas)
Alice in Wonderland (PG) The latest film version of this story to freely expand on Lewis Carroll's adventures, Tim Burton's bizarre, unfocused adaptation stars Mia Wasikowska as a 19-year-old Alice who goes back down the rabbit hole to free Wonderland from the rule of the Red Queen (Helena Bonham Carter). Burton's at his best with material that engages his macabre sense of humor, and this doesn't fit that description. The film boasts some awe-inspiring effects and some inspired moments, but overall it's missing the small-scale whimsical absurdity that made Carroll's book into a classic. Also with Johnny Depp, Crispin Glover, and Anne Hathaway. Voices by Stephen Fry, Alan Rickman, Michael Sheen, Timothy Spall, Paul Whitehouse, Matt Lucas, Imelda Staunton, Michael Gough, and Christopher Lee.
Avatar (PG-13) James Cameron's first film in 12 years displays all his strengths and his flaws. Set in the 22nd century on a distant planet, the film stars Sam Worthington as a paraplegic Marine who hooks up his brain to the engineered body of a native to infiltrate the locals and learn about their culture. The first hour or so is dazzling stuff indeed, with the alien planet presented as a fully imagined world with gloriously realized flora and fauna — this movie is a cryptozoologist's dream come true. Yet the romance is bland and riddled with bad dialogue, and both the Earthling villains and the nature-worshipping natives are simplistic caricatures. The film uses the latest in special-effects technology, but the stale story makes it feel like a relic of a bygone era. Also with Zoe Saldana, Stephen Lang, Giovanni Ribisi, Michelle Rodriguez, Joel David Moore, CCH Pounder, Wes Studi, Laz Alonso, Dileep Rao, and Sigourney Weaver.
The Black Waters of Echo's Pond (R) Why is this movie in theaters? Surely there are direct-to-DVD horror flicks that would have made better use of our screens than this bad-looking, badly written, badly acted slasher flick about nine young hotties who rent a secluded beach house in Maine and discover an accursed board game that takes possession of them as they play and turns them murderously against each other. Then they're stalked by a goat demon. Or something. Lots of gore and entrails in this thing, but no scares and tons of bad dialogue, though some of the latter is thankfully obscured by the actors' thick foreign accents. Starring Danielle Harris, James Duval, Walker Howard, Nick Mennell, Mircea Monroe, M.D. Walton, Arcadiy Golubovitch, Elektra and Elise Avellan, and Robert Patrick.
The Bounty Hunter (PG-13) This dreary, demoralizing action-comedy stars Gerard Butler as an ex-cop-turned-bounty hunter who's called on to arrest his reporter ex-wife (Jennifer Aniston) after she jumps bail because she's found dirt on crooked cops. The two leads may or may not be a real-life couple, but they have zero chemistry with each other regardless. The action and the comedy are both toothless, and the movie seriously bogs down during an interlude when the two hide out at the bed-and-breakfast where they spent their honeymoon. Terrible stuff. Also with Jeff Garlin, Jason Sudeikis, Matt Malloy, Dorian Missick, Carol Kane, Cathy Moriarty, and Christine Baranski.
Clash of the Titans (PG-13) Demigod Perseus (Sam Worthington) goes on a quest to avenge himself against Hades (Ralph Fiennes) for the death of his family in this rote remake of the Ray Harryhausen effects filled 1981 epic. Updated effects can't enliven the story, with Worthington slaying any investment in Perseus with his signature blandness and action scenes that are only passable, save for a good giant scorpion battle. Too bad, because Neeson and Fiennes are great as Zeus and Hades, and the look of the film, especially Olympus, is impressive. You're best off watching the original and playing God of War. Also with Jason Flemyng, Mads Mikkelsen, Gemma Arterton, Izabella Miko, Ashraf Barhom, Alexander Siddig, Nicholas Hoult, Polly Walker, Elizabeth McGovern, Jane March, Danny Huston, and Pete Postlethwaite. — Cole Williams
Crazy Heart (R) Jeff Bridges wears drunken dissipation like an old, tattered, comfy shirt in this drama about a country music legend who's forced to sort out his life. This debut film by Scott Cooper doesn't wallow in its main character's hard-drinking life, and Bridges gives a deservedly Oscar-nominated performance. The film features a bunch of newly minted songs, many written by Fort Worth natives T-Bone Burnett and the late Stephen Bruton, and all of them are good, from the rowdy honkytonk number "Somebody Else" to the sparse, haunting "Brand New Angel." The rest of the film is pretty slight, and you could argue that without Bridges and the music there wouldn't be much left. Ah, but they are here. Also with Maggie Gyllenhaal, Colin Farrell, Tom Bower, Ryan Bingham, and Robert Duvall.
Date Night (PG-13) Steve Carell and Tina Fey are believable as a married couple, but as a comedy team they only deliver in fits and starts, portraying a couple who are hunted down by gun-toting mobsters when they try to shake up their routine by going to a fancy Manhattan restaurant. The stars provide enough stray wisecracks to keep this thing watchable, but the only time the movie sustains the laughs is during a predictable but effective pole dancing bit. Elsewhere, the momentum sputters, and director Shawn Levy never establishes the right tone as the material veers between marital comedy and action. The leads are charming, but between their talents and those of a high-powered supporting cast, this movie should have come to more. Also with Mark Wahlberg, Taraji P. Henson, Mark Ruffalo, Kristen Wiig, James Franco, Mila Kunis, William Fichtner, Leighton Meester, and an uncredited Ray Liotta.
Diary of a Wimpy Kid (PG) The first book in Jeff Kinney's best-selling series for kids turns into this clunky movie about an 11-year-old boy (Zachary Gordon) who schemes to become popular in middle school but sees his ventures backfire while his best friend (Robert Capron) becomes cool. All that's fine as far as it goes, and some of the set pieces are actually funny. Mostly, director Thor Freudenthal makes hash out of the episodic structure, and Gordon doesn't have the charm to make the status-obsessed hero into a likable kid. Like its hero, this movie wishes it were cooler than it is. Also with Steve Zahn, Rachael Harris, Devon Bostick, Karan Brar, Grayson Russell, and Chloë Grace Moretz.
Green Zone (R) This would have been a Movie of the Year candidate in 2005, but now it's just a slightly-above-average thriller starring Matt Damon as a U.S. Army officer in the early days of the Iraq invasion who teams up with an Iraqi informant (Khalid Abdallah) to track down who's responsible for the bad intelligence that led to the war. Director Doug Liman (the first two Bourne films) does all this up professionally, but his critique of the war rehashes old talking points, and he never finds anything new in the chaos. The film is based on Rajiv Chandrasekaran's book Imperial Life in the Emerald City, which paints the arrogance of American planners in much starker and funnier terms. Also with Brendan Gleeson, Greg Kinnear, Amy Ryan, Yigal Naor, and Jason Isaacs.
Hot Tub Time Machine (R) With a title like this, the movie's either going to be brilliantly dumb or just dumb. This movie is both, but the ratio runs about 60-40 in favor of "just dumb." John Cusack, Rob Corddry, and Craig Robinson play three friends who are transported by a ski-resort Jacuzzi back to 1986 as their teenage selves, along with a 23-year-old nephew (Clark Duke) who stays 23 in the '80s but is in danger of ceasing to exist. Although some of the gags score in a major way, the dopey premise needed an even wilder, more over-the-top treatment to live up to its title. Neither director Steve Pink nor his actors are quite able to take the plunge. Also with Lizzy Caplan, Sebastian Stan, Lyndsy Fonseca, Collette Wolfe, Jessica Paré, William Zabka, Crispin Glover, Chevy Chase, and an uncredited Thomas Lennon.
How to Train Your Dragon (PG) Cressida Cowell's series of whimsical and occasionally gross kids' books becomes this animated film that's more grown-up and less interesting than its source. The movie is about a Viking kid (voiced by Jay Baruchel) who has to prevent his clan from going to war with the dragons that raid their village, after discovering that the animals are basically large, scaly, fire-breathing housecats. The movie's an allegory about the Iraq war, which is okay as far as it goes, but it turns the dragons into passive beings that are too easily domesticated. America Ferrera is counterintuitively well-cast as a badass Nordic girl, but the characters are thin and the comic material wastes a talented supporting vocal cast. Spectacular as this movie frequently looks, it still falls short. Additional voices by Gerard Butler, Craig Ferguson, T.J. Miller, Kristen Wiig, Christopher Mintz-Plasse, and Jonah Hill.
The Human Experience (NR) Charles Kinnane's documentary about four young men doing work among the poor and hungry in various corners of the world.
The Last Song (PG-13) Miley Cyrus makes a brave attempt at playing an alienated, sarcastic teen who'd probably have an allergic reaction to Hannah Montana. It doesn't work, but it's brave. She plays a piano prodigy-turned-adolescent troublemaker who's packed off to live with her estranged dad (Greg Kinnear, doing the best he can) for the summer. Cyrus has the character's slouchy walk down, but her line readings are flat and she has no chemistry with the lead actor (Liam Hemsworth) despite the two of them being a couple in real life. It's okay, though. Based on a Nicholas Sparks novel, this sodden drama is beyond the power of any actor to save. Also with Kelly Preston, Bobby Coleman, Carly Chaikin, Adam Barnett, Kate Vernon, and Nick Searcy.
Letters to God (PG) The real-life story of a cancer-stricken 8-year-old boy who touched others by writing letters to God turns into this unwatchably sludgy weeper starring Tanner Maguire. Producer-turned-director David Nixon never finds the right rhythm for the narrative, and scene after scene ends with the boy's simple courage bringing his mother (Robyn Lively), his brother (Michael Christopher Bolten), or the alcoholic mailman delivering the letters (Jeffrey Johnson) to tears and embracing Jesus Christ. This movie has nothing to say to anyone except the already converted. Also with Maree Cheatham, Dennis Neal, Bailee Madison, and Ralph Waite.
Percy Jackson & The Olympians: The Lightning Thief (PG) Chris Columbus, who directed the first two Harry Potter movies, brings the same leaden, derivative touch to this adaptation of Rick Riordan's best-selling fantasy-adventure novel. Logan Lerman plays a teenager who discovers that he's the son of a Greek god and must use his superpowers to forestall a war among the gods that would destroy the Earth. The movie remains resolutely unmagical despite the liberal use of CGI effects. In a star-studded supporting cast, the only actor who makes any impact is Steve Coogan, playing Hades like a burned-out heavy metal rocker. The lame, uninventive script reduces this would-be epic to an overstuffed mess. Also with Alexandra Daddario, Brandon T. Jackson, Pierce Brosnan, Uma Thurman, Sean Bean, Kevin McKidd, Jake Abel, Rosario Dawson, Melina Kanakaredes, Joe Pantoliano, and Catherine Keener.
Repo Men (R) This deceptively bleak futuristic sci-fi thriller stars Jude Law as a man who repossesses replacement human organs when their owners default on their payments, usually killing said owners in the process. The film offers up some unexpectedly sharp satire on both the cosmetic surgery industry and the current financial crisis, which keeps you watching during the middle section, when the movie turns into a routine action flick. The movie teases you with a conventional ending and then hits you with a ferocious downer. It's more interesting than the usual. Also with Forest Whitaker, Alice Braga, Liev Schreiber, Carice van Houten, Chandler Canterbury, Liza Lapira, and RZA.
The Runaways (R) Kristen Stewart plays a teenage Joan Jett as a tough-talking mostly gay trailer-park girl, and her sexually charged performance makes this uneven music bio compulsively watchable. Floria Sigismondi's film tells the story of the short-lived trail-blazing 1970s all-girl rock group, based on the memoir of Runaways' lead singer Cherie Currie. The scenes with Cherie (Dakota Fanning) trying to overcome her drug addictions don't pull their weight. However, Sigismondi does a nice job with the grungy atmosphere and creates real electricity when the Runaways are on stage. The actors do their own singing and are a smidge better than the real-life Runaways. Watch for Michael Shannon's wildly entertaining performance as music producer Kim Fowley. Also with Stella Maeve, Scout Taylor-Compton, Alia Shawkat, Johnny Lewis, and Tatum O'Neal.
Secret Reunion (NR) Jang Hun's comic thriller stars Song Kang-ho (The Host) as a former South Korean spy who takes in a former North Korean agent (Kang Dong-won) years after a government sting went bad and forced them both out of their respective jobs. At first they're spying on each other to get back in with their employers, but they wind up becoming friends and working together to thwart a sinister North Korean assassin (Jeon Gook-hwan). A decent popcorn thriller with a lot of twists and a minimum of cheap sentimentality, this is good entertainment value for money. Also with Kim Yeong-wung, Kim Jong-yeon, Park Hyuk-kwon, Yun Hee-seok, and Jasmine.
She's Out of My League (R) A movie so charming that you'll wish it were better than it is. Jay Baruchel plays a Pittsburgh airport security guard who falls for an event planner (Alice Eve, an English newcomer with a pretty good American accent). Lots of romantic comedies pair up a hot girl with a not-so-hot guy, but this one truly deals with the implications of that, as both their friends threaten the relationship by constantly telling them that she's too good for him. The leads are appealing and the supporting actors are well-cast. All that makes you want to overlook the fact that the comic material simply isn't there. If you're in a charitable mood, maybe you can. Also with T.J. Miller, Mike Vogel, Nate Torrence, Lindsay Sloane, Krysten Ritter, Kyle Bornheimer, Jessica St. Clair, Geoff Stults, and Debra Jo Rupp.
Shutter Island (R) Martin Scorsese turns Dennis Lehane's novel into this surprisingly generic Gothic potboiler. Leonardo DiCaprio and Mark Ruffalo star as U.S. marshals sent to investigate the disappearance of an inmate from an asylum for the criminally insane. The director's shock tactics don't work any more in our time, and one gets the feeling that the movie would have been better if Scorsese had done either less or more with the material. On the other hand, the plot twists go down smoothly, and the supporting actors (especially Michelle Williams, Ted Levine, Emily Mortimer, and Patricia Clarkson) do some terrific work as the various crazy people populating the scenery. Disposable rather than shattering, this is still a fair puzzle of a movie. Also with Ben Kingsley, Jackie Earle Haley, John Carroll Lynch, Elias Koteas, and Max von Sydow.
Why Did I Get Married Too? (PG-13) Funny if overly long and melodramatic flick. This sequel to his 2007 original finds the four couples having their annual reunion in the Bahamas, as secrets and problems threaten to tear each of them apart. The cast is uniformly good, though Michael Jai White gets the funniest moments, and laughs abound. However the writing is often too obvious, and the tonal changes too swift and poorly handled. Still, if you're a big Perry fan odds are you'll enjoy it too. Also with Janet Jackson, Sharon Leal, Malik Yoba, Richard T. Jones, Jill Scott, Louis Gossett Jr., Tyson Gilmore, Nia Iman Muhammad, and Cicely Tyson. — Cole Williams
DALLAS EXCLUSIVES:
City Island (PG-13) Andy Garcia stars in this comedy as the head of a Bronx family that's riddled with secrets. Also with Julianna Margulies, Steven Strait, Alan Arkin, Dominik García-Lorido, Ezra Miller, and Emily Mortimer.
The Girl With the Dragon Tattoo (NR) Before the inevitable Hollywood version, this Swedish adaptation of Stieg Larsson's best-selling mystery novel stars Michael Nyqvist and Noomi Rapace as a disgraced investigative reporter and a computer hacker who must team up to solve a decades-old series of murders linked to a powerful family. Also with Lena Endre, Sven-Bertil Taube, Peter Haber, Peter Andersson, Ingvar Hirdwall, Marika Lagercrantz, Björn Granath, and Ewa Fröling.
Greenberg (R) Ben Stiller stars in Noah Baumbach's drama as a freeloading failed musician in L.A. and begins a relationship with his brother's personal assistant (Greta Gerwig). Also with Rhys Ifans, Mark Duplass, Jake Paltrow, Brie Larson, Juno Temple, Chris Messina, and Jennifer Jason Leigh.
When You're Strange (R) A documentary by Tom DiCillo (Living in Oblivion) about The Doors. Narrated by Johnny Depp.