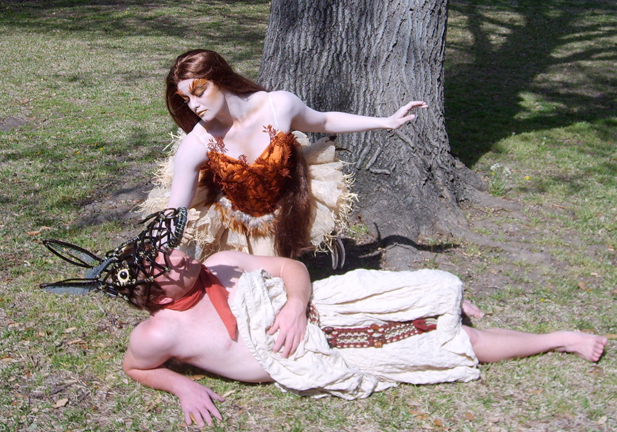 WED ? 14
Since most classes aren't in session during midsummer, now's as good a time as any for TCU to put on A Midsummer Night's Dream. Shakespeare's hallucinatory farce set in an enchanted forest populated by fairies and actors is a terrific theatrical bonbon when it's done right. The show runs thru Sun at Hays Theatre, 2800 S University Dr, FW. Tickets are $5-10. Call 817-257-8080.


THU ▪ 15
On this Tax Day, UTA Wind Symphony is going with an all-American program with music by Ives, Barber, Copland, and Morton Gould. In addition, composer-in-residence Joel Puckett will be on hand to witness performances of his Blink and the North Texas premiere of his flute concerto The Shadow of Sirius. The performance is at 7:30pm at Irons Recital Hall, 700 W 2nd St, Arlington. Tickets are $3-5. Call 817-272-2526.
FRI ▪ 16
The last entry in Martin McDonagh's Leenane trilogy (the other two being The Beauty Queen of Leenane and A Skull in Connemara), The Lonesome West receives its North Texas debut courtesy of Stage West. This black comedy about a priest trying to prevent two brothers from killing each other arrives at a time when Irish Catholic priests can use any good press they can find. The play runs Apr 15-May 9 at 821 W Vickery Blvd, FW. Tickets are $15-28. Call 817-784-9378.
SAT ▪ 17
Don't be sad, Texas Brahmas fans. The ice hockey team's season ends just in time for the Dallas Derby Devils to return from their winter hiatus to start up another season at NYTEX Sports Centre. Time to lace up the (roller) skates and crack some heads for the Slaughterers, Suicide Shifters, High Seas Hotties, and Death Row Rumblers. The event starts at 7:30pm at 8851 Ice House Dr, North Richland Hills. Tickets are $20-25.
SUN ▪ 18
The third Toy Story film comes out in June, but in the meantime, the French-language Belgian animated film A Town Called Panic should provide a nice contrast. It's also about a toy cowboy, along with a toy horse and Indian, who journey to the center of the Earth and discover a parallel universe under the sea. We have no problem believing the reviews describing this as one of the strangest movies ever. The film runs Fri-Sun at Modern Art Museum of Fort Worth, 3200 Darnell St, FW. Tickets are $6.50-8.50. Call 817-738-9215.
MON ▪ 19
It's interesting that most of the great requiem masses in Western classical music were written by composers who weren't particularly religious. One of them was Giuseppe Verdi, whose electrifying, operatic Requiem Mass will be performed by UNT Symphony Orchestra at UNT on Sunday and then again at Bass Hall tonight. The performance is 8pm at 555 Commerce St, FW. Tickets are $10-20. Call 817-212-4280.
TUE ▪ 20
Fort Worth Symphony Orchestra fans and Star Wars geeks alike will want to be at Bass Hall this evening to hear John Williams conducting the ensemble in a rehearsal. The Hollywood composer and former Boston Pops conductor will be performing his own film music at the symphony's gala event, which is already sold out, so this rehearsal is probably your best chance to hear him conduct the Star Wars theme. The rehearsal is at 10am at 555 Commerce St, FW. Tickets are $15-40. Call 817-665-6000.